The Scandinavian Design Trick that Transformed How I Hang My Art
We
independently
select these products—if you buy from one of our links, we may earn a commission. All prices were accurate at the time of publishing.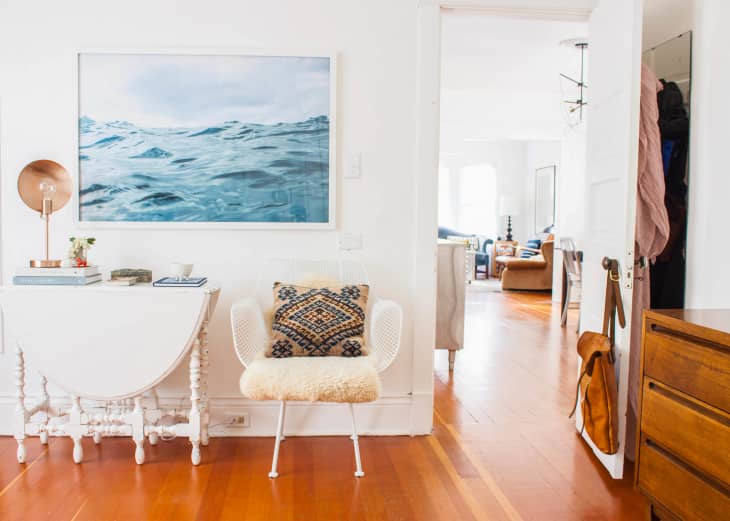 Symmetry: It's a word that often pops up in decor guides, especially when it comes to hanging art. Grab a measuring tape to find the center of your wall say the (unofficial) rules of hanging art. But what if I told you though that hanging art completely off-center looks so much more dramatic? You may be surprised at how right this asymmetry can look, even though it feels wrong.
I wish I could take credit for this idea. The truth is my obsession with Scandinavian interiors often pays off, and this is one of those times. Scandi decor looks effortlessly pulled together. A big reason for this is asymmetry, especially in the way Scandinavians hang art. Whether Scandi decor speaks to your style or not, this idea will enhance any decorating aesthetic — minimalist, maximalist, or anywhere in between. 
By going off-center when mounting artwork of all kinds, you actually bring more focus to a piece, no matter how big or small. This also debunks the popular myth that a large wall always needs a big statement piece or a gallery arrangement or two. You can add personality and a focal point covering far less square footage than you'd expect, while creating just as much visual impact as a more oversize work.
Off-centering works dramatically well when you use it above a large piece of furniture, such as a bed or a couch. Try taking one small piece of art and hanging it above one end of the bed or couch, going way off-center in relation to the entire wall. You've instantly got an exclamation point on your wall.
If gallery walls are more your bag, you, too, can embrace this idea. You don't have to agonize over finding that elusive, just-right arrangement in the middle of your wall. In fact, you shouldn't. Try going along a wall, over and around furniture, and even continuing your gallery from one wall to the next by wrapping it around a corner. As long as it makes sense to the eye — trust me, you'll know if it doesn't — you have your perfectly-imperfect gallery wall.
Ultimately, the trick to getting this look right lies in experimentation. Don't be afraid to try it because once you embrace letting go of the rules of hanging art, you will feel truly liberated.
This piece is part of Art Month, where we're sharing how to find, buy, and display art in your home, and so much more. Head on over here to see it all!