Channel the Magic of a Movie Night at Home With This Harry Potter Remote Control Wand
We independently select these products—if you buy from one of our links, we may earn a commission. All prices were accurate at the time of publishing.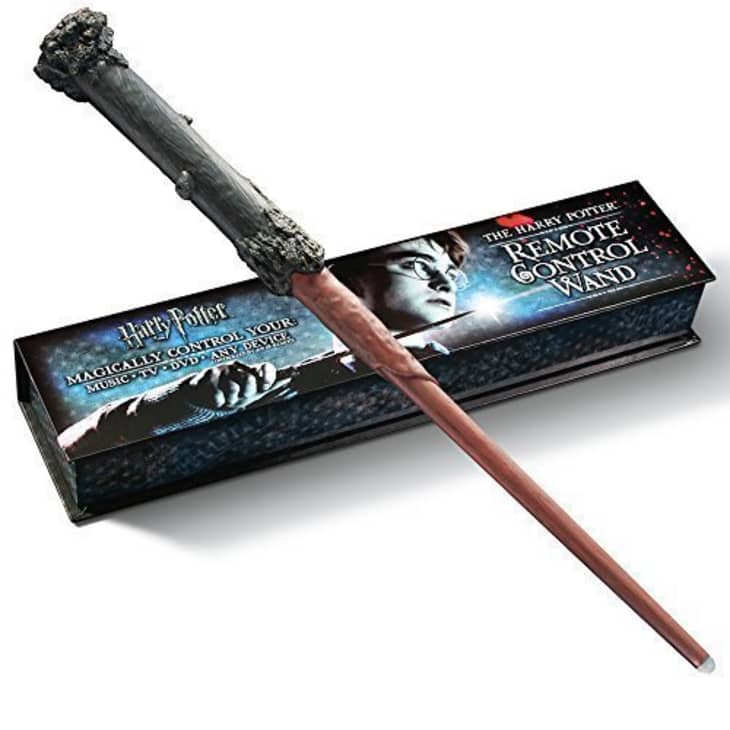 We've accepted that we're never going to be wizards, but that doesn't mean we can't add some Harry Potter-inspired magic to our lives. If you've always wanted to wave a wand and cast spells, now you can! Sort of. There's a remote control shaped like Harry Potter's wand itself, and you can buy it on Amazon for $49.
Follow Topics for more like this
Follow for more stories like this
The universal remote control can connect to your TV, Blu-ray player, speakers, and more. And it actually works like a wand — the commands are not buttons but gestures, so you can "swish and flick" to control your devices. "Use gestures from the Harry Potter films to control your device: roll clockwise, roll counter-clockwise, flick up or down, flick left or right, push forward, pull back, and swish," reads the product description.
The Harry Potter remote control wand is officially licensed by Warner Brothers through the Noble Collection, and it's modeled after Harry's wand as shown in the films. It comes in a collector's box with instructions that look like they've come straight from Ollivanders.
Ratings for the wand remote are mixed but mostly positive, with 65% in the four-to-five star range. Based on reviews, it sounds as if programming the wand is like a first-year Hogwarts lesson in itself, which some people enjoy and others don't.
"Received this as a Christmas gift and OH MY DARK LORD I'M HOOKED!" wrote one reviewer. "After a trial & error period and a well-spoken Alohomora Spell (and handing it over to my 20yr old son), we figured out how to program the commands. Surprise! No one had Confunded us…it was a matter of reading ALL the directions vs. trying to 'Ron Weasley' the situation with random whacking motions towards the TV. (Seriously…I heard Hermione's voice: 'Stop! Stop! Stop! You're going to take someone's eye out! Besides, you're saying it wrong. It's LeviOsa, not LevioSA.')"
So if you decide to buy this for yourself or for the Ron to your Harry, just be sure to read through the reviews beforehand so you know what you're getting into. Then enjoy the magic of a Netflix binge.