This $16 Ingenious Amazon Find Turns Your Shower Rod into a Laundry Rack in Seconds
We
independently
select these products—if you buy from one of our links, we may earn a commission. All prices were accurate at the time of publishing.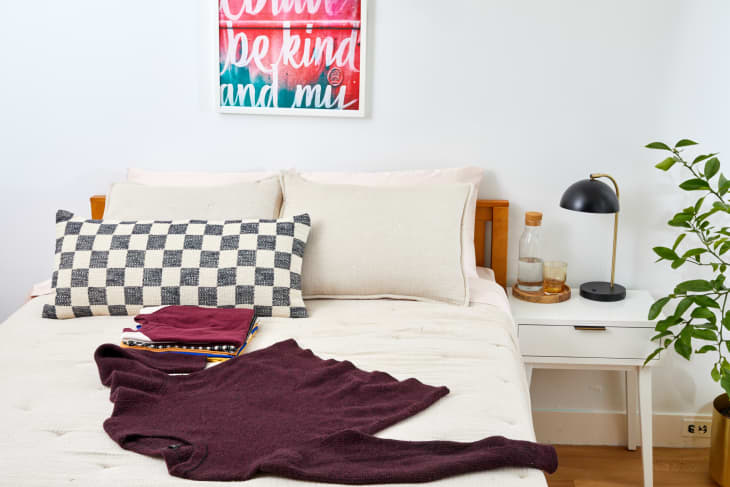 I, too, have lived in apartments without room for a drying rack. And I've experienced the frustration of trying to properly dry sweaters on my bed (or kitchen table) and having to turn them over several times to get both sides fully dry while also remaining vigilant to make sure my cats don't jump on my clothes to take a nap. Most garment racks are unnecessarily large, and finding the correctly-sized one for your home can be a time-consuming and disappointing journey.
Thankfully, we're happy to take those journeys for you — and we can already report back with an amazing discovery! This laundry gadget is one of the most affordable and small-space-friendly clothes drying racks we've ever seen. It also does something totally new by transforming your shower curtain rod into a pop-up garment rack. Unlike other drying racks that take up space in your bedroom or living room that you might not be able to spare, this one cleverly uses your bathroom. At just $16, we're sure this is going to become a favorite among Amazon shoppers.
While folded, this collapsible clothes drying rack is nearly flat (less than 1 inch deep) and can tuck away into any narrow storage spot. Then, when you're ready to use it, it unfolds into a 25-inch by 13-inch platform with two hooks that extend upward to hang onto your shower curtain rod — making it look like a miniature swing set for your clothes. At most, it can hold up to 11 T-shirts draped over its bars, although if you're drying smaller items such as undergarments, it can carry much more. For large pieces such as sweaters it can reliably fit one, but that's not a downfall — most garment racks can only accommodate a single sweater at a time.
With this expandable rack in your laundry tools collection, you'll be able to quickly and discreetly dry your delicate clothes without relinquishing any floor space. The metal rack has a coating meant to protect it from rusting, and if you have a lot of pieces that benefit from this kind of air drying, you can always pick up a second rack and hang both of them in your bathroom (most showers are wide enough to comfortably fit two of these). This can hook onto ceiling pipes, too, as long as they're not at risk of becoming loose from having anything pull on them a little bit.
Amazon shoppers have given this device an average 4.3-star rating and appreciate how well it works in tiny spaces. "This rack is perfect for hanging all of my hand wash yoga clothes in my small apartment," one reviewer wrote. "It hangs on the shower bar and drips into the tub… So much better than having clothes drying in the living room and a rack that takes up valuable floor space." Another reviewer described how this solved a frustrating space issue in their laundry room. "I have struggled for eight years to figure out how to configure my long, narrow laundry room to enable items to dry flat," they wrote. "I nearly cried for joy when I spied these on a Black Friday special. Two of them in my laundry room give me ample space to lay sweaters to dry, and lots of hang dry space that's significantly lower and thus much more accessible."
If you never felt like your home had space for a drying rack, now it does. Thanks to this hanging rack's brilliant design, you can give all your delicate clothes the gentle air drying they deserve — no more wrinkled sweaters ever again.

Buy: HAVEDAWN Hanging Drying Rack, $15.99