Get Excited: All 8 Harry Potter Films Are Coming to HBO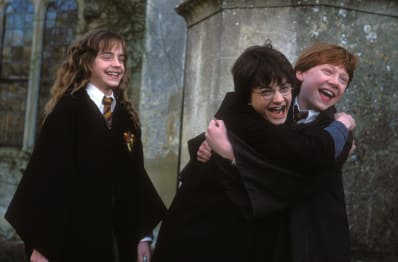 (Image credit: Warner Bros)
Get ready for the most magical of movie marathons: HBO just announced that all eight Harry Potter films are coming to the premium network and its streaming platforms, starting in 2018.
Be sure to stock up on chocolate frogs and pumpkin juice, because at 9 am ET/PT on New Year's Day, the nine film marathon begins with Harry Potter and the Sorcerer's Stone, and ends early on January 2 with Fantastic Beasts and Where to Find Them.
According to a press release from HBO, "this marks the first time that all nine films set in the fantastical wizarding world created by bestselling author J.K. Rowling will air on a single network, unedited and commercial-free."
After the initial January 1 marathon, HBO will air one film a night in succession, if you prefer your magical movies in more manageable doses.
If you don't have cable, no worries: this will also be the first time the entire franchise is available on the same streaming service, "with all nine films available to stream anytime on HBO GO and HBO NOW, in addition to HBO On Demand and affiliate portals."
This is shaping up to be a fantastic year for magic loving Muggles; PBteen, Williams-Sonoma, and Pendleton all released Harry Potter collections, Pottermore's art prints are now available in the US, and both a documentary and museum exhibit are forthcoming.