Heather's Sky High Hell's Kitchen Home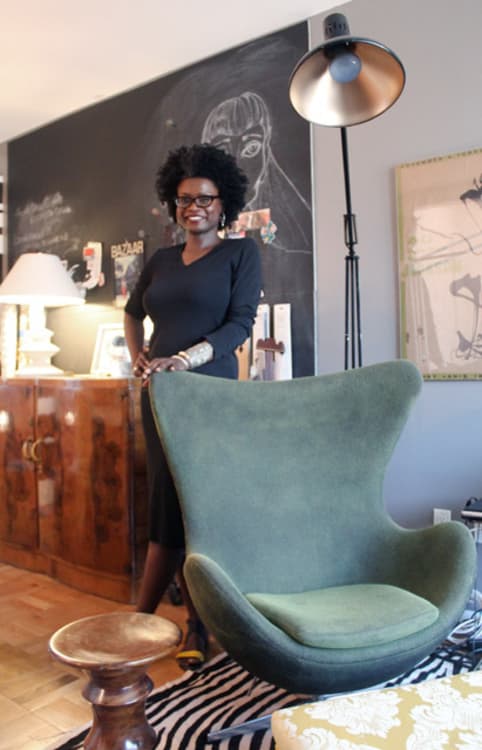 Name: Heather Anderson
Location: Hell's Kitchen — Manhattan, New York
Size: 516 square feet
Years lived in: 2 years; rented
Walking through the door to the home of Heather Anderson in Hell's Kitchen, it is immediately clear that she is a creative person. Over the last two years she has made her space uniquely hers. From the well curated selection of furniture spanning a variety decades and styles, to the customized stripes on the walls (a DIY done with paper and paint) to the chalkboard wall in the dining area, Heather's home is pure design inspiration.
As a designer and fashion illustrator, it makes sense that a love of fashion would come naturally to Heather, but her interest in and love for design does not stop at the wearable. Her passion for interior design and furniture (as well as architecture) is evident in her home. Each piece is selected with great care, and many were found in antique shops, thrift stores or on sites such as Craigslist. With a keen eye for good design combined with patience and knowhow, Heather has managed to accrue great pieces that many would only dream of being able to own, but for a (very small) fraction of the price.
While a Saarinen Tulip Table dug up in a Salvation Army in Brooklyn and an Arne Jacobsen Egg Chair discovered on Craigslist are two of the many scores in her apartment, designer pieces are not the only items Heather is interested in. Always on the lookout, Heather is able to spot beautiful things anywhere, be it a set of chandelier crystals rescued from a hotel dumpster in Pennsylvania or the square alabaster lamp found on the street in Jamaica Plain, Massachusetts. Once brought home, cleaned up and added to her collection, something that could have easily been overlooked by the casual shopper (or pedestrian!) becomes an envy inducing piece in her well edited home.
Apartment Therapy Survey:
My Style: Rickety Luxe! The luxe is mid-century designers, primarily the latter period of the early to mid-1970s (Karl Springer), a sprinkling of the late 1950s (Saarinen, James Mont, Tommi Parzinger), mixed in with European Art Deco, industrial rusty bits and some late 1800's general store displays to keep it interesting. The rickety is that pretty much everything is not in pristine condition, I love that they have had a previous life.
Inspiration: My Mom, old issues of Domino, William Haines and whatever crazy things I find at the Salvation Army.
Favorite Element: The windows are floor to ceiling, and take up the entire exterior wall, giving me a fantastic view from almost anywhere in the apartment. There is nothing quite as lovely as laying down to sleep with the Empire State Building as your nightlight.
Biggest Challenge: Although this space is almost twice the size of my last apartment, working at home and finding space to store all my supplies completely out of sight is a challenge. There is space for more storage furniture, but I enjoy the luxury of having empty space for my eyes to rest.
What Friends Say: My friends say it better than I ever could:
"So idiosyncratically Heather in all its evident influences, obsessions, loves, and artistic experiences. It's a living history of you and your life as a Designer. Note the capital D. :)" "You manage to make junk that you found in a dumpster look elegant."
I so love this quote from one of my best friends: "This is where old beautiful broken down things come to be reborn."
Biggest Embarrassment: The mural of sorts in my hallway that I started almost 6 months ago, and haven't come close to finishing.
Proudest DIY: It's a toss up: re-upholstering my sofa (my first re-upholstery project) or the black wall stripes that continue onto the laminate built-in. Since this is a rental, painting the laminate was a major no-no, so I had to come up with a removable, non-damaging solution.
Biggest Indulgence: The Italian Art Deco commode. It is the most expensive item in my entire apartment (and it was still really, really inexpensive)&helilp; but the combination of the warm patina of the burl wood and black mirror top is just so very lovely.
Best Advice: Learn the hallmarks of quality furniture, i.e. finishes, wood types, and construction, and buy for investment. If you buy the best quality you can afford, it will always have a resale value that you can reinvest into your next dream purchase.
Buy what you love. Nothing in my apartment was acquired with regard to what matches what. If you love it, it will work.
Dream Sources: 1st Dibs, ABC Carpet and Home, US Army furniture depots, friends' apartments.
Resources of Note:
PAINT & COLORS
• Kitchen: Benjamin Moore Blackboard
• Living room: Benjamin Moore "Winter's Gate" Satin
• Entry stripes: Martha Stewart "Francesca" Semi-Gloss
• Bedroom: Hand mixed to match Farrow&Ball "Hague Blue" Eggshell
ENTRY
• Cabinet: Patterson Flea Market (Brewster, NY)
• Alabaster Lamp: Salvation Army (Somerville, MA)
• Key Tray: Baccarat
• Sterling Silver Letter Holder: Unique Thrift (Woodbridge, NJ)
• Collage: Lila Katzen
LIVING ROOM
• Sofa: Craig's List
• Egg Chair: Craig's List
• Giacometti White Plaster Lamp: Craig's List
• Ruhlmann coffee table: Salvation Army (NY,NY)
• Harvey Probber Wall Desk: Salvation Army (NY, NY)
• James Mont bench (book storage): Salvation Army (NY,NY)
• Tommi Parzinger floor lamp: Craig's List
• Eames LCW chair: Craig's List
• Baker Side Table: Craig's List
• Rug: Williams-Sonoma
• Deihl Steel Fan: Ebay
• Oak Floss Cabinet: Salvation Army (NY, NY)
• Chanel Pumps (as sculpture): Salvation Army (Middle of nowhere northern VA)
• Illustration/Empire State Chapeau: Albertus
• Large Format Photograph/"The Apparition rises before me": Amy Finkbeiner
• Jackson Pollack poster: Craig's List
• Franz Klein Exhibition poster: Craig's List
• Brooklyn Floor Screen: Time Galleries (Brooklyn, NY) Painted by me!
DINING ROOM
• Saarinen table: Salvation Army (Brooklyn, NY)
• Panton chairs: Salvation Army (Brooklyn, NY)
• French side chairs: Craig's List
• Burled Wood Commode: Lampedo
• Venetian Glass Chandelier: Trade
• Lucite Boxes(used as trays): Salvation Army (Brooklyn, NY)
• Mirror: Craig's List
• Mandilion (Chryssie Hynde) Icon: Amy Finkbeiner
KITCHEN
• Cardiac Cart: Antique store on Tomkins Ave in Bed-Stuy that I can't remember the name
• Stripe Vase: Ikea
• Orchid Photograph: Goodwill (LA)
BEDROOM
• Karl Springer Bone Side Table: Craig's List
• Plycraft Lounger: Craig's List
• Paul McCobb Dresser: Street find (Allston, MA)
• Square Alabaster Lamp: Street find (Jamaica Plain, MA)
• Mirror: Craig's List
• Chandelier: Street find (Brooklyn, NY)
• Chandelier Crystals: Pennsylvania Hotel Dumpster (NY, NY)
• Steel side table: Street find (Somerville, MA)
• Wall Lamps: Tolomeo
• Fashion Illustration: Steven Stipelman
• Diehl Steel Fan: Bargain Betty's
BATHROOM
• Vintage Silver Trophy Cups: Value Village (Patterson, NJ)
• Patchwork Cowhide Rug: Craig's List
• Lucite Stand: Salvation Army (NY, NY)
• Eiffel Tower(s): Paris!
• Metal/Frosted Glass Medicine Cabinet: Weber's
Thanks, Heather!
(Images: Liana Walker)
• HOUSE TOUR ARCHIVE: Check out past house tours here.
• Interested in sharing your home with Apartment Therapy? Contact the editors through our House Tour Submission Form.
• Are you a designer/architect/decorator interested in sharing a residential project with Apartment Therapy readers? Contact the editors through our Professional Submission Form.
Re-edited from a post originally published on 10.5.12 - AB