Help! How to Make the Best of this Challenging Basement Bedroom?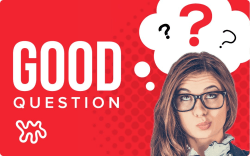 Q: I think I have a real challenge for the Apartment Therapy community! My boyfriend just rented a new home, thinking it would be no big deal to put his bedroom in the basement (he gave the real bedroom upstairs to his 9-year-old daughter). I generally question the wisdom of subterranean sleeping arrangements, but the lease is signed and he did have something of a plan for the room...
The landlord okayed painting over the electric lemon walls and said he could rip out the dingy carpet. He assumed there would be concrete underneath the carpet, which he planned to stain. Big problem, though: he ripped out the carpet to discover a poorly executed tile job. A poorly executed RED AND BLACK tile job with flaws even in its own bizarre pattern. To add to this significant decor challenge, his current comforter is a sky blue, this room has zero windows, and the light switch for the whole space is at the top of the stairs. He also has very little furniture for the space: only the bed you see, a small nightstand, and two skinny highboy dressers (all in that dark-colored wood).
So, now he's asking me for decor advice to save this situation and I'm at something of a loss! The floor is a major problem I don't know how to overcome. He looked into new carpet for it, which is expensive and I'm not convinced of his claim there's no chance of flooding down there. I am not a fan of carpet anyway. Even a couple of rugs to cover that large of a space would be pricey, and also just look weird with the ocean of empty floor space due to the lack of furniture. As for paint, I suggested the following options if the floor is going to be in any way visible: a light beige (even though I'm not a big fan and the whole rest of the house is a coffee with cream color), a light warm gray, or a creamy white. I think the space needs to be brightened up due to the lack of natural light, but a bright, stark white I think would only make the hideous floor stand out more.

PLEASE HELP with ANY suggestions for any of these issues, Apartment Therapy, so that I may stand a chance of actually sleeping at my boyfriend's place any time in the next year. Thanks in advance! P.S. I got my boyfriend's permission to submit this. -Sent by Emily
Editor: That tile is a LOT, and there certainly is a lot of it. Readers, Emily's boyfriend is asking for help, and between Emily and all of you, I'm sure some sort of decorating scheme can be hatched. How can this large, dark, oddly-floored room become a comfortable space? Also, is any of this legal (no window?) and/or safe? Please share all of your basement living advice!
• Have a question for our community? Send us yours with a photo or two attached (questions with photos get answered first).
Apartment Therapy supports our readers with carefully chosen product recommendations to improve life at home. You support us through our independently chosen links, many of which earn us a commission.