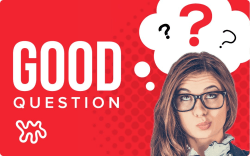 Q: I live in an apartment that's basically a house divided in half: my mom, brother, and I live on the top floor and our neighbors on on the bottom. Our house is really old and the floors creak extremely easily. Not only is it annoying to me, but our neighbors can hear almost every move we make. It's not a problem during the day, but I'm nocturnal (due to insomnia mostly), frequently staying up late or even all night on occasion. The problem I'm having is that I have a wooden floor in my bedroom (making every move extra loud, even sitting down in a chair can be extremely noisy) and their 5-year-old's room is literally right below mine...
My neighbors haven't really complained about it (they're really nice people), but they have mentioned I should try to be a little quieter at night. But what made me feel terrible is when my brother (who also lives in the apartment with me) told me they mentioned to him that their daughter thinks there's monsters living upstairs, and to make me feel even more horrible, one night I heard her wake up crying from the noise I made from walking through my room. I feel horrible about it, and I try to be as quiet as I can (subtle movements, even tiptoeing) but being 230 pounds makes it a little hard for that strategy to work. Like I said, they haven't flat out complained; I'm just trying to be a good neighbor, as these people have been the best neighbors we've had in the 8 years living in this building. I posted this exact question worded this exact way (copy and paste is lovely!) on yahoo answers and was told the only solution is to replace the flooring, but the problem with that is we can barely afford rent, let alone replacing our floor. Is there ANY way I to reduce the amount of noise I make at night, without having to spend a fortune? I know I should try just going to sleep but that's easier said than done. Thank you in advance for your help! -Sent by Andrew
Editor: Oh my goodness, the monster thing just slayed me- poor little girl, and poor sweet upstairs neighbor! Readers, please, please, please help Andrew find an affordable way to make this situation better for everyone involved. And as an aside, Andrew, is there any chance you're friends with the 5-year-old? If she knew you were upstairs "reading" or "drawing" or doing some other kid-relatable activity, she might hear you in the night and think, "Oh, it's my friend Andrew!" rather than "OH NO MONSTERS IN THE CEILING".
Have a question for our community? Send us yours with a photo or two attached (questions with photos get answered first).