Here's How HBO Is Protecting You From Game of Thrones Spoilers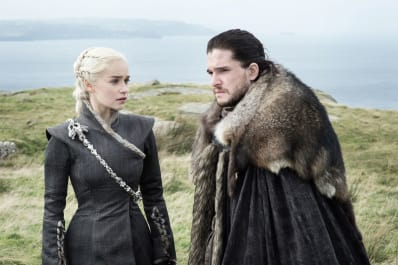 (Image credit: HBO)
If you already knew how Game of Thrones' season seven would end before the finale, well, you're not alone. Hackers and leakers and even regular mistakes gave HBO quite the headache over the past few months with security breaches and major plot twists spreading across the internet faster than one of Dany's dragons. The network reportedly has a plan for season eight, and it's a classic Hollywood trick.
The Morning Call reports that at an event at Bethlehem Moravian College, HBO's head of programming, Casey Bloys, told the crowd the show's plans for next season:
They're going to shoot multiple versions so that nobody really know what happens. You have to do that on a long show. Because when you're shooting something, people know. So they're going to shoot multiple versions so that there's no real definitive answer until the end.
Though Vanity Fair is skeptical that HBO would go to such lengths. Though it's not out of the question for popular shows to film alternate endings (VF notes that multiple people were filmed wielding the gun that shot J.R. on Dallas, among others):
But a bash of a bat, a giggling brunch, or the pull of a trigger isn't the same thing, financially, as shooting several entirely different endings for a big-budget fantasy—which is what Thrones may have planned, according to what Bloys is saying.
Whether HBO is bluffing or not, spoilers haven't exactly deterred viewers: Thrones was the #1 watched show of the summer, according to IndieWire's reporting of Live+3 ratings (as in, who watched live plus those who watched via DVR or video on demand in the three days following).
Either way, it'll be awhile before we know for sure. According to The Hollywood Reporter, the final season starts production in October, and could take until August 2018 to complete, which would mean it won't air until 2019.