Get Ready: Everything That's Coming to Netflix in June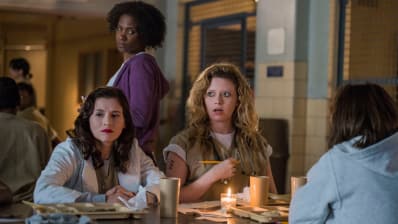 (Image credit: Jojo Whilden//Netflix)
Though we're always sad to see stuff go from Netflix, the new arrivals always make it a little easier to bear. The streaming service has released its master list of what will be new next month, and there's some old favorites and new series we can't wait to check out.
13 Going on 30 (June 1)
One of our favorite rom coms, Jenna and her wishing dust comes to Netflix next week. Last fall, it was announced that the 2004 film would be adapted into a Broadway musical, so best brush up on the source material.
Orange is the New Black Season 5 (June 9)
Things are going down at Litchfield. The women have taken over the prison and are making demands. We'll just have to find out what happens when the popular ensemble show is back June 9.
Moana (June 20)
If you haven't yet seen the latest Oscar-nominated Disney film, your chance comes later in the month. Badass princess saves the day by following her own path—is there anything better?
Glow (June 23)
A comedy about female wrestlers in the '80s—need we say more? Okay, we'll say a little more. Alison Brie plays out-of-work actress Ruth Wilder when she goes on an audition for something a little...unconventional. B-movie director Sam Sylvia (played by Marc Maron) takes 12 Hollywood misfits and turns them into a women's wrestling league. We're all in.
---
June 1
"1 Night" (2016)
"13 Going on 30" (2004)
"Amor.com" (Love.com)
"Arrow" Season 5 (2016)
"Burlesque" (2017)
"Catfight" (2016)
"Catwoman" (2004)
"Chingo Bling: They Can't Deport Us All"
"Days of Grace" (2011)
"Devil's Bride" (2016)
"Full Metal Jacket" (1987)
"How the Grinch Stole Christmas" (2000)
"Intersection" Season 2 (2016)
"Kardashian: The Man Who Saved OJ Simpson" (2016)
"Little Boxes" (2016)
"Mutant Busters" Season 2 (2016)
"My Left Foot (1989)
"Off Camera with Sam Jones" Series 3 (2015)
"Playing It Cool" (2014)
"Rounders" (1998)
"Spring" (Primavera) (2016)
"The 100" Season 4 (2016)
"The Ant Bully" (2006)
"The Bucket List" (2007)
"The Queen" (2006)
"The Sixth Sense" (1999)
"Vice" (2015)
"West Coast Customs" Season 3 (2013)
"Yarn" (2016)
"Young Frankenstein" (1974)
"Zodiac" (2007)
June 2
"Comedy Bang! Bang!" Season 5, Part 2 (2016)
"Flaked" Season 2 - NETFLIX ORIGINAL
"Inspector Gadget" Season 3 - NETFLIX ORIGINAL
"Los Últimos de Filipinas" (2016)
"Lucid Dream" - NETFLIX ORIGINAL FILM
"Saving Banksy" (2014)"The Homecoming" Collection (2015)
June 3
"Acapulco La vida va" (2017)
"Blue Gold: American Jeans" (2017)
"Headshot" (2016)
"Three" (2016)
"Tunnel" (2016)
"War on Everyone" (2016)
June 4
"TURN: Washington's Spies" Season 3 (2016)
June 5
June 7
"Disturbing the Peace" (2016)
"Dreamworks' Trolls" (2016)
June 9
"My Only Love Song" Season 1 - NETFLIX ORIGINAL
"Orange Is the New Black" Season 5 - NETFLIX ORIGINAL
"Shimmer Lake" NETFLIX ORIGINAL FILM
June 10
"Black Snow" (Nieve Negra) (2017)
"Daughters of the Dust" (1991)
"Havenhurst" (2017)
"Sword Master" (2016)
June 13
"Oh, Hello On Broadway" - NETFLIX ORIGINAL
June 14
"Quantico" Season 2 (2016)
June 15
"Marco Luque: Tamo Junto" NETFLIX ORIGINAL
"Marvel's Agents of S.H.I.E.L.D." Season 4 (2016)
"Mr. Gaga: A True Story of Love and Dance" (2015)
June 16
"Aquarius" Season 2 (2016)
"Counterpunch" - NETFLIX ORIGINAL
"El Chapo" Season 1 (2017)
"The Ranch" Part 3 - NETFLIX ORIGINAL
"World of Winx" Season 2 - NETFLIX ORIGINAL
June 17
"Grey's Anatomy" Season 13 (2016)
"Scandal" Season 6 (2016)
"The Stanford Prison Experiment" (2015)
June 18
"Shooter" Season 1 (2016)
June 20
"Amar Akbar & Tony" (2015)
"Disney's Moana" (2016)
"Rory Scovel Tries Stand-Up For The First Time" - NETFLIX ORIGINAL
June 21
"Baby Daddy" Season 6 (2017)
"Young & Hungry" Season 5 (2017)
June 23
"American Anarchist" (2016)
"Free Rein" Season 1 - NETFLIX ORIGINAL
"GLOW" Season 1 - NETFLIX ORIGINAL
"Nobody Speak: Trials of the Free Press" - NETFLIX ORIGINAL
"You Get Me" - NETFLIX ORIGINAL FILM
June 26
June 27
"Chris D'Elia: Man on Fire" - NETFLIX ORIGINAL
June 28
"Okja" - NETFLIX ORIGINAL FILM
June 30
"Chef & My Fridge" Collection (2014)
"Gypsy" Season 1 - NETFLIX ORIGINAL
"It's Only the End of the World" (2016)
"Little Witch Academia" Season 1—NETFLIX ORIGINAL
"The Weekend" (2016)