Here's How Twitter Reacted to the News of Prince Harry and Meghan Markle's Engagement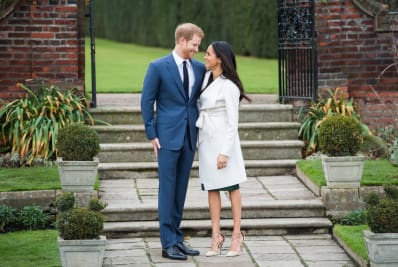 (Image credit: Samir Hussein/Getty Images)
Earlier today, it was announced that Prince Harry and Meghan Markle are engaged, and that they'll be getting married next spring. As when any big news breaks, Twitter had feelings. Here are some of the best reactions to the happy news.
Clarence House posted the official announcement on their Twitter, where it's already had over 26,000 retweets and over 60,000 favorites.
The Prince of Wales is delighted to announce the engagement of Prince Harry to Ms. Meghan Markle. pic.twitter.com/zdaHR4mcY6

— Clarence House (@ClarenceHouse) November 27, 2017
Kensington Palace followed up with a statement from Meghan's parents on Twitter, who are "incredibly happy" for the couple and "wish them a lifetime of happiness."
Ms. Markle's parents, Mr. Thomas Markle and Doria Ragland have wished the couple 'a lifetime of happiness.' pic.twitter.com/H4kpTgpkYE

— Kensington Palace (@KensingtonRoyal) November 27, 2017
The newly engaged couple appeared for a photo op later in the day, and there were a lot of feelings about the ring, which includes diamonds from Princess Diana.
Prince Harry designed Meghan Markle's engagement ring with two stones from his mother's collection and THIS IS LITERALLY ALL I WANT TO TALK ABOUT TODAY. //t.co/BNRA47IuDe pic.twitter.com/7lI7lElYKL

— Lesley Messer (@lesleymesser) November 27, 2017
Also joy about #progress.
Prince Harry marrying an African-American divorced actress could be one of the best things to happen to the Royal Family for a long time. Congratulations to them both.

— George Reeves (@GeorgeReeves94) November 27, 2017
Mood after Prince Harry and Megan Markle announce their engagement pic.twitter.com/OzFvt18dr9

— A Man Has No Name. (@_MidKnightGaz) November 27, 2017
But also a little sad, too.
Realising you will now never get to marry Prince Harry, despite it being your dream since you were 8 pic.twitter.com/fcYmGKpNxp

— Brighton Girl (@BtonGirlProbs) November 27, 2017
Meghan's other fiancé (the one her Suits character is engaged to) had this hilarious reaction:
She said she was just going out to get some milk... //t.co/y7cnM0eC9D

— Patrick J Adams (@halfadams) November 27, 2017
But what if this was the goal all along?
you: that's a crazy idea

you, 20 years ago: the terminator could never be governor

— Josh Billinson (@jbillinson) November 27, 2017