Here's How West Elm Is Using Pinterest To Help You Decorate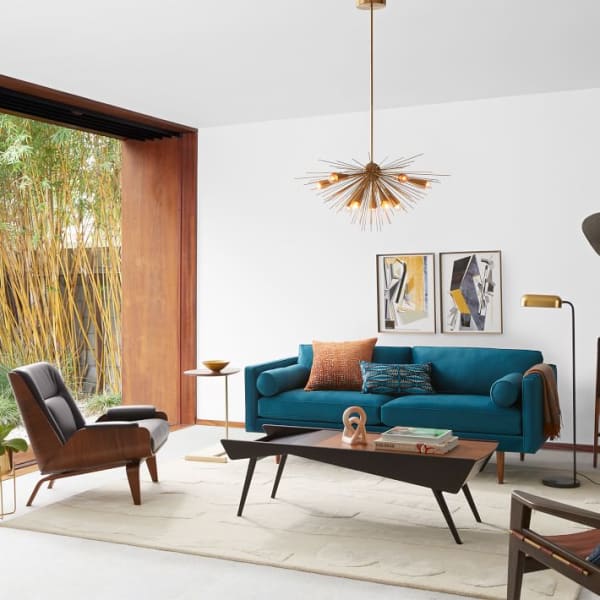 (Image credit: West Elm)
West Elm's latest product isn't a sofa or a lamp, but a neural network. The furniture retailer is using AI and Pinterest to learn your style, and recommend pieces to you like a designer would.
The internet, with its seemingly endless options, can be a blessing and a curse when trying to find something that fits your aesthetic. West Elm's new Pinterest Style Finder is here to help narrow down the choices.
Here's how it works: You paste in the URL of a Pinterest board that represents your style (either your own board or someone else's), and the neural network gleans your likes and dislikes from the images and delivers a selection of furniture, rugs, curtains, mirrors, and other items in roughly ten seconds. Pretty cool, huh?
(Image credit: screenshot from West Elm Style Finder)
As you might have guessed, all the results are West Elm products, so if you're looking for the collected look, you're probably not going to just buy everything it serves up. But what it lacks in variety, it makes up for in neat factor; it does offer a peek into the future of designing spaces, and how much easier and accessible pinpointing your style could be, with a little AI assist.
Just like Google Translate misses some of the nuances of language and doesn't get it right all of the time, Style Finder isn't totally spot on, either. Popping in our Bright & Bold Decor Pinterest board yields plenty of mid-century pieces, but a lot less color and pattern than our board suggests. Of course, the results are limited to current products at West Elm, so that is a factor.
With AI popping up in more and more retail and decor applications (like IKEA's Pokemon Go-esque collab with Apple and neural network paint color creations like Bank Butt), we're just beginning to see what machine learning can do in the home and design space.
h/t Fast Company