Here's What Happened This Weekend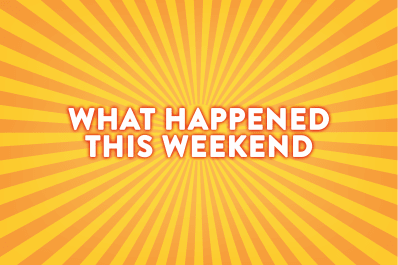 Five things to know, now that it's Monday.
(Image credit: Lisa Frank)
Lisa Frank continues to make Millennials' dreams come true. First a coloring book, now an athleisure line. Yes, you can deck yourself out in rainbow unicorn leggings and dolphin crop tops to your heart's content. Go forth like the '90s never left.
The internet got reaaaaalllly excited about a Harry Potter version of Pokémon Go. Unfortunately, it's still just rumors. There's a petition for Niantic to create an augmented reality game of the magical franchise, but there's little else out there to prove it's in the works just yet.
1,000 Italians played Seven Nation Army and it's pretty badass. The Rockin 1000 festival returned to Cesena, Italy this year with a grand old group of musicians. Over a thousand vocalists, guitarists, bassists, drummers, violinists, and bagpipers rocked out to the White Stripes anthem.
(Image credit: Ralph Lauren)
Team USA's Olympics opening ceremony uniforms are preppy AF. Designed by Ralph Lauren, Team USA looks like they're heading to a Newport yacht club on Fourth of July—right down to the red, white, and blue boat shoes.
Chip & Joanna Gaines are throwing a silo-bration. To mark Magnolia Market's one-year anniversary at the Silos, the free, three-day festival descends on Waco October 6-8.