Here's What It's Like Designing Wes Anderson's Whimsical Worlds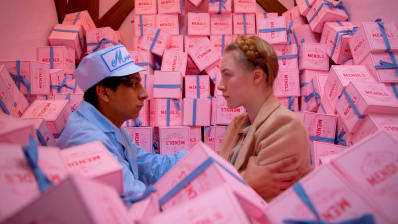 (Image credit: FOX Searchlight)
It's the holiday season which means you can count on getting lost in beautiful and sweeping worlds of some fine holiday fare at the movies. And let's be honest, there are fewer on-screen worlds more beautiful than those crafted for Wes Anderson films. The filmmaker is known for his colorful, whimsical, and overtly symmetrical aesthetic seen in films like The Royal Tenenbaums, The Grand Budapest Hotel, and Moonrise Kingdom.
Production designer Adam Stockhausen is responsible for making most of those worlds come to life, including the world of Anderson's upcoming stop-motion film "Isle of Dogs." Now, in a recent interview with Variety, Stockhausen is spilling on what it's like designing some of modern Hollywood's most iconic sets.
Here's what Stockhausen had to say about his production design and Anderson himself.
Handcrafting elements and specificity are key
"There's no store where you can go to find this stuff. Every door, every rock is handmade," he says of his sets, particularly "Isle of Dogs." Stockhausen continues, "Everything has to be chosen. Everything has to be built. There are no locations you can go to."
(Image credit: FOX Searchlight)
Intensive research helps with world-building
In his first Anderson film, "The Darjeeling Limited," Stockhausen used intensive research to then reproduce a real train car interior—twice.
Stockhausen takes no credit for the films' incredibly unique visual style
The production designer was well aware of Anderson's trademark visuals when he came on board his first production back in 2007. Of Anderson, Stockhausen humbly says, "his visual style is his visual style and I lay no claim to it. It's all his."
The design of the Grand Budapest Hotel is inspired by two real life buildings
The first is is a gorgeous Art Nouveau building, Prague's Municipal House Theater, or the Obecni dum. Stockhausen and Anderson were additionally inspired by interior elements of the Grandhotel Pupp in the town of Karlovy Vary also in the Czech Republic.
Read the full interview over on Variety.