Here's Why This Minimalist Closet Is On Display at the Met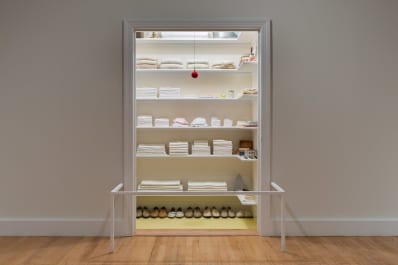 (Image credit: Courtesy of The Metropolitan Museum of Art)
Minimalism has been trending lately, but it's hardly anything new. Case in point: Sara Berman's closet, currently on display at the Metropolitan Museum of Art, which has been recreated at the museum by her daughter and grandson.
Artists Maira and Alex Kalman have turned the matriarch's Greenwich Village studio's storage space into an art installation that features, among other things, her all-white wardrobe—quite literally the opposite of the classic New Yorker trope of wearing all black.
After her 38-year marriage ended in divorce, Berman moved to the modest space in 1982, and as Maira says in a video about the work, "she was never happier."
"This was the first time she had her own space and the ability to define her own identity," says Alex. She decided to wear only white and keep her belongings with "militaristic precision."
The pair decided to preserve the items after Berman passed away in 2004 because, in a way, it was already a work of art. "The way she kept her closet came from an extreme sense of care and a great love of things, and that nothing should be taken for granted," says Alex.
Interiors in museums are more often of the opulent variety, such as the Gilded Age boudoir of Arabella Worsham—also at the Met—whose railroad magnate lover paid for the townhouse on West 54th Street where she lived with her son. Alex notes that while on opposite ends of the spectrum, both spaces provided a sense of freedom for their inhabitants.
As with anything that's currently popular, minimalism has had its share of devotees and backlash. Recently, Chelsea Fagan wrote that minimalism " is just another form of conspicuous consumption, a way of saying to the world: 'Look at me! Look at all of the things I have refused to buy, and the incredibly-expensive, sparse items I have deemed worthy instead!'"
Though the artists admit that Berman would've thought the whole thing ridiculous, they hope that people take away "a sense of the tenderness of creating your own life... a sense of optimism in that yes, you can put your closet in order, and maybe there's hope for putting your life in order."
Sara Berman's Closet is on display at The Metropolitan Museum of Art from now through September 5, 2017.