Hersheypark Is Building A New Roller Coaster In 'Chocolatetown'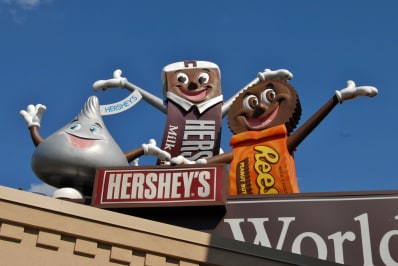 (Image credit: Lissandra Melo/Shutterstock)
There is no better place for a chocoholic to visit than Hersheypark. What other place is named after one of the most famous chocolate brands, has dancing candy bars as their mascots, and promotes itself with the slogan "Where Fun Meets Chocolate?" You get the picture.
Well, chocolate lovers, your world is about to get a whole lot sweeter. Hershey just announced that in the summer of 2020, Hersheypark will be completing a $150 million expansion in Hershey, PA, which will include introducing the park's 15th roller coaster.
What is being called as "the most transformative expansion in Hersheypark history," the 23-acre addition called Chocolatetown is going to be complete with new dining, shopping, and grounds to explore. And there is big hype around the amusement park's roller coaster being built, which is expected to be its "longest, tallest, and fastest to date," according to the website.
"We are incredibly excited to enter this next chapter in the rich history of Hersheypark," John Lawn, president and CEO of Hershey Entertainment & Resorts, said in a statement. "This will be a definitive project for Hersheypark, HE&R and our destination."
When tourists aren't waiting in line for the anticipated ride, they can check out the new flagship store, ice cream parlor, and historic carousel that is being relocated to the new area.
Although it's going to be some time before the park actually opens, that doesn't mean we can't be excited about the chocolate paradise. And we'll be checking their website for updates on what's to come.
For now, here's to sweet dreams.