This New HGTV Show Challenges People to Build a Dream Home in Just 100 Days
We
independently
select these products—if you buy from one of our links, we may earn a commission. All prices were accurate at the time of publishing.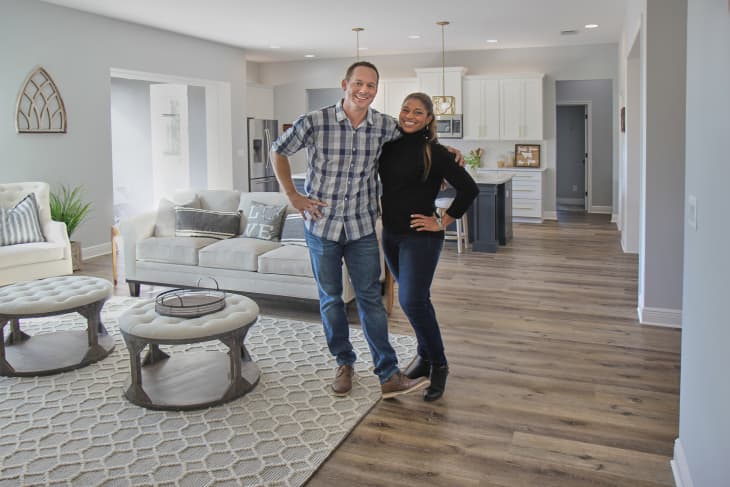 There's nothing more satisfying than watching a ramshackle house get a complete facelift. And thanks to HGTV shows like "Good Bones," "Home Town," and (who can forget?) "Fixer Upper," we get our fill of renovation goodness on a weekly basis. However, a new show headed to HGTV is going to try something new. "100 Day Dream Home" is more home makeover meets reality TV, and will challenge hosts Brian and Mika Kleinschmidt to build their clients' dream homes within 100 days or less.
"It has to be done on time, but it also has to be absolutely perfect," Brian says in a sneak preview of "100 Day Dream Home" per House Beautiful.
We're already stress sweating in the best way possible.
The Kleinschmidts are a married couple from Tampa who each have extensive backgrounds in the real estate and development industries. According to HGTV's website, Mika is the real estate agent and Brian is the developer, so they each know a thing or two about dream homes and deadlines. 
"It's hard to get your clients excited when you tell them their brand new home is going to be ready in a year," Brian explains in another preview video posted to HGTV's Facebook. "That's why we do it in 100 days or less."
Each build will take place in the Tampa Bay, Florida area and every episode will show the entire process of building a dream home from the ground up, from finding the perfect location and taking clients on "inspiration tours," to whipping up a design and floor plan, and then, of course, building and decorating the entire place within the 100-day time limit.
"I'll tell them, 'pick a kitchen from this home,'" Mika says, regarding the inspiration tours, in the Facebook video. "They might like the yard in one, the neighborhood in another. If we can take all those components, put them together, and build you a home, let's do it."
Of course, as would be expected, building a home in 100 days or less comes with huge risk and many obstacles, all of which we'll see in each episode of "100 Day Dream Home." Brian states in the preview video that, during one build, they have 18 hours left in, but 36 hours of work to do. 
HGTV's "100 Day Dream Home" will air Feb. 16 at 10 p.m. EST right after "Extreme Makeover: Home Edition." The first episode will center around a newlywed couple who entrust Mika and Brian to make their first-ever dream home a reality. No pressure or anything.
We'll definitely be tuning in and trying to keep our nervous energy to a minimum.