Before and After: HGTV's "Good Bones" Transformed This Dated Kitchen From Cramped to Airy
We independently select these products—if you buy from one of our links, we may earn a commission. All prices were accurate at the time of publishing.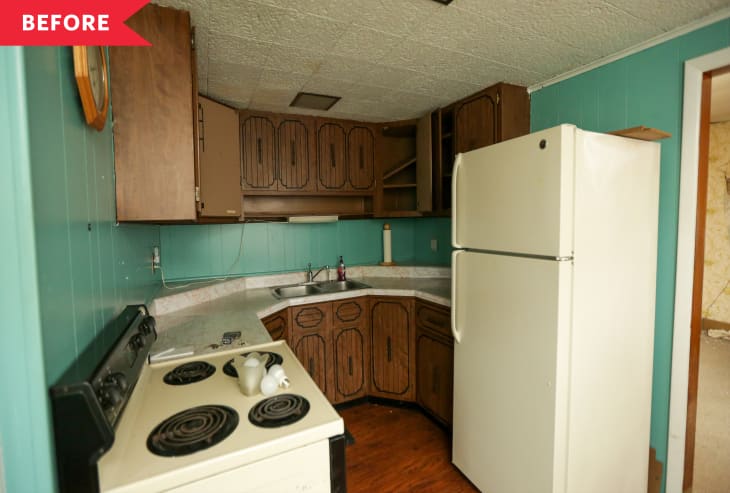 The saying "this home has good bones" often refers to the architectural integrity that hints at a solid floor plan, interesting details, and a flexible layout, among other things. So it's no surprise that HGTV's "Good Bones" show renovates homes that fit this description, and their fifth season kicks off with one transformation that sets the bar—and the ceiling—high.
Hosts and mother-daughter duo Karen Laine and Mina Starsiak bought this 1,375 square-foot home in Indianapolis, Indiana, from George and Paula who inherited the house from George's parents. And while the house had a solid foundation, there was much work to do on the two-bedroom, one-bath abode—including updating the entire layout while preserving its history.
"George grew up in the house and started dating Paula as a teenager. We promised them when we were done we would bring them back to see it, so I'm really hoping they're excited to see that we saved their parents' fixtures," Laine said. Laine and Starsiak agreed on creating what they called an eclectic, Cali bungalow vibe that merged historic details with modern touches.
After analyzing the space, the team decided to execute an open layout by knocking down walls that separated the living areas. They closed off one of the two living rooms—yes, two—to create another bedroom that would function as an ensuite. Additionally, they removed two doors on one wall of the main living room to create more space for furniture and decor (see above).
They knocked down a wall in the dining room that led right into the kitchen, which in itself needed a lot of work because of how cramped it was—mostly due to the low ceiling and U-shaped cabinet formation. The team gutted the entire area, but not before Laine saved the brass cabinet pulls and shift plates to repurpose.
The mother-daughter team repainted the kitchen walls and cabinets different shades of green that dramatically contrasted with the black matted countertops, plus a white and gold herringbone backsplash that tied in nicely with the brass cabinet pulls. They also smashed through the low ceiling that exposed a vault ceiling instead, opening up the room in a tremendous way.
In addition to all of that, Laine and Starsiak redesigned the two existing bedrooms, built an additional bathroom and closet for the suite, and totally transformed the aesthetic to be more modern while honoring the bones of the house. It's safe to say that the dynamic duo did their show name justice.