These Homeowners Made a Spoof HGTV Show About "Painting Exactly One Wall"
We
independently
select these products—if you buy from one of our links, we may earn a commission. All prices were accurate at the time of publishing.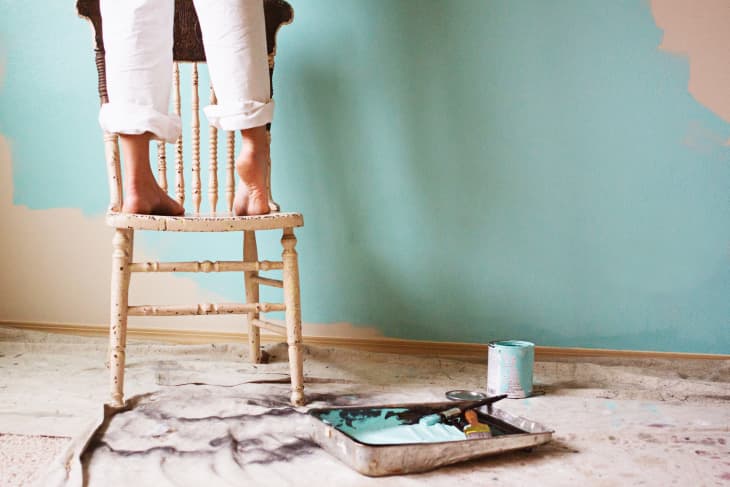 With so many people having extra time on their hands these days in quarantine, it's hardly a surprise that home improvement projects seem to be on the rise—after all, what better time than now to spruce up your space? One couple documented their DIY painting job of one singular wall by creating a homemade version of an HGTV show, and yes, it's filled with all the silly suspense and surprises you'd expect.
TV writer Jesse McLaren shared the minute-long spoof series on his TikTok page, titling his homemade show "Painting Exactly One Wall." McLaren bursts in on his fiancé, freelance writer Ali Drucker, as she's minding her own business making breakfast, asking her if she's "tired of the plain old wall." When she confirms that she is, in fact, tired of the plain old white wall in their living room, the pair get to work to paint the wall gray, hoping to give Drucker "a whole new outlook."
First, they move all the furniture and begin prepping the space to paint, with McLaren noting that they have an "arbitrary amount of time to do this in," so they must make it speedy. Tensions mount as the couple doesn't know if they can get it done to hit their imaginary deadline, but ultimately, it all works out "just in time" as they stage the space, putting everything back exactly where it was, just now with a gray wall instead of a white one.
The pair then walk into their space for the big reveal of the work they did entirely themselves, with Drucker asking McLaren if he likes it. He casually responds, "yeah," thus concluding the pair's "TV debut."
Of course, followers took to the comments section to share their reactions. Some loved the realistic effects and suspense building, writing, "The before and after transition effect is what really seals the deal."
The pair shared the clip on their Twitter pages, with McLaren noting that he previously worked with designer Nate Berkus on makeover segments, so he has plenty of expertise in the area. Some Twitter users asked the important questions, like if they ended up over budget, as is so common on HGTV.
Drucker also shared the clip on her Twitter page, captioning it, "If you wanted to know what our slow descent into madness looks like," which is honestly pretty relatable to anyone that has ever attempted to DIY a paint job at home, especially in quarantine. Here's hoping the couple decides to paint a few more walls soon, taking viewers along the hilarious journey with them.