I Used to Want to HGTV-ify My Home, But Now I Think There's a Better Way
We
independently
select these products—if you buy from one of our links, we may earn a commission. All prices were accurate at the time of publishing.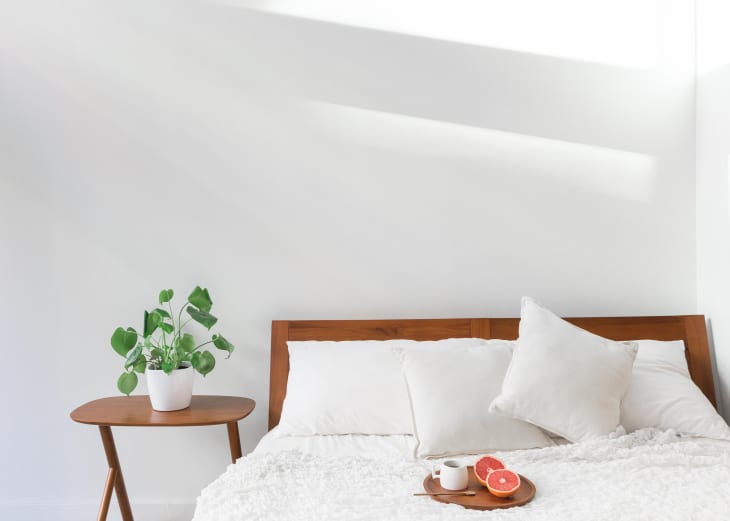 Since HGTV began broadcasting in the mid-90s, its programming has become both completely engrossing and perfect background noise at the same time. You can settle in to watch a marathon on a Friday night, or catch a few minutes while you wait for your doctor's appointment. Either way, the shows don't lose their allure.
The channel's impact on home decor choices over the years has been remarkable. People look to HGTV to see what their home could be. The quick turnaround projects, home flips, total gut jobs, and fixer uppers are aspirational — they show us what our homes have the possibility to look like with the right coat of paint, type of flooring, or new pieces of furniture.
It's clear HGTV's influence favors a neutral palette right now — gray vinyl floors, greige walls, and white cabinets come to mind. I've definitely looked at my own home with a new distaste after a few hours of watching home after home come together beautifully. What if I repainted everything a neutral greige? Would I be satisfied with my house then?
Here's the thing, though: These HGTV designs are often favored by flippers so they can create a universally palatable home that's move-in ready. That means there's a conspicuous lack of character in them. Yet for some reason when I ogle the gray boxes on HGTV, I feel the impulse to wipe the character off my home, too.
But character is what you get when you make design choices that fit you, your style, and your lifestyle. Character is the piece of furniture passed down through the generations that bears the marks of use and love, or a hand-painted sign you made during a DIY phase. It's often what you don't see when someone tries to copy the perfect staging of an HGTV home.
You also don't glimpse the backpacks, coats, and shoes littering the floor after school. You don't see the sink full of dirty dishes after the whirlwind that is cooking and eating supper. You don't see the leftover wine glasses from last night's party leaving red circles behind on the countertop.
For a long time, I wanted my house to have HGTV's shining countertops and that perfectly positioned vase of fresh flowers. I really loved the look of a the stack of decorative books atop a clean ottoman. But now I realize the well-worn table top and the backpacks on the floor are what make my home mine.
As I live in and design my little space that holds our family of five plus our dog, I've come to understand that there is an alternative to creating a magazine-worthy home that mirrors what I see on TV. That alternative is a place with personality — a place that is uniquely ours. That's not to say I won't include a trendy piece here and there, but designing a home that fits our lifestyle is crucial to a well-lived life that flows.
So while you can totally settle in for a HGTV marathon and ogle all of the amazing spaces you see, remember that your space is yours and it doesn't have to reflect anyone but you.