High Five a Million Angels Because 30 Rock Is Heading to Hulu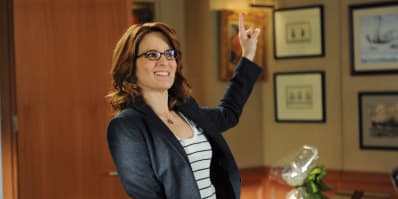 (Image credit: NBC)
It's been a roller coaster of a month for 30 Rock fans since Netflix announced the series would be leaving the streaming service in October. But today, we found out that the sitcom will be heading to Hulu, and we're high fiving a million angels.
A couple weeks ago, people were served banners alerting them to the bad news while watching the show on Netflix. It sparked some intense reactions from fans, with one Twitter user saying that "all the original content in the world won't keep me from canceling" if 30 Rock goes.
Hulu subscribers, however, now have reason to celebrate, as Variety reports that the service will become the exclusive subscription VOD (video on demand) home of the show's 138 episodes. The NBCUniversal deal also includes streaming rights to the network's shows Parenthood, There's Johnny, Made in Chelsea, and Face Off.
30 Rock will be available on Hulu October 1—the day it's leaving Netflix—while Parenthood is slated for early 2018.
(Image credit: NBC via Giphy)
Netflix is having a tough go at keeping non-original content around: Earlier this month, the head of Disney stated that not only would all Disney movies leave the site in 2019 when its in house streaming platform launches, but also all Marvel and Star Wars films would be removed from Netflix as well.
Design shows were also scrubbed from the 'flix, and then Scripps signed a deal with Hulu for HGTV, Food Network, and other lifestyle programming earlier this year.
Netflix users, never fear: there's still some good stuff coming in October. And if you're a Hulu person, well, here's what's coming and going on the service.