High & Low: Popsicle Molds, Ice Cream Makers & More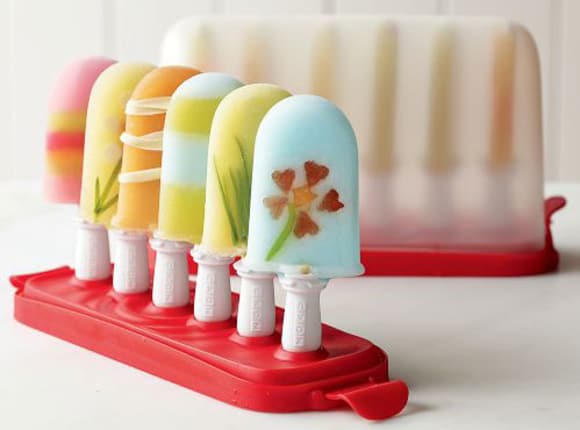 Looking forward to a season of ice cream, popsicles, milkshakes, and more? Check out our guide to the best high and low options for specialty tools. It covers popsicle molds, ice cream machines, blenders, juicers, and cream whippers — everything you need for a sweet, cool summer.
Popsicle Makers: High & Low
Williams-Sonoma
You chill this little ZOKU popsicle maker in your freezer, pour in your ingredients, and you have insta-pops in 30 to 90 seconds. Read the full review here.
• ZOKU Quick Pops, $50
Lehman's Non-Electric Catalogue
This is the old-school, star-shaped popsicle mold that takes you back to the 70s. Made of plastic, it comes with built-in reusable sticks.
• Star-Shaped Ice Pop Mold, $13
Ice Cream Makers: High & Low
Amazon.com
The Rolls Royce of ice cream machines, this stainless steel model has a built-in compressor that makes quart after quart of super-creamy goodness without having to wait between batches.
• Lello 4080 Musso Lussino Ice Cream Maker $700
Sur La Table
Available in 7 colors, this little ice cream maker is a basic electric model that's fine for small batches. Read the full review here.
• Cuisinart Classic Frozen Yogurt, Ice Cream and Sorbet Maker, Berry Blue, $50
Blenders: High & Low
Bed Bath & Beyond
This professional blender has hard-core ice crushing abilities and makes ice cream, juice, soup, and works equally well with hot and cold liquids. Read the full review here.
• Vita-Mix 1363 CIA Professional Series Platinum Blender, $500
Crate and Barrel
If you're looking for a reliable blender that can crush ice and make a good milkshake, this is a popular option. Read more Waring reviews here.
• Waring Professional Blender, $100
Juicers: High & Low
Amazon.com
A masticating juicer, this slowly crushes and squeezes the juice out of fruits, separating juice and pulp. It's also got a simple, self-cleaning rinse mode. Read the full review here.
• Hurom Slow Juicer, $360

This is a centrifugal juicer, which spins at a high speed to process fruits and vegetables. It's not as seamless and easy to clean as fancier models, but it gets the job done. Read the full review here.
• Juice Fountain Compact, $100
Cream Whippers: High & Low
Amazon.com
These are the kind of whipped cream-makers that restaurants use — a stainless steel one-quart container with a charger that twists in and makes a big batch of cream.
• iSi Profi Whipped Cream Maker, $110
Williams-Sonoma
For smaller batches of hand-whipped cream, Williams-Sonoma sells an inexpensive plastic pump that's a little harder to use, but makes enough for pie or milkshake toppings.
• Quick Cream Whipper, $15
Apartment Therapy supports our readers with carefully chosen product recommendations to improve life at home. You support us through our independently chosen links, many of which earn us a commission.