The Most Popular Holiday Decor Trends of 2017, According to Pinterest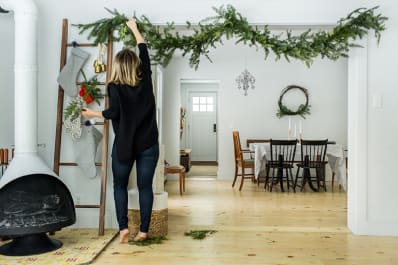 What's your holiday decorating approach? Do you do the exact same thing every year, exactly the same way your parents did? Or do you create an entirely new aesthetic every winter? Is your decor as old-fashioned as possible, or do you scour the internet for the newest, freshest ideas? If you love doing the latter—or if you just love virtually driving past other people's decorations—the top most-pinned ideas on Pinterest this holiday season are a must-see.
Pinterest has released their stats for the most popular holiday styles and projects, and the results are fascinating. We've already reported on giant balloon Christmas lights, which had a +1,024% increase in saves, so please enjoy the other top Pinterest holiday trends!
Green Garland: +413%
What's not to love about green garland? It's generally affordable, it brings life and vibrancy indoors during the dark, lifeless days of winter, it's easily DIYable, and it's endlessly adaptable. These examples include string light swags, graceful text, paper leaves that will last forever, and fleeting fresh garlands strung ever so casual across doorways like The Fresh Exchange's lovely display in the lead of this post. Unless you choose to craft your garland out of paper, felt, or faux greenery, it will add not just visual beauty but also a delightful scent to your home. Consider using eucalyptus, rosemary, varieties of pine, and/or bay for the most delicious decorations around.
Branch Star of David: +248%
There's been endless discussion in recent years on the Scandinavian Christmas style, in all its minimal, natural, cozy glory, so it's about time hygge Hanukkah got some love. These stars are an excellent combination of the handmade, reclaimed, eco-conscious look that's so popular these days, and the linear shape of the star lends itself perfectly to being crafted out of sticks.
I've seen a wide range of aesthetics for branch-based Stars of David on Pinterest. Some are spare and graceful, others are lush and evergreen, and some (not featured here) have a very strong Blair Witch Project aesthetic. The most striking examples are made of straight sticks connected at the points, either left bare or adorned with string lights and/or drapey greenery. This would be an excellent project to do with kids—they'll love hunting for suitable branches, and you can supervise the construction process if needed. If you make your Stars of David out of sticks (or faux evergreen branches) this winter, they will pretty much last forever!
Blue & White China: +364%
Red and green may be the traditional Christmas colors, but blue and white are so well suited for the cool, snowy hues of winter—and they happen to be the traditional colors (along with silver) of Hanukkah! There are gorgeous place settings made of blue and white China, but don't limit yourself to plates: ginger jars make great centerpieces or vases, and there are darling ornaments out there for your tree, too.
Blue and white China, whether in modern, Delft, or Chinoiserie styles, pairs beautifully with the wood, gray, and greenery so popular in winter holiday decorating, but it also pops perfectly against the bright orange (complementary colors!) and green of winter citrus. It works wonderfully with fancy silver hauled out for holiday feasts, but also looks smashing with more modern black, gold, or rose gold flatware.
Pineapple Christmas Tree: +3,406%
The words "pineapple Christmas" made me immediately think of Spongebob Squarepants's home festooned for the holidays or a Jimmy Buffet Christmas album, but apparently it's a current HUGE trend on Pinterest! And it's not hard to see why: pineapples are cheaper than tabletop Christmas trees but just as compact, they have both Old World hospitality and over-the-top tropical associations, there are a surprising amount of Hawaii-related Christmas songs, and they're delicious.
When the holidays are over, you can butcher your tree and start your New Year's cleanse off right! You could also give a Christmas pineapple as a host/hostess gift, or let your kid decorate one (especially if you don't want to bother with an actual tree). To me, part of the fun is that having a Christmas tree be pineapple-based removes it from the oft-oppressive TRADITION that can come with the holidays. Decorate your pineapple however you like! You've already replaced a large, expensive, high-maintenance tree with a modestly sized fruit that just sits there, so anything goes.
Interestingly, this seems to be one of those internet phenomenons in which there are more breathless articles about how a trend is "taking over" and "breaking the internet" than there are actual examples of said trend. Every pineapple Christmas tree roundup I found had the same 4-6 photos; I tried to find examples I didn't see featured anywhere else, so please enjoy these five pineapples decorated like Christmas trees . . . and one Christmas tree decorated like a pineapple.