5 Home Accents That Always Look Good in Real Estate Photos, According to the Pros
We independently select these products—if you buy from one of our links, we may earn a commission. All prices were accurate at the time of publishing.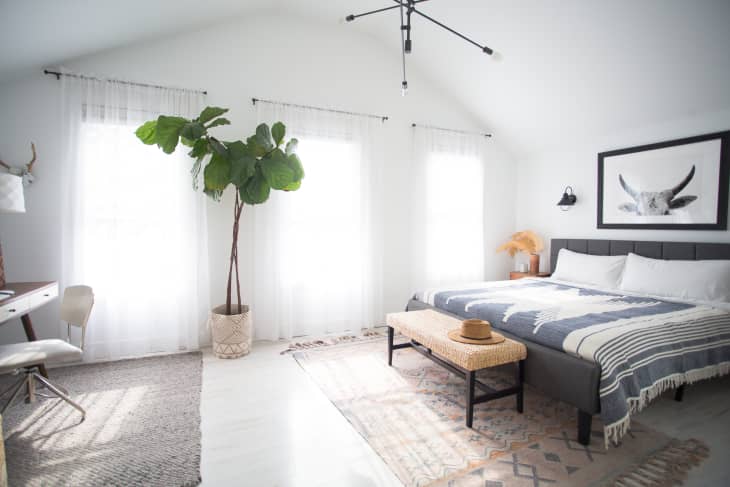 When it comes to putting a home on the market, few things pique a buyer's interest like top-notch listing photos. In fact, the National Association of Realtors reports that 85 percent of buyers name photography as the most critical factor in determining whether to scope out a property in-person. Having good-looking images is key, says Massachusetts-based Realtor and photographer Doug Walters. Typically, "if the photos aren't appealing, you'll get [less] interest online, which will lead to fewer showings. Fewer showings will lead to fewer offers, and fewer offers [can] lead to, generally, a lower sale price," he says.
So how can you make sure your photos stand out? With a few camera-friendly accessories, for starters. Ahead, Walters and other real estate experts share the home furnishings and finishes that shine brightest in listings.
It's a simple trick, but an effective one: White linens, specifically bedding sets and bathroom towels, never fail to pop in photos. "They're clean, crisp, modern, and neutral," says Andrea Canty, who co-owns Massachusetts-based Red Door Design + Staging with Allison Tilly Carswell. Plus, Walters points out, they serve a practical function. "White bounces light better than other colors," he says, "so it'll actually make a space brighter from both the natural and incandescent light."
Whether it's a sprawling sectional or a hulking armoire, oversize furniture can interrupt sight lines and stifle the flow of your layout. Pieces that are properly scaled for a room, on the other hand, feel less intrusive and can even make a room seem larger in photos, the experts agree. "They do a good job of showcasing the space and how it can be used," Walters explains. 
You already know how impactful decorating with plants can be. But word to the wise: One larger plant — Canty and Carswell specifically recommend rubber trees for their voluminous, "architectural" look — actually photographs better than a series of smaller ones (say, that family of succulents you snagged from your friendly neighborhood Whole Foods). Like having too many accents on a coffee table or a throng of magnets on your refrigerator, groupings of smaller plants can feel busy in photos, Carswell says. 
Dining Room Statement Lighting
Have a cool chandelier or pendant light to show off in your dining room? That can work to your advantage come photoshoot time. "We always love a dramatic [lighting] feature over a dining room table. That's one way to really elevate a room," Canty says. If your fixture is outdated, though, it might be worth investing in something new, she adds. "If someone's able to do that, we always feel like it's well worth the money," Canty says. 
Neutral Paint Colors and Fabrics
Intricate prints and bold colors certainly have their place in interior design, but the experts caution that they can often be turn-offs to buyers when spotted in real estate listings. "Patterns can be a little distracting," Carswell says. Solid, neutral tones, by contrast, tend to render better in photos while also offering a more crowd-pleasing look. The goal, Walters says, is to "appeal to the largest demographic of people."