Home Depot's 12-Foot-Tall Skeleton Is the Star of Halloween Memes
We independently select these products—if you buy from one of our links, we may earn a commission. All prices were accurate at the time of publishing.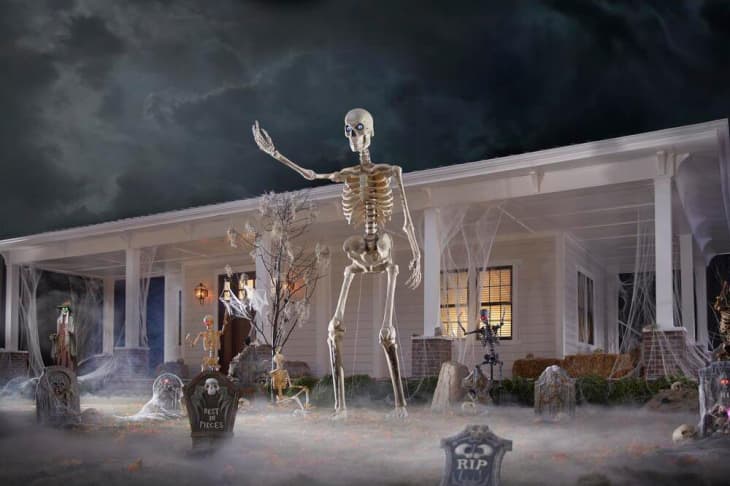 Home Depot is celebrating the spooky season in a big way, quite literally. They're selling a 12-foot-tall skeleton figurine that has eyes made of LCD screens, allowing it to stare and blink at unsuspecting trick-or-treaters. It also has a durable metal frame, ground stakes for stability, and is made from weather-resistant material so it can survive being a decorative lawn piece.
The skeleton went viral after TikTok user Dieanna Nol posted a video of it being disassembled at the store, and being assembled at her home.
Several more photos surfaced on Twitter, including one showing a skeleton perilously strapped to the roof of a Mini Cooper.
Since then, the internet has been making jokes and even creating fan art.
Unsurprisingly, people have been flocking to Home Depot to get one themselves. It's a bit of a splurge at $299, but then again, it's not every day you get the chance to bring home a giant realistic skeleton.
As of writing, the product already has 113 five-star reviews. A satisfied customer wrote: "What an awesome Halloween decoration. He definitely added some coolness to our yard. Every day we have had people stop and take pics of our yard and of him."
Another added: "This skeleton is the only thing that has cured my depression. I've never been so happy and gotten so many compliments."
The skeleton is currently out of stock on the Home Depot website, but you can check with the store nearest you for availability. Also check out Home Depot's entire Graves & Bones Collection for some truly incredible spooky decorations. You have until October 31 to buy the must-have Halloween decoration of the year.