5 Home Maintenance Responsibilities You Can Kiss Goodbye
We independently select these products—if you buy from one of our links, we may earn a commission. All prices were accurate at the time of publishing.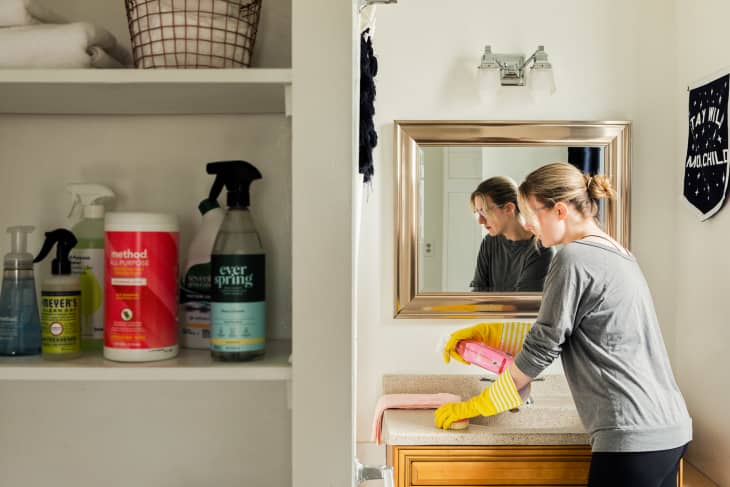 So you've bought a new single-family home. Congratulations on this major life purchase! And welcome to a new world of housework—chores are an unfortunate fact of homeownership. The good news is, you can avoid plenty of it. Forget doing yard work, deep cleaning, and even washing the dishes. Instead, try these five ways to outsource your housework—that is, if your budget allows for it.
Follow Topics for more like this
Follow for more stories like this
Mowing the lawn is a thing of the past with the bevy of yard maintenance professionals at your service. Get your grass cut, trees trimmed, and edges weed-whacked. Depending on the size of your yard and where you live, you'll likely pay about $60 for a mow. Things like tree trimming and pruning can be substantially more expensive, hitting up to about $300 to $600 per job.
Some of us have green thumbs and some of us are more likely to obliterate even the hardest-to-kill plants. Luckily, landscapers and gardeners are happy to step in. Let someone else give your house curb appeal with plants and flowers around the yard, for an average cost of about $20 and $50 per hour. And if you live in a colder region, they'll be able to help keep plants safe over the winter while you hire someone else to plow snow from your driveway instead of shoveling it yourself. For that, it'll cost you between $25 and $75 per hour.
When you own rather than rent, you have carte blanche to do whatever you'd like to your home. In other words, no more restrictions on nails in the walls or on paint colors. Granted, some of us may not be the best interior designers—so hire one to take your vision and make it reality. Keep in mind, though, that this can be a bit pricey, ranging from $2,000 to $5,000 on average.
Sure, you probably tidy up on a regular basis. But when it comes to deep cleaning, why do it yourself if you don't have to? A standard cleaner will charge you about $150 per session, covering a deep scrub of every living space you dread doing yourself, like the bathroom and kitchen, and the rest of the house, too.
If you crave help with more everyday chores over the heavy-duty stuff, consider hiring housekeepers: the ones who do your dishes and take out the trash every day. If you watched "Tidying Up with Marie Kondo"—or live with someone else—you probably know these can be the starting point of many arguments. Hire someone to handle all of the household chores so you (and whoever you live with) can relax. The average cost for this service is about $50 to $90 per hour. If you don't want someone in on a daily basis, some house-cleaning services will charge an extra fee to do your dishes, and you can easily send out your clothes to a laundry service. Generally, companies charge an average of $1 to $3 per pound. That includes washing, drying, and folding your clothes.