Which Home Style Would These Dog Breeds Choose?
We
independently
select these products—if you buy from one of our links, we may earn a commission. All prices were accurate at the time of publishing.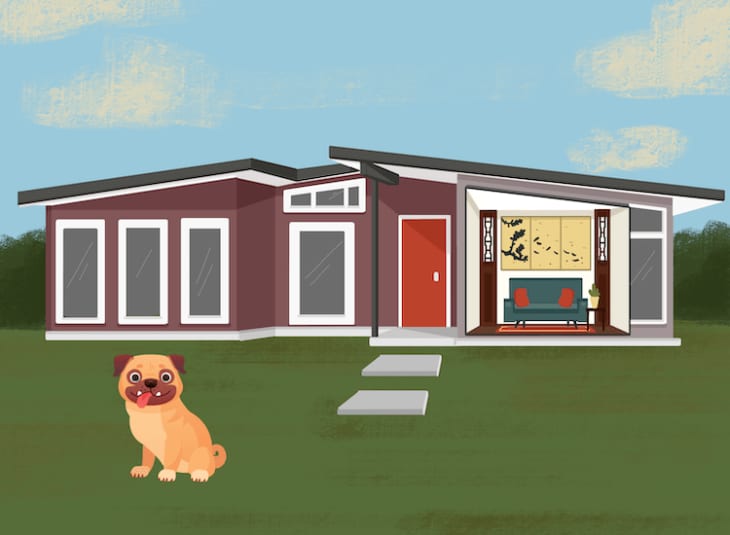 We love seeing predictions of our tastes based on attributes like our astrological sign or personality type. Book recommendations or bedtime routine for our Myers-Briggs type? Yes, please. Less common but just as fun are similar predictions for dogs based on breed. For example, what kind of house would your dog live in, if it had a credit score and opposable thumbs? We'll tell you.
In a post for its blog, Home Made Easy, flooring store Empire Today matched eight dog breeds to styles of home architecture based on personality and size. Why not? The illustrations are adorable and the fun explanations make us wonder what our dogs would have to say. Would your corgi agree with its tiny home verdict, or would it rather live in a castle-style mansion like a queen?
Here are a few of the dog-home matches:
Golden Retriever — The Colonial
The golden retriever is the ultimate suburban, American-dream dog, and just like colonial-style houses, they starred heavily in family movies of the 1990s.
Poodle — The Classical Revival
Poodles are fancy and French, like a luxurious French Renaissance-style house in New Orleans' French Quarter. Of course, the inside of a poodle's home would be full of luxurious materials and decor as well.
Pug — The Mid-Century Condo
Like a pug, this home is small and doesn't take itself too seriously. Because pugs originated in China, this one has Chinese art on its walls.
Mixed Breed — The Eclectic Craftsman
What's a dog-breed list without a nod to the supermutts? If these dogs could have human houses they'd include an eclectic mix of styles tailored to each individual pup's tastes.
For the rest of Empire Today's dog-home predictions, check out the full post here. What architectural style would your dog choose?