Homebodies, Rejoice: Issa Rae Gives Us Great Excuses to Stay In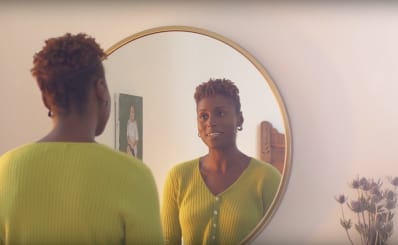 (Image credit: Vogue)
For some of us, as the temperatures cool down, so does our desire to go out. Turns out card carrying members of the stay-at-home-club can now count actress, writer and excellent Twitter user, Issa Rae as a member. In her recent appearance in Vogue's new series, Sad Hot Girls, the Insecure star talks about one of her worst going out experiences and gifts us with a handful of excellent excuses for staying in.
Rae is the first to be featured in the new Vogue series that "investigates the mystifying, oft-seeming impossible world of intimacy and friendship with the help of some of our favorite artists and writers." She shares a story about letting her friend talk her into going to a club and the night turning out to be a bust. She also makes a good case for avoiding all that by just hosting a party yourself.
Her A-plus excuses for bailing on plans should probably make it into your homebody repertoire, "I heard it smells and it's a gas leak... in there so it's not safe...there's probably asbestos." For breaking plans with your witchier friends, "I heard mercury is in retrograde." And the classic, "have fun though tell everyone I say hey, tell everyone I miss you, I'm there in spirit."
Watch the video for excellent advice and head over to Vogue to see where you can get the cute pieces featured in the set.