Homesick Candles Just Teamed Up with Sugarfina for the Sweetest Valentine's Day Collection
We independently select these products—if you buy from one of our links, we may earn a commission. All prices were accurate at the time of publishing.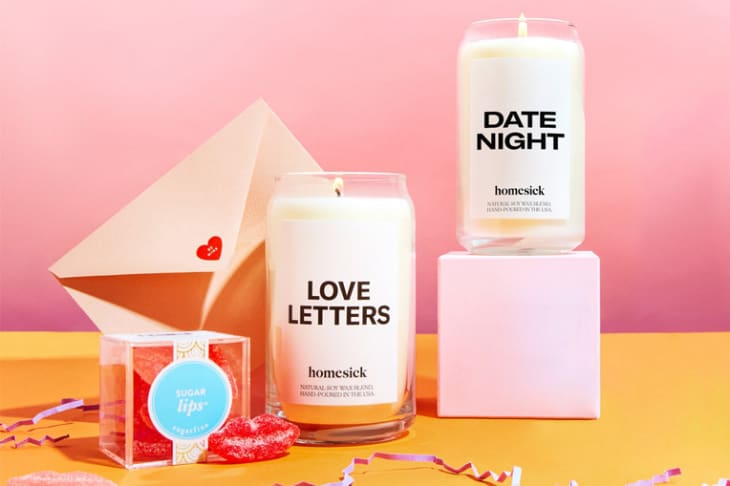 Is there a scent that encapsulates your relationship? Maybe it's the whiff of cherry blossoms as you wandered the park on your first date or the sultry, spicy, can't-put-my-finger-on-it smell of that speakeasy where you agreed to delete your Bumble profiles together.
Follow Topics for more like this
Follow for more stories like this
Scents have the incredible ability to transport us to a time and a place so easily, which is why they're often the perfect gift for sentimental or thoughtful holidays. And — spoiler alert — there is no company better at nailing those memory-inducing scents than Homesick Candles. The popular brand first got its start with its ingenious state-themed candles, which encapsulate the smells and scent notes each state is known for. Since then they've come out with a slew of bestsellers, like a collection geared towards astrology lovers, a candle meant to celebrate your first night in a new home, a candle for newlyweds, and so much more.
This Valentine's Day, Homesick is leveling up yet again with a brand new love-themed bundle geared towards the soulmates, situationships, and friends you want to celebrate this February 14. To help make your Valentine's Day shopping oh-so-easy, Homesick has partnered with bespoke candy company Sugarfina on four sweet and sentimental candle and candy collections, which pair some of their love-themed scents with treat boxes of Sugarfina's best-selling gummies.
There's the Sugar Lips bundle, which teams Sugarfina's delicious sweet-and-sour chews with two of Homesick's candles: Date night — which boasts notes of fig, cashmere, and sandalwood — and Love Letters, which incorporates traditionally romantic scents like rose petals, jasmine, and peony. Similarly, the Champagne Bears Bundle combines the same duo of candles with Sugarfina's champagne gummy bears in case your beloved isn't into mouth-puckering sweets.
Champagne fans will be thrilled to hear there's also a Bubbly Bundle entirely dedicated to the bubbly stuff, with Homesick's Let's Toast candle (comprised of zesty scent notes like grapefruit, pineapple, and champagne grapes) and Sugarfina's champagne gummy bears, which are made with actual Dom Pérignon — seriously! Feeling like a big spender this holiday? You can splurge on the Candles and Candies Bundle to get the best of everything on offer, including the Date Night and Love Letters candles, as well as the champagne bears and sugar lips.
A word to the wise: You're going to want to shop these creative bundles ASAP because — while Homesick will still carry the included scents — we don't see that sweet candy deal sticking around for long. Plus, you don't want to show up empty-handed on Valentine's Day, do you?