Hong Kong Wants To Pay for Tourists' Plane Tickets in 2023
We
independently
select these products—if you buy from one of our links, we may earn a commission. All prices were accurate at the time of publishing.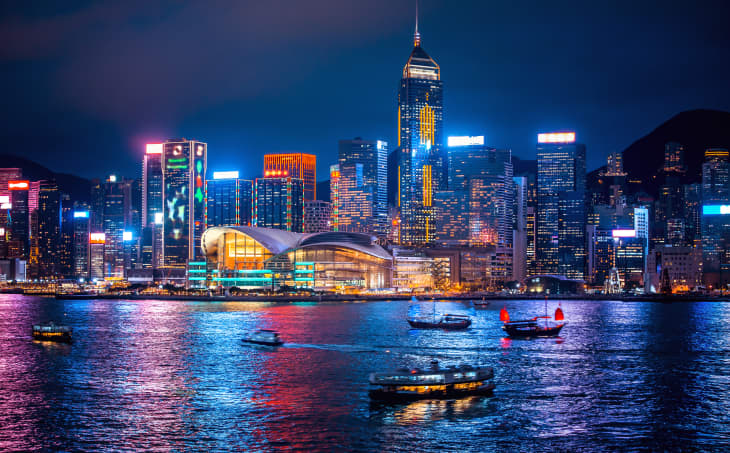 Right as Japan officially opens to travelers again, another popular East Asian travel destination has announced a tempting travel deal for visitors. In an attempt to lure travelers back after two years of strict COVID-19 quarantine restrictions, Hong Kong's tourist board is giving away half a million free plane tickets in 2023.
It's not a new plan, exactly. The Airport Authority of Hong Kong first announced plans to give away 500,000 flight tickets (worth around $254.8 million) back in 2020, as part of a government support package for the aviation industry. As of this week, that plan is officially in the works.
Initially, this plan would target Southeast Asian countries. Hopefully, more official details about the deal will be available soon.
This initiative marks a big shift from Hong Kong's past pandemic protocols. Back in the earlier days of COVID-19, only residents of the city were allowed to enter, and they had to quarantine in a hotel for 21 days upon arrival. The required quarantine period has since been reduced to seven days, then three days, before finally being scrapped on September 26, 2022.
Unsurprisingly, Hong Kong tourism has fallen drastically in the past few years. The Hong Kong Tourism Board told the Taipei Times that it recorded 76,000 tourist arrivals in the first half of 2022, compared to 65 million during the year of 2018.
Although the hotel quarantine has been lifted, there are still certain rules and restrictions that visitors to Hong Kong must follow. Incoming international travelers must submit a pre-flight vaccination certificate, a negative PCR test, and a rapid antigen test. Once they've entered, visitors must monitor their health for three days, and are prohibited from visiting bars or restaurants. They must also complete PCR tests two, four, and six days after arrival, and a rapid antigen test every seven days.