Hope and Pete's Bohemian Modern Abode
We independently select these products—if you buy from one of our links, we may earn a commission. All prices were accurate at the time of publishing.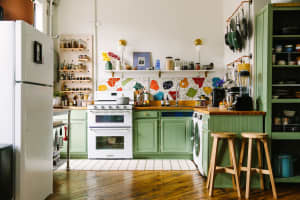 Can't-Miss House Tours Straight to Your Inbox
Keep up with our latest house tours each weekday with our House Tour of the Day newsletter
Pulling up to Hope and Pete's home I can't help but notice that I've entered a place where all of the homes are perfectly landscaped in gravel and native plants and maintain a uniform sense of modern, minimalist design. It's almost Stepford-ish in its perfection, if the Stepford wives took their cues from Dwell magazine.
Entering their home the bubble of uniformity is burst as both the space and my hosts ooze personality and embrace a perfectly-imperfect, laid back style, creating a beautiful contrast of clean lined modern and a carefree bohemian aesthetic. It's no surprise that they possess such a strong sense of style, co-owning both a hip SF clothing boutique Marmalade and The Mason Jar, a home decor store, also in the city. And as for all of that modern architecture? It turns out that the home is an original Eichler.
Apartment Therapy Survey:
My Style: Rustic Bohemian with Mid Century Modern undertones.
Favorite Element: The Atrium. We wanted to move in the moment we saw it- you never expect to open the front door to a house and find yourself right back outside again. We have our tea and coffee out there in the mornings and in the evenings we sometimes snuggle up under a blanket and watch for shooting stars. When it rains, we'll light a fire and sit on the couch and watch the rain fall all around us- it's an incredibly cool experience.
Biggest Challenge: Because our house is one of the iconic Eichlers, we felt a certain responsibility to stay true to the era and go Mid Century Modern; but MCM design can sometimes be a little stark and impersonal, and this house in particular felt that way because of all the glass. So we warmed the space up by adding wool rugs and oversized pillows for texture and color, then brought in some big pieces of rustic furniture (all of which Pete made) which created a nice balance between the masculine and feminine facets of the room. Once we layered in our plants and personal objects, the house began to feel less like the set of Mad Men and more like 'us'.
What Friends Say: Most people comment that we've done a good job of blending our individual styles together; each of our personal histories are well represented in the details of the home through family heirlooms, photos and hand me downs. We've managed to tell two very different stories in one cohesive space.
Biggest Embarrassment: The floors- they're original from the 60's and are those awful linoleum tiles that you find in every hospital or high school cafeteria. Eventually we'll replace them but it's such a huge undertaking, so for now I just try not to look down too much. 🙂
Proudest DIY: Hmmmm….that's a tough one because we own a home decor store where Pete designs and builds furniture for a living and I do a line of pillows for our home decor store, The Mason Jar, so a lot of what you see was made by one or both of us. But my favorite pieces are the bed frame and the small table next to the Eames chair that he built to hold my collection of old design magazines. All the wood he uses is locally salvaged and has a really good story- our bed used to be part of the floor in an old roller rink in Petaluma.
Biggest Indulgence: Oh that's easy, it's definitely our art collection! We love to travel and explore, and most of our favorite pieces are things we picked up while on holiday. Pete once schlepped a super heavy Indonesian Teak sculpture all the way back from Paris in his carry on! It's nice to have every day reminders of those experiences reflected in our home.
Best Advice: I get bored easily and I love to shake things up, so for me, keeping the furniture and walls neutral allows me to transform the entire feel of a room just by rearranging the details, like pillows, objects and art. Nearly everything in this house was at one time or another living in another room. And always have plants- a house is not a home without plants.
Dream Sources: International flea markets, The Mason Jar, 1st Dibs, HD Buttercup, ABC Home & Carpet in NYC and Tumbleweed & Dandelion in LA.
Both interior and exterior are original and discontinued, Dunn-Edwards Desert Sand.
Chairs- Flea Market find
Pillows- West Elm
Jute Rug- World Market
Couch- EQ3
Pillows- The Mason Jar
Throw- The Mason Jar
Rug-West Elm (but we found ours on Craig's List)
Coffee Table- HD Buttercup
Sideboard- Craig's List
Sunburt mirror above fireplace- The Mason Jar
Eames Chair – Flea Market find
Side table next to chair- Colling Design + Build
Side table next to couch- The Mason Jar
Hanging light fixture above the couch- The Mason Jar
The table is from the 1960s and we bought it from a neighbor who was selling his house and moving in with his daughter. It had been in their family for over 40 years, and he told us stories of all the Christmas dinners, how his kids would sit at it every night and do their homework before dinner, etc. It had a lot of happy memories for him and we promised to carry on the tradition.
Table & chairs- Craigslist
Storage unit- Ikea
Rug- Ikea
Bed frame- Colling Design + Build for The Mason Jar
Duvet- Target
Pillows- The Mason Jar, made by me (Hope)
Side tables, Colling Design + Build for The Mason Jar
Rug- The Mason Jar
Buffet- The Mason Jar
Lamps- The Mason Jar
Bed frame- Ikea
Dresser- Crate & Barrel
Pillows- The Mason Jar & Krimsa
Rug- Target
Couch- Crate & Barrel
Pillows- The Mason Jar & Krimsa
Rug- The Mason Jar
Floating Wall Shelves- Colling Design + Build for The Mason Jar
Floor Pouf- World Market
Desk- Crate & Barrel
Bookshelf- Craig's List
• HOUSE TOUR ARCHIVE: Check out past house tours here.
• Interested in sharing your home with Apartment Therapy? Contact the editors through our House Tour Submission Form.
• Are you a designer/architect/decorator interested in sharing a residential project with Apartment Therapy readers? Contact the editors through our Professional Submission Form.
Updated daily with fresh tours full of photos for you to pin & enjoy!