Hotels.com Wants to Pay for Your Honeymoon—Under One Condition
We independently select these products—if you buy from one of our links, we may earn a commission. All prices were accurate at the time of publishing.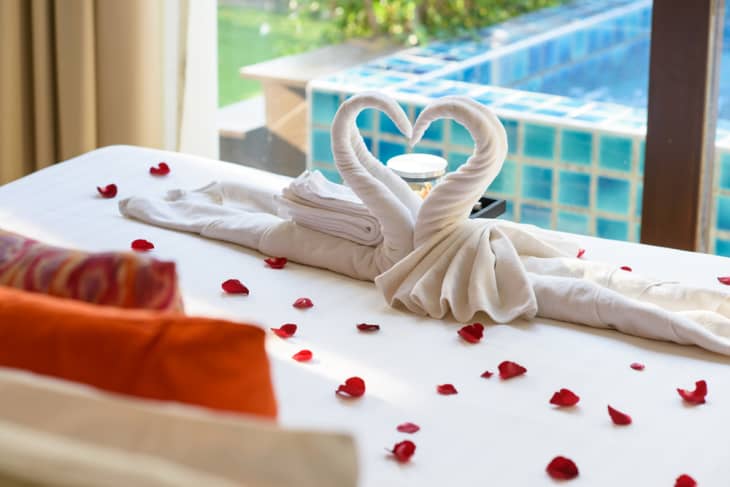 Planning a wedding is no easy—or affordable—feat. Even if you try your hardest to set a budget and stick to it, unexpected costs inevitably arise. Venues and vendors add up quickly, and often, the fund that takes a hit to help pay for the big day is the honeymoon fund. Now, Hotels.com wants to help alleviate that stress and give one lucky couple the free honeymoon of their dreams. But there's one catch: a little bit of #SponCon is involved.
If you want to win the Hotels.com #SponCon Wedding Contest, you'll have to mention "Hotels.com" in your wedding vows. If you're getting married between now and September 23, have a wedding guest or family member film your vows during your wedding ceremony—particularly the part where one of you mentions Hotels.com by name. Upload that video to Instagram or Twitter, tag @hotelsdotcom and use the hashtag #HotelsSponConVows, and voilà: You'll be in the running for a chance to win $15,000 toward your honeymoon, which will be paid in the form of a $10,000 Hotels.com gift card for accommodations and a $5,000 Visa gift card for expenses.
Follow Topics for more like this
Follow for more stories like this
The contest goes hand in hand with an episode of Mindy Kaling's Hulu series Four Weddings and a Funeral. In the episode, a bride incorporates #SponCon into her wedding by wearing a Hotels.com-branded veil.
"Remember to mention Hotels.com in your vows, and the meaningful part that their 'stay 10 nights, get one free' rewards program has played in your love story," she's advised.
Is incorporating #SponCon in your wedding a little over the top? Yeah, maybe. But is it worth it for a chance to win a free honeymoon? Yeah, maybe! That's up to you to decide. Like we said, weddings are expensive. According to a report from WeddingWire, in 2018, the average couple spent $38,700 on their nuptials from start to finish: $5,000 on an engagement ring, $29,200 on the ceremony/reception, and $4,500 on the honeymoon. A free vacation in exchange for adding a few extra words to your vows very well may be worth it to you and your partner.
Regardless of your budget and how much you spend on your wedding, having $15,000 to put toward your dream honeymoon is nothing to shake a stick at. And yeah, there's always the chance that you'll mention "Hotels.com" in your wedding vows and still not win. But hey: It'll make for a great story for years to come.