The Hottest Toy of 2022 Is… A Birthing Guinea Pig?
We
independently
select these products—if you buy from one of our links, we may earn a commission. All prices were accurate at the time of publishing.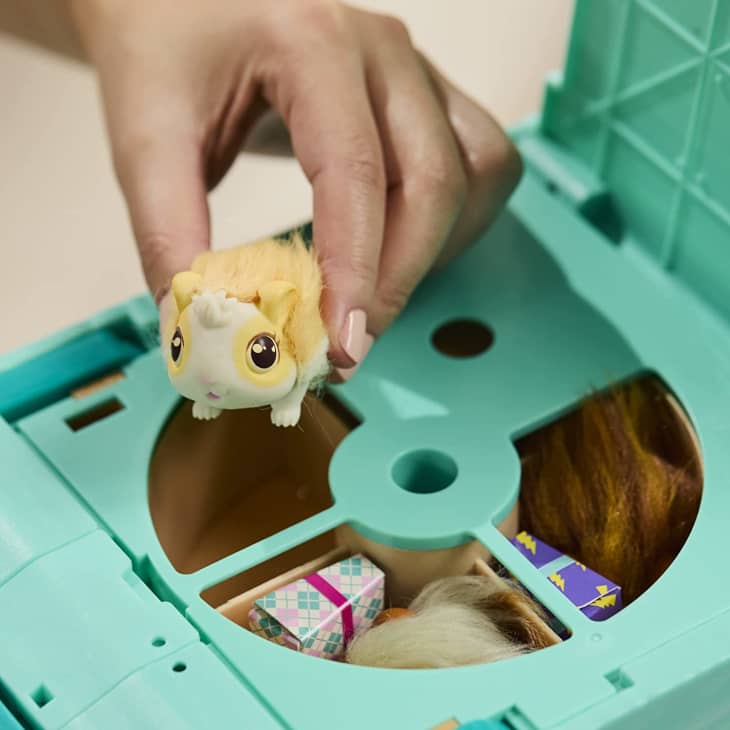 Every year we wonder: what is THE hot, sold-out, stalk-Target-at-opening-hour, must-have toy? The verdict this year is … weirder than usual. It involves a birthing guinea pig. No, I am not making this up.
When I first saw Little Live Pets: Mama Surprise in a Zoom meeting for journalists who cover such things, I thought, well, that's going to be a hit. But I had no idea that it would be sold-out, marked-up-past-$100 popular. Why is it crazy popular? Because it manages to combine the element of surprise with the play pattern of welcoming babies with the kid-bait appeal of having a pet.
The premise behind it makes me, as a mama, tired, but the execution is amazing. A kid loves the guinea pig until her heart glows, then places her in her hutch, filled with toy straw, and waits for her three babies to appear (from a hidden trap door, not from the mama). The babies also appear with little presents. The toy can be reset so that Mama welcomes her cute babies over and over again, an event that doesn't seem to get old. 
Kinda weird? Yes! Totally enthralling for kiddos? Also, yes!
"Mama Surprise is definitely one of our breakout stars this holiday," says Belinda Gruebner, chief marketing officer for the Australian toy company that makes it, Moose Toys. It's the same company, incidentally, that creates the wildly popular Magic Mixies (more on them below). "There is additional Mama Surprise inventory coming throughout the holiday season, but given its popularity, it sells fast, so we recommend consumers buy it if they see it."
Pro tip: You can set this toy so that she has her babies in as fast as 10 minutes or more slowly, so that your child places her in the hutch at bedtime and the babies are all there in the morning —  or, at any rate, 10 hours later.
Where to Buy Little Live Pets Mama Surprise
Other Hot Toys to Buy if Mama Surprise Is Sold Out
If Little Live Pets: Mama Surprise is sold out and you need backup, we recommend these other hot, new-to-2022 gifts that your kids will probably go crazy for:
1. Magic Mixies Moonlight Magic Crystal Ball
In this sophisticated surprise toy, kids summon a plush character into a crystal ball through wand motions. The pretend aspect is that your kids makes-believe that they're magically creating the toy through the spells that they cast. There are dozens of lights and sounds and effects (mist!) that happen on the road from opening this up to having the toy revealed. After that, the toy can tell fortunes, make silly noises, and go to sleep. Kids can also load the crystal ball with other small toys, and make those appear, so the fun goes on. And they can use the ball as a glowing light. We like this version, which has a glow-in-the-dark character inside. Four AAA batteries are already included and loaded in.
2. Baby Alive Princess Ellie Grows Up!
Whether your child wants to dote on a baby or live vicariously through a princess, this doll manages to do both, or rather, to toggle between the two. She starts as a baby, with short hair. When rocked and pretend-fed, she slowly grows, until she's gotten some 4 inches taller. At that point your child can add a wig and dress her up like royalty. At any time she can be returned to baby mode. The doll takes a pacifier, and talks, in keeping with the usual Baby Alive features. Have four AA batteries ready so she can do her thing (they're not included).
3. Got2Glow Baby Fairy Finder
We love a toy that's a cheap thrill! Your child collects pretend fairies with this little toy, which is about the size of your kid's hand. It directs your child to walk around home (or wherever they happen to be), following lights and sounds to "catch" some baby fairies. It's kind of like Pokemon Go, but with a toy and not a phone. There are 20 different babies to collect. Read the directions so you can help your child know which buttons to press to find and catch fairies. Your child can also swap fairies with a friend (the finders are all compatible) and pretend-dump them into a fairy jar, sold by the same company. It runs on three AA batteries that are already included.