This House Kit on Amazon Would Make A Perfect WFH Office — And It's Less Than $8K
We
independently
select these products—if you buy from one of our links, we may earn a commission. All prices were accurate at the time of publishing.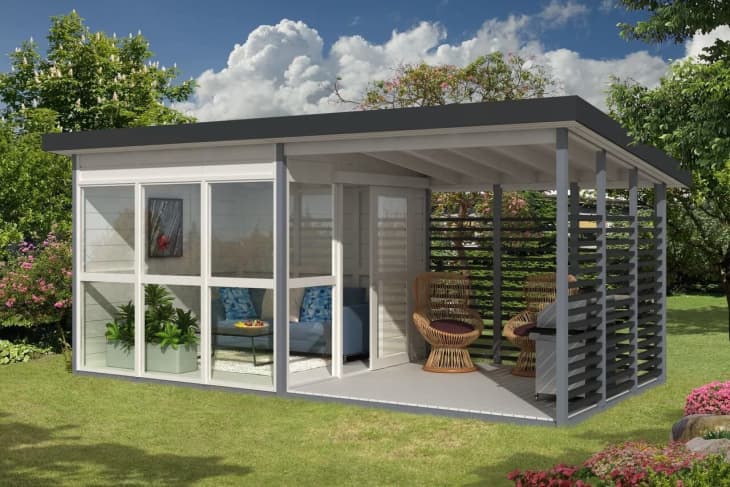 There's something almost magical about buying — and building — a house from a kit. These days, you can order a house kit online and have it shipped to wherever you'd like to set it up. This may sound futuristic, but the idea of house kits isn't exactly new. 
Prefab homes were incredibly popular in the United States in the mid 1900s. Eager homeowners would order houses from Sears catalogs, for example, and within weeks, a home would be built quickly and efficiently on site. Nowadays, these older prefabs are coveted by those who want to hold onto a piece of mid-century history.
For those who'd rather spring for a brand-new house kit, they're available on sites like Amazon, often for cheap. They're not quite the same as prefab homes from the Sears era: Consumers build their tiny house kits themselves, and they tend to work better as additions to existing properties rather than permanent residences. While they're not usually sustainable for long-term dwelling, they make great offices, pool houses, or bonus rooms — not to mention, they offer a fun project to work on. 
The Solvalla Garden House by Allwood is one of the many tiny house kits for sale on Amazon. In our humble opinion, it's also the prettiest. The 172-square foot structure has a price tag of $7,290, and takes two adults about three days to assemble. The garden house comprises two 86-square-foot sections. One is an enclosed space that could operate as the dedicated bonus room or office. It has a wall of windows allowing tons of natural light inside. The other compartment is an outdoor space ideal for lounging. 
With more and more people working from home indefinitely, this pretty little house kit could work perfectly as a WFH office solution — and might offer just the retreat needed from the distractions of the household. 
The kit comes with materials and instructions, but according to the company, you'll need a couple of extra tools to assemble it. Roof shingles and foundation materials aren't included, and Allwood estimates that those will run under $200 each. Shipping is free to any address in the contiguous 48 states, but extra charges might apply for those that need a ferry to access their home for the delivery. Allwood carriers unload the house kit part-by-part at your property. 
The wood that you'll be assembling the house kit with comes in its natural finish, so the structure will be completely customizable once it's all put together. You could paint it white and grey like the sample photo or you could get a little creative. (Maybe you'll want a different color for the interior, or to paint a mural on the floor!)
This particular garden house doesn't come with a whole lot of space for a kitchen or bathroom to be added, although some of the Allwood house kits are big enough for plumbing and an indoor bathroom or kitchen kit to be installed. It'd be worth it to spend the extra money to install electricity inside of the garden house, especially if you want to use it as an office space. If you're looking for a moderately affordable (and lovely-looking) house kit that offers the potential for private retreat at your own home, this might be the ticket.