An Oval Office Fit For "House of Cards'" Claire Underwood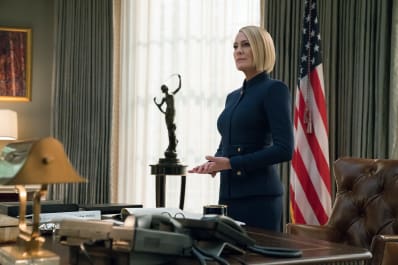 (Image credit: David Giesbrecht/Netflix)
On November 2, Netflix's "House of Cards" returns for its sixth and final season with its own sort of makeover: Robin Wright's Claire Underwood will be our President. Hail to the Chief, amirite? Ambitious, calculating, with a heart of stone, Claire is not someone you want to cross—and it's about time she came for what's hers. To prepare for the new leader of the free world, e-design site Modsy gave the Oval Office a little makeover, with Claire Underwood's aesthetic in mind.
If you've been watching "House of Cards" from the beginning, you know that so much of Claire's personality is also expressed in her wardrobe—full of cool colors, clean lines, and structure (basically, flawless)—and that's exactly where Modsy starts in order to reimagine what is arguably the most iconic office in the world, and make it fit for an Ice Queen. Let's take a closer look at Modsy's makeover.
Modsy's Director of Style Alessandra Wood says that the redesign "is purposefully styled with an eye for minimalism." Claire doesn't come to play, she comes to win, so she has no time for extra clutter or frills that serve no real function. Modsy thought Claire would opt for a clean design "with subtle hints of femininity," like in her choice of throw pillows on her structured tufted sofa.
Because of Claire's chilly exterior (and interior, let's be honest), and her noted disregard for anything have to do with her late husband, Modsy decided to keep Claire's reimagined Oval Office impersonal—no photos, no mementos—this is all business. But that leaves room for high-end structural decor and statement furniture pieces like the Bauhaus-inspired Barcelona chairs. To achieve this "unified and polished" look, Modsy suggests the age old mantra of "quality over quantity," and to consider looking into furniture sets to make everything as cohesive as possible.
Claire's a woman of expensive taste with a meticulous design aesthetic—surely she'd bring that to the Oval Office, tradition be damned. Like the lady said, it's her turn.
Apartment Therapy supports our readers with carefully chosen product recommendations to improve life at home. You support us through our independently chosen links, many of which earn us a commission.