Beth & Jeff's Whimsical Vintage-Inspired Home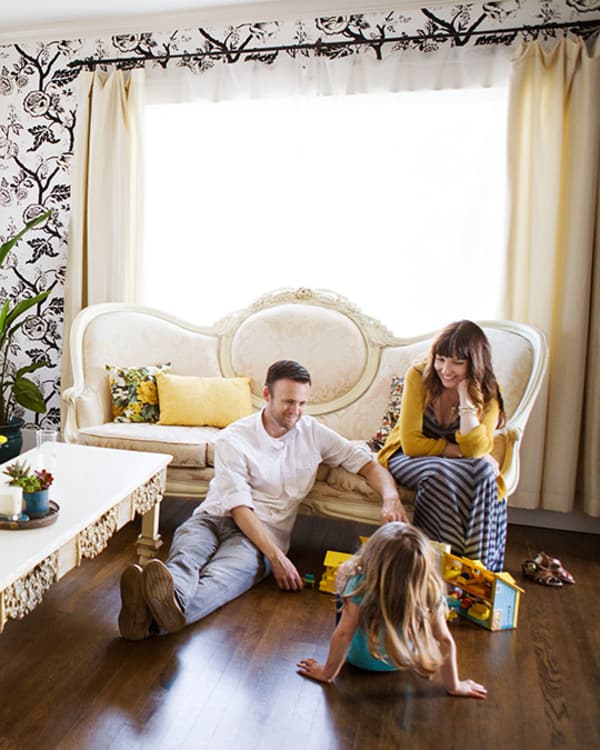 Name: Beth, Jeff, Ruby, and Fiona
Location: Bixby Knolls, Long Beach, California
Size: 1,000 square feet
Years lived in: 6 years; Owned
Set back off of a quiet street in Bixby Knolls is Beth and Jeff's lovingly crafted one-story 1920s home, shared with daughters Ruby, 4, and Fiona, 9 months. But it wasn't always so quaint. When they purchased the home six years ago, it was dilapidated and in desperate need of TLC. With Beth's artistic vision and Jeff's DIY skills, they redid everything inside and outside the home themselves, as a team.
Beth has been selling vintage clothing and accessories in her online shop, Salvage Life, for the past six years. The goal of Salvage Life is to provide customers with one of a kind, creative offerings to make their lives beautiful and unique. She has plans to open a brick and mortar shop just a few blocks from her home in July. The selection at her shop will expand beyond vintage and will include modern items, children's clothing, and a home and gift section.
As an online vintage shop owner, Beth finds that her work life often intersects with her home life. Fiona often joins her at the flea market and on buying appointments. Ruby has inherited her mother's eye — she chose her own adorable vintage outfit to be photographed in. Since she spends a lot of time hunting for vintage treasures for her shop, Beth often finds items for their home as well. She finds it difficult, however, to buy things on the fly. Often she will get home and realize her new find doesn't fit the way she envisioned.Then there is a lot of moving things around and reselling what isn't working.
Beth considers their home to be unfinished, as it's constantly evolving to their changing tastes. She concedes that having children adds a whole other element to decorating, as one must consider fragile items and also make sure the space allows room to move and be creative. Beth reasons that she would much rather have a home that gets a lot of use and is inviting for creativity rather than a space that is uber-clean and perfect.
He's currently a High School Administrator, but Jeff's prior construction experience, coupled with his strong work ethic and some help from his father, has given him the confidence to tackle home projects, even tasks he has never before encountered. Projects have included pulling up the carpet, refinishing the original hardwood floors, restoring the double hung windows, hanging drywall throughout the house, adding crown molding and recessed lighting, gutting the bathroom, remodeling the kitchen, re-siding the house, and landscaping the yard. Jeff steadily worked on the house on his days off and for the first six months, the couple moved their mattress from room to room as their projects dictated.
What's old is truly new again when it comes to this couple's home. Vintage items mix seamlessly with current pieces throughout. This casual blending of styles is a true testament to Beth's creative talents. Breathing life back into an older home can surely be a daunting task, but when tackled with a partner, nothing is impossible.
Apartment Therapy Survey:
My Style: Vintage + Bohemian + Whimsical. Since I sell vintage in my shop, I'm always coming across pieces of furniture and decor items on my shopping trips. Our home is constantly evolving as I bring home new things from the flea market. I think I drive my husband a little nuts, but I moved a lot growing up, so I like the space to feel new and different. We have a mix of vintage, modern, recycled, and handmade items in our home. Jeff has traveled to many countries and I would love to travel more in the future, so you'll definitely see splashes of ethnic decor and nods to travel such as our large antique map in the dining room and several globes throughout the house. Now that we have kids, we have to be more practical, but kids allow you to be more quirky too, as they don't subscribe to social norms.
Inspiration: I'm inspired by store interiors such as Anthropologie, flea market booths, and salvage yards. I have a large collection of Domino magazines and vintage interior design books that are always a great resource. I also love to look at the work of Found Vintage Rentals, blogs such as ohhellofriend for vintage, and designlovefest for a modern style that incorporates vintage and great color inspiration.
Favorite Element: I honestly love almost everything about the house. It can feel small at times, but more space would just be more to manage. I think that the thing that brings me the most joy is the yard. Living in a big city and working a lot of hours can wear you down. Being out in the yard allows us to escape and relax. I've always wanted a cutting garden and an area to entertain, and now I have both. We've hosted numerous parties under our pergola and invite our friends and family to host their events here too. During the warmer months, we eat dinner outside every night and play in the yard. It's the highlight of our day.
Biggest Challenge: Since our home was built in the 1920's when people had less possessions, we have to get creative when it comes to storage. We are always looking for ways to add storage space. When Jeff remodeled the kitchen, he was able to add some extra cabinets, which was really helpful. My closet is essentially a painted antique wardrobe in our bedroom. You will find lots of bins and baskets, wall hooks, and shelves throughout the house.
What Friends Say: When they first walk in the door, visitors are always surprised by the wallpaper. They love it, but most wouldn't put it in their own home. We also get asked a lot of questions about all the work we have done. It's fun to share stories about how we moved our mattress around from room to room, gutted the bathroom and took the backyard from dirt pile to oasis. We even have a book that contains before, during, and after photos of each project.
Biggest Embarrassment: We've done so many large projects, but there are a few little things that still haven't gotten done. We still don't have transition pieces on the floor from the hallway to the bathroom and the kitchen to the laundry room. If you look closely, you'll find little places where we patched a hole and never touched up the paint, or trim pieces that never got a second coat.
Proudest DIY: This is so tough, everything seemed like an impossible task to me when we started. Jeff always assured me that he could do it, but I didn't fully trust him until he gutted the bathroom and then put it all back together properly. Now if he tells me he can build something, I just say, "go for it". I think the kitchen renovation that Jeff managed to complete over the two week Christmas break is pretty amazing. We retained the old cabinets, and he built new cabinet doors and drawers and had granite countertops installed over the existing ones. We moved the window and extended the cabinets for more storage space. Jeff added a built in shelf for the microwave to save counter space and added a cabinet over the fridge and stove. I love the open shelving we had in the original kitchen, but the placement was odd, so he rebuilt it in a better configuration. The kitchen was the last of our large projects and I was surprised how much more joy I could have in the kitchen with it looking more beautiful.
Biggest Indulgence: I'm not sure we "indulged" in anything. We were practical without being stingy. I definitely think that the yard was something we ended up spending a lot more on than I expected, but it was completely worth it. Since our house is on the smaller side and we live in such a great climate, we've always wanted to create an outdoor space that we could play, eat and entertain in. When we moved in, the backyard was essentially dirt with a few overgrown trees. We hired a landscape designer to help us with the layout and plant selection, then to save money, we did the rest of the work ourselves. Jeff built the fence and pergola for the outdoor dining area. We planted all the plants and laid the flagstone and sod.
Best Advice: If you buy a fixer upper, don't skimp when making renovations. This is your best chance to make the house just the way you want it, and it would be better to spend a little more up front and avoid having to redo things in another few years. Spend less on decorative items that you can switch out and more on things like tile and lighting.
Dream Sources: I'd love to visit European flea markets, go picking with the guys from American Pickers or Jeni of Found Rentals, and have Emily Henderson and Keith Johnson decorate for me.
Resources of Note:
PAINT & COLOR
Kitchen: Behr - creme brulee

Ceilings: Glidden - base white

Trim: Glidden - antique white

Bathroom - Behr - sterling
LIVING ROOM
Floors: original, we removed the carpet and refinished them
Wallpaper: American Blinds, Wallpaper and More

Curtains and rods: Bed, Bath & Beyond

Leather sofa: Macy's

Vintage settee: Sweet Treasures

Large printed throw pillows: World Market, the rest are vintage

Kilim tapestry: Long Beach Antique Market

House plant and pot: Home Depot

Bird coat rack: Home Goods

Vintage coffee table: Long Beach Antique Market

Gold side table: Target

Mirror: estate sale, we painted it

Vintage trunk: Urban Cottage

White cabinet: thrift store find that we painted

Cuckoo clock: Orange Street Salvage in Long Beach

Various art in frames: estate sales and thrift stores
DINING ROOM
Vintage drink cart: thrift find that we painted
Yellow wall art: estate sale
Vintage dining table and chairs: Warehouse 1333 in Long Beach
Vintage Buffet: Sweet Treasures
Vintage wall map: estate sale
Bookshelf: Crate and Barrel
Vintage filing cabinet: estate sale
Framed home poster: estate sale
Red chandelier: I made Jeff dig out of a trash can at one of his construction sites. He thought I was crazy, but we painted it and now it adds a lot of charm to the room.

KITCHEN
Cabinet doors: made by Jeff
Handles: Home Depot
Countertops and sink: Granite Transformations
Toy kitchen: Ikea
Vintage chalkboard
Vintage fruit prints on clipboards
Wall basket and test tube vase: Salvage Life
Towel hook: Urban Cottage Long Beach
Wooden step stool: Pete Deeble Furniture
BEDROOM
Chandelier: garage sale
Sheer curtains: Target
Bed: Craigslist find that we painted
Vintage bedspread
Bedskirt and wallhanging: made by Beth
Nightstands: Home Goods
Lamps: Target
Dresser, mirror, and wardrobe: thrift finds
Black trunk: found in the alley
Wine rack (used as a clutch holder): Anthropologie
Jewelry rack: made from a vintage sifter purchased at Vintage Emporium in Long Beach
Tall wooden jewelry box: Pier 1
Blinds: Budget Blinds
BATHROOM
Floor tile: special order, Home Depot

Shower tile, vanity, and light fixture: Home Depot

Shower curtain: West Elm

Eve print: Courtney Oquist

Embroidery hoop art: handmade by my little sister

Remaining art: vintage finds

Shelf: Target

Mirror: Home Goods

Towels: Target

GIRLS ROOM
Crib: Jenny Lind

Ruby's Bed: vintage, purchased at the Rose Bowl Flea Market

Ruby's bedspread and blankets: vintage

Vintage yellow toy crib: garage sale find

Vintage toy buggy and high chair: thrift finds

Dresser, bookshelf, and desk turned changing table: mine from my childhood

Girl with hedgehog print: The Black Apple

Deer wall hangings, crewel flower art, and floral hooks: Long Beach Flea Market

Birdcage wall decal: Etsy

Curtains and pillows: made by me

Blinds: Budget Blinds

YARD
Plants: H&H Nursery

Flagstone: Thompson's Building Materials

Dining table: made by Jeff

Vintage miscellaneous chairs: flea market finds and Urban Cottage

FRONT PORCH
Wood bench: Long Beach Antique Market

Red metal chair: Martha Stewart line at Kmart

Yellow table: Home Goods

Pillows: Target

Rug: Rose Bowl Flea Market

Toy basket: Target
Thanks, Beth and Jeff!
(Images: Bridget Pizzo)
• HOUSE TOUR ARCHIVE: Check out past house tours here.
• Interested in sharing your home with Apartment Therapy? Contact the editors through our House Tour Submission Form.
• Are you a designer/architect/decorator interested in sharing a residential project with Apartment Therapy readers? Contact the editors through our Professional Submission Form.