An Artist's Studio Inspired by DIY, Desert Landscapes & Latin Soul
We independently select these products—if you buy from one of our links, we may earn a commission. All prices were accurate at the time of publishing.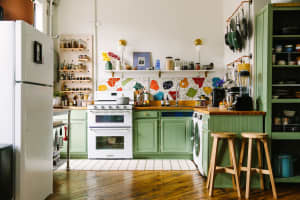 Can't-Miss House Tours Straight to Your Inbox
Keep up with our latest house tours each weekday with our House Tour of the Day newsletter
Name: Eduardo Valadez Arenas
Location: Fruitvale — Oakland, California
Size: 400 square feet (plus adjacent work studio)
Years lived in: 4 years, renting
After coming to the U.S. from Mexico city, Eduardo settled in Thousand Palms, California, a small desert town just east of Palm Springs. This upbringing in small desert towns throughout California continues to influence his personal style, art aesthetic and home design. At night, a wool Pendleton blanket keeps him warm while showcasing the patterns of the American Southwest he finds so inspiring, and two San Pedro cacti add pops of green. It's these symbols of desert life that surround him in his small Oakland space.
We caught a glimpse of Eduardo's colorful art and workspace in his roommate's House Tour. While he still shares the common areas featured in that tour — such as the kitchen, bathroom and living room area — Eduardo spends a lot of his time in his in-law apartment and work studio, located in the backyard of the huge house that's shared by seven people.
There are obvious benefits that come with Eduardo having his own space. He's set up a communal garden area just outside of his studio, where he displays an extensive plant collection, including plants and containers he's found on the street. He can also listen to his funk and soul records without bothering his roommates as he works on his art or creates prints. It's an ideal set-up for someone who likes to build, draw, paint and make things.
Apartment Therapy Survey:
My Style: DIY, Latin Soul, maker's space with a touch of vintage
Inspiration: My inspiration is largely drawn from my travels to Mexico and desert upbringing. Growing up in the desert, I'd find the most awesome and random things, and learn to look for stuff in the most unexpected places. That taught me to be resourceful.
Favorite Element: Blankets and altar pieces
Biggest Challenge: Transporting and carrying things I find is a big challenge. I've had to walk away from some really cool finds because I couldn't transport it on my bike or public transit.
What Friends Say: My friends are usually pretty stoked on the size of my room and usually are drawn to my book collection above all else. And sometimes borrow books and don't return them.
Biggest Embarrassment: The yucky blue color on the walls! I've been wanting to paint it white forever but haven't gotten around to it.
Proudest DIY: It's hard to pinpoint one specific thing. I'm a builder and artist, so most things I build myself. But if I had to pick one thing, it'd be the large bookshelf in my bedroom area.
Biggest Indulgence: Records. They can be so expensive sometimes, but are addicting once I started a collection. I'm thinking about digitizing them soon to pass on to others for them to enjoy.
Best Advice: "El querer es poder." Basically, believe in yourself and you'll have the power to obtain what you want for yourself.
Dream Sources: My dream source would be a world pattern supply. I love patterns, particularly fond of those from West African and Central America.
BEDROOM
Art wall — Art from local Oakland and San Francisco artists
Mexican folk art masks — From trips to Oaxaca, Mexico
Vintage Oso Negro tray — Antique store in Alameda
Record player – Purchased at Vintage Art & Music for the People (VAMP)
Chicano Batman record— Purchased at their show at The Fillmore
Sculptural chair piece with wax tablecloth embellished with Oldies lyrics "Smile Now Cry Later" — Made by me
San Pedro cacti — Purchased at Laney Flea Market
Objects in wooden box — Gifts from friends and travels
Industrial metal shelves — San Pablo flea market
Wool blanket — Pendelton
Antique dresser — A gift from my partner's grandmother
Small antique chair — Vintage store in Valley Springs
Bookshelf — Made by me
Vintage typewriter — Hand-me-down from my father
Bedside table — DIY from reclaimed wood and typeset box from Alemany Flea Market
Bike — 6KU bikes
Donkey collage — Made from dollar store finds
Patterned rug — Goodwill in Palm Springs
WORK STUDIO
Light box — Bought on craigslist
'60s patterned chair — Goodwill
Flat file — Made from Home Depot building materials
Etching press — Conrad Machine Co.
Sawhorse door table — IKEA and Urban Ore
Corn sculpture (Olotera) — Made by my grandfather and embellished with spray paint by me