Fun, Fabulous, Pink & Patterned in Edinburgh
Name: Emily Murray, husband and two young sons
Location: Edinburgh, Scotland
Size: Four-bedroom Victorian terraced house
Years lived in: Owned 6 years
Lifestyle journalist Emily Murray, who's also behind the fabulous interior blog The Pink House, doesn't shy away from color. Or pattern mixing. Or pretty much any daring design element at all. Wanting to be closer to their parents while the kids were young, Emily and her husband moved to Scotland six years ago after living in London for over a decade, and she describes the home they live in as a "crazily colourful Victorian/Arts & Crafts terrace." Though the house they occupy is located on an idyllic street with country vibes, Emily sometimes misses the hotels, restaurants and other fabulously decorated spots she used to hang in before kids. So she brought the excitement and boldness of the city to her home!
Emily writes: "Since having kids I haven't been able to get out so much to the gorgeous bars, hotels etc that I used to frequent before the kids came along. So when it came to decorating my family home, I did so in a style that is intended to recreate the fabulous places I used to go. It's a way of living my old, child-free London party life, but in Edinburgh, and while spending half my time picking Cheerios off the floor or emptying potties full of wee.

So that's why I use amazingly bonkers wallpaper, have a gold-leaf bar, beautiful brass taps, pink neon signs and a faux taxidermy zebra. Call it staycation style, call it a riot of colour, call it — as my mother does — a health hazard that flares up her labyrinthitis. I don't care — it's my home, and I love it!"
Apartment Therapy Survey:
Our Style: Fun and fabulous with a shot of pink – which informs the style of my award-winning interior blog The Pink House and Instagram account. I hate things to be boring, so beige is banned from our house. And there has to be a mix of old and new items. My home doesn't feel homely unless there are loads of things in there with a story to tell. Showhome living is SO not me.
Inspiration: I get loads of ideas from gorgeous hotels, bars and restaurants. I've loved luxurious hotels since I discovered that, contrary to my childhood experiences, not every holiday or night away from home has to be spent under canvas. My current favourite hotel for design inspo is Artist Residence London. I love its eclectic style and refreshingly different art works. I started The Pink House to prove that just because you've had children and can't go out as much doesn't mean you need to give up on fabulousness; your home just has to pick up the slack. Stealing amazing hotel style is a great way to do this.
Favorite Element: This magical street, which is a tiny, hidden cul-de-sac of multi-coloured Arts & Crafts style houses, each with its own little original stained glass pictorial window – ours is an owl. The houses are only on one side — on the other are horse chestnut trees where actual owls can sometimes be heard to hoot – and at the bottom of our gardens runs a stream – behind that a hill rises. So although we're only a mile or so from the city centre, it feels like we live in the countryside.
Biggest Challenge: Transforming the dingy basement into The Den, a room that works as a home office, sitting/movie room, home bar and spare room (with sofa bed). I hired Jessica from Jessica Buckley Interiors to help me realize my vision and make the space truly fabulous and she did an amazing job, especially when it came to introducing me to incredible fabrics, and fab vintage rug supplier Larusi.
Another huge challenge was convincing the husband that we needed more pink things in the house.
What Friends Say: Wow! My husband would NEVER let me have one of THOSE!
Biggest Embarrassment: Various kid-related stains on the soft furnishings/walls. Well, I like to blame the kids anyway…
Proudest DIY: Um. I once watched my husband while he constructed some Ikea shelves. AND I hand-made him a cup of tea. How's that?
Biggest Indulgence: The bespoke sofa bed in The Den. When it was delivered it turned out to be too big to fit down the stairs, so my husband, dad and a few of my dad's work colleagues used ropes to lower it down to the garden out of the dining room window. Once in the basement hallway, which has a very low ceiling, we discovered it was impossible to maneuver it through the sitting room doorway. So my husband unpicked the stitching of the Christopher Farr fabric, chopped it the sofa with a hacksaw, then, once the pieces were in the correct room, he bolted it back together. My mum, who is an excellent seamstress, hand sewed it back up. While all this was going on I went on holiday with my girlfriends to Marbella; I couldn't bear it.
Best Advice: Make sure your sofa can fit down the stairs BEFORE you have it expensively upholstered.
Dream Sources: As in, I wish I could get stuff from these places but haven't, due to budget constraints? In which case: Jonathan Adler for everything glam; 2 Lovely Gays for fabulous interior design; Wendy Morrison Design for her pink Govind rug of dreams (maybe in my next house); the Matthew Williamson X Duresta range of furniture, especially the Flamingo Pink Wine Table or one of his amazing pink sofas or blue marbled velvet armchairs. I also currently have a major lust on for the Soho Home range, especially the Reade wall light in brushed brass; I want two of these as bedside lights. Ooh and I need an upholstered headboard. I've totally gone off my white metal bed. And while I'm at it I'd stock up on five-star bedlinen at Draper London and pretend I was sleeping at the Mandarin Oriental.
---
Explore this style: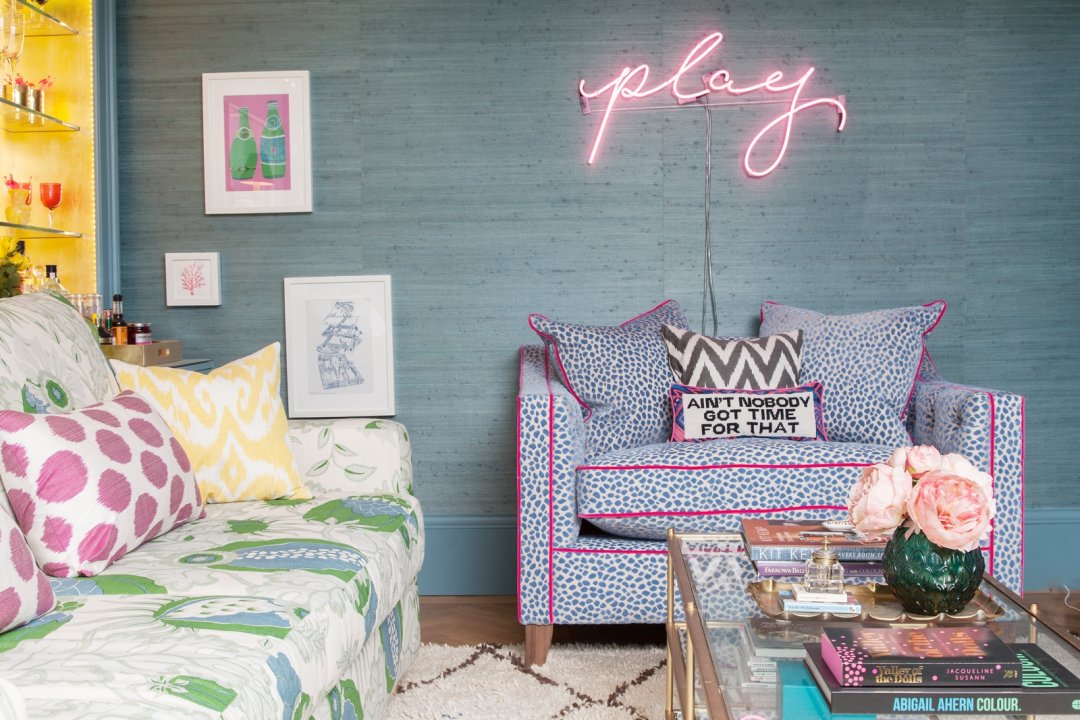 ---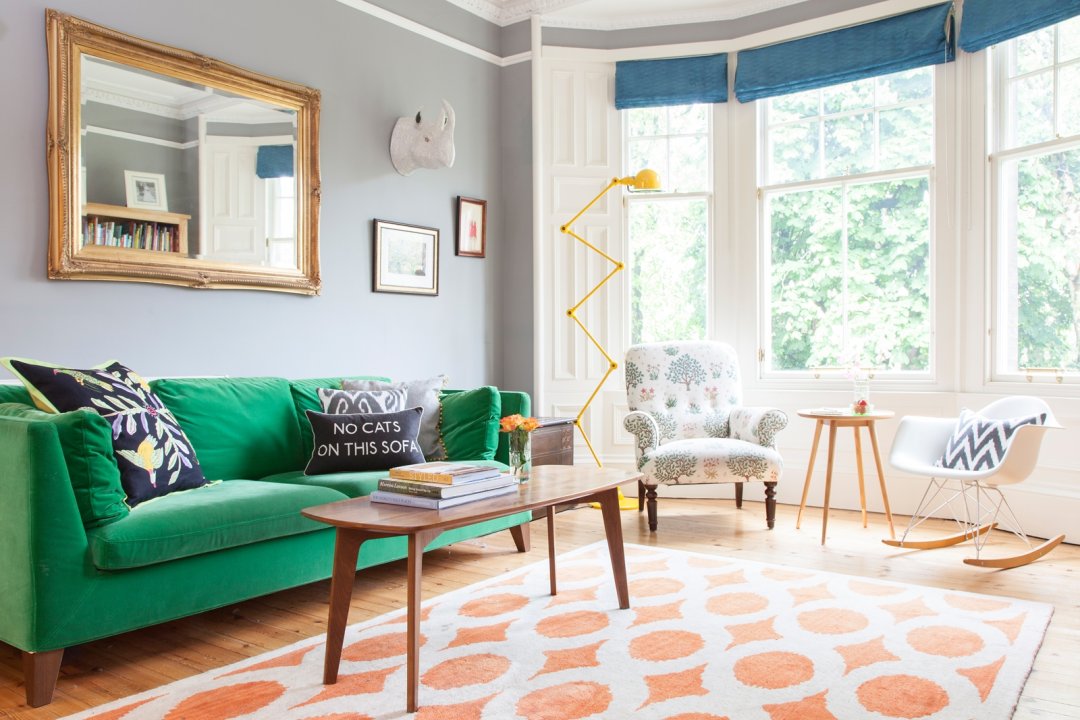 ---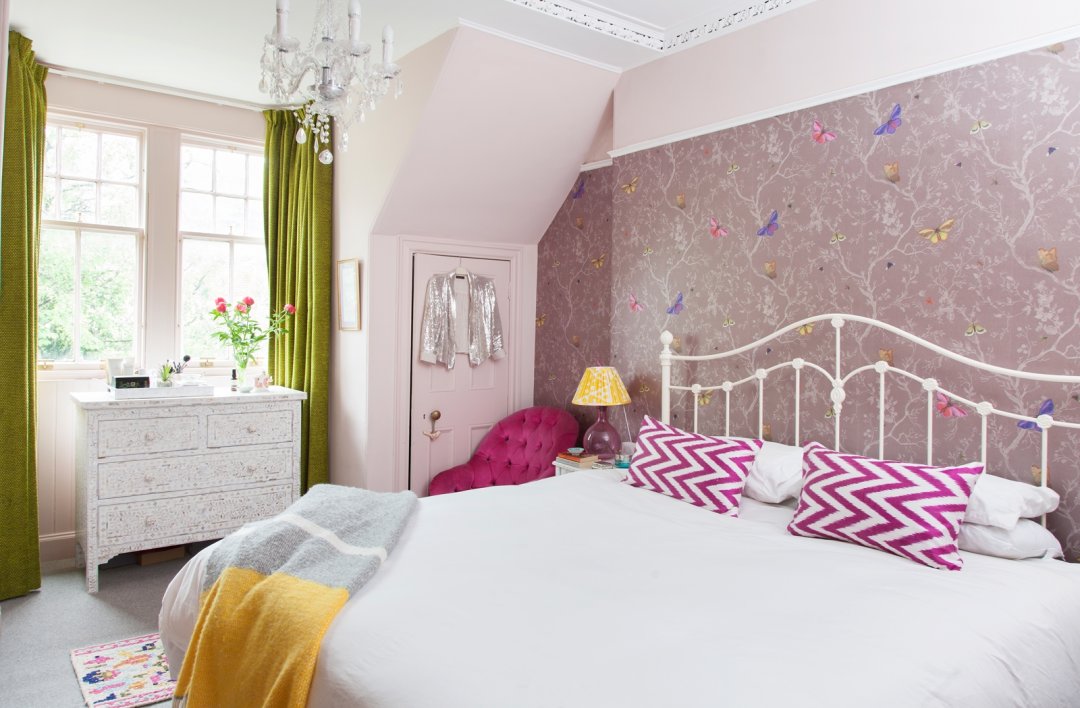 ---
More resources:
EXTERIOR
Cinder Rose Paint (on walls) - Farrow & Ball
Railings Paint (on trim) - Farrow & Ball
Bumblebee Wallpaper (on porch) - Farrow & Ball
STAIRS
Pink Ground Paint - Farrow & Ball
Quirky B Spotty Damson Carpet - Alternative Flooring
HALLWAY
Pink Ground Paint - Farrow & Ball
Painting - Dale vN Marshall
KITCHEN
Manor House Gray Paint (on walls) - Farrow & Ball
White Tie Paint (on trim) - Farrow & Ball
Hooked Stone Ceiling Lamp - Buster + Punch
T-Bar Handles - Buster + Punch
FAB30LFA Refrigerator - Smeg
Woods Wallpaper (on boiler) - Cole & Sons
Revival Mini Radio - Roberts
Maskros Pendant Lamp - IKEA
Rockwell Font Tea Towel - quirk & rescue
Green Lampshade - Pooky
Work Hard Art - Oliver Bonas
Orange Pantry Clock - Oliver Bonas
Rust Orange Masters Chair - Kartell
Taps - Barber Wilson & Sons LTD
LIVING ROOM
Bird Cage Lamp - Graham & Green
Rhino Head - Anthropologie GB
Zebra Head - Anthropologie GB
Yellow Painting - Dale vN Marshall
Silk Ikat Cushions - Jessica Buckley Interiors
Arkana Velvet Sky Fabric (for blinds) - Harlequin
DINING ROOM
London Toile Wallpaper - Timorous Beasties
Baubles - Paperchase
Candelabra - Villeroy & Boch
Bird Cage Lamp - Graham & Green
Blind Asolo Fabric - Designers Guild
Philippe Starck Ghost Chairs - DWR
Bird Fynbos Kingfisher Tablecloth - Halsted
BASEMENT HALLWAY
Stone Blue Paint (on woodwork) - Farrow & Ball
Prism Wallpaper - Cole & Son
Watercolor Painting - Dale vN Marshall
THE DEN
Silk Cushions: Jessica Buckley Interiors
Bridget Riley Print - Vanessa Brodrick Fine Art
Wall Lights - Jim Lawrence
Filing Cabinets - John Lewis
MASTER BEDROOM
Silk Cushions - Jessica Buckley Interiors
BATHROOM
Downpipe Paint (on cupboards) - Farrow & Ball
Derwent Wallpaper - Osborne & Little
White tiles - Topps Tiles
Overton Prismatic Wall Lights - Balineum
Brass Taps and Showerhead - Barber Wilsons & Co LTD
Thanks, Emily!
---
Apartment Therapy supports our readers with carefully chosen product recommendations to improve life at home. You support us through our independently chosen links, many of which earn us a commission.