A Graphic Designer's Beautifully Understated Austin Bungalow
We independently select these products—if you buy from one of our links, we may earn a commission. All prices were accurate at the time of publishing.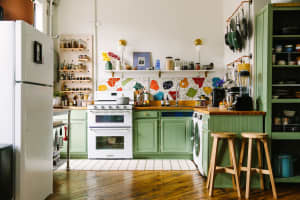 Can't-Miss House Tours Straight to Your Inbox
Keep up with our latest house tours each weekday with our House Tour of the Day newsletter
Name: Spencer Huddleston
Location: Austin, Texas
Size: 780 square feet
Years lived in: 1.5 years, rented
Spencer is a graphic designer and world traveler living in Austin, Texas. When I arrived at his home, his packed climbing gear was immediately noticeable. He was headed that day to climb Mount Kilimanjaro (!). "My friend and I try to climb one mountain a year. This year, it's Mount Kilimanjaro." He collects keepsakes from all of his travels — including masks, mud cloths and artwork — and proudly displays artwork from his friends. Everything in his home has a story and it was wonderful listening to every single one.
Only 780 square feet, this home felt spacious and well-arranged. And even the backyard was ready for guests with a dinner table and hanging lights. And yes, the painting of the man in the living room (that was found in a trashcan!) was even more beautiful and curiosity-invoking in person.
Apartment Therapy Survey:
My Style: Understated, worldly and eclectic
Inspiration: I don't really love color; I prefer textural elements to bold bursts of color. I am inspired by artists such as Dan Flavin, Donald Judd, Cy Twombley and Frank Stella, who remind me that each object in a space should be purposeful. I also travel quite a bit for work, and I am deeply inspired by the small things I pick up along the way, from Scandinavian screen prints to masks from Ghana and Tanzania. I love that these objects tell a story, and that my larger furniture can be a neutral base to these eccentric pieces.
Favorite Element: I love the painting in my living room of the man smoking a cigarette. I love it because the truth is, I found it in a trashcan. Why would someone throw away such a beautiful painting? It vexes me to this day. It is such a conversation piece, and everyone is always curious of its origin (including myself).
Biggest Challenge: It is a small house. There is no way around it. The tall ceilings make it seem much larger than it is, but this constraint presents me with some interesting challenges. In a way it's refreshing though, because I try to limit myself to what I can fit in my home…which is probably a good thing (for my bank account).
What Friends Say: Facial expressions are a good representation of how people feel about the space as opposed to what they actually say. I appreciate the excitement people have when entering my home, and nonverbal communication is often the most obvious indicator of this wonderment. These expressions usually range from short smirks to wide-­eyed curiosity. I like to think of my home as a retreat, and ultimately, I want my guests to feel the same.
Biggest Embarrassment: I like to take risks…and let's just say those risks are not always fruitful. I once tried to pull off a lamp that had a ceramic guinea hen as the base. It, uh, was interesting. It didn't last long.
Proudest DIY: When I was a poor college student I learned to be creative with limited resources, and that has definitely carried through into adulthood. I am most proud of the "hanging lamps" ($5 construction lights) that I got from home depot, and the "frames" I made out of electrical tape, both of which are in my bedroom.
I also recently acquired several yards of mudcloth and indigo fabrics from Ghana and Tanzania. They accumulated dust for weeks, so I turned them into pillows. I'm super proud of how they turned out, and heck, I learned how to sew along the way.
Biggest Indulgence: I honestly don't spend a lot on furniture. I love going to estate sales and finding the pieces at IKEA that don't actually look like they are from IKEA. That is my bread and butter. I do own way too many books though, and I feel like I am constantly buying plants.
Best Advice: Don't waste money on over­priced items. Get creative! You can always find a cheaper alternative, or even make it yourself. Also, don't be afraid to get rid of items that have not retained their emotional value. I truly believe in the idea that one man's trash is another man's treasure. At the end of the day, it's just stuff. It can always be replaced.
Dream Sources: Honestly you could drop me in any country and I could find something to be inspired by. I love the intricate geometry in textiles from the Middle East, and the stark minimalism and simplicity expressed in Scandinavian design. I also wouldn't mind if Iris Apfel let me comb through her warehouse one afternoon. Hit me up, Iris.