A "Joyfully Minimal" Chicago Apartment
We independently select these products—if you buy from one of our links, we may earn a commission. All prices were accurate at the time of publishing.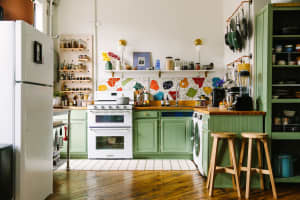 Can't-Miss House Tours Straight to Your Inbox
Keep up with our latest house tours each weekday with our House Tour of the Day newsletter
Name: Mark Dye and Jeffrey Spivock
Location: River North — Chicago, Illinois
Size: 1,000 square feet
Years lived in: 6 months, renting
Jeffrey and Mark have lived all over the world. Jeffrey is from Montreal, Mark is from London, and the two met while they were both living in Toronto. They then moved to Japan where they lived for two years, and most recently they relocated to Chicago. After living in several countries, they've learned to select the styles and customs that work best for them.
The time they recently spent living in Japan heavily influenced the apartment's design. "Having lived in a furnished 650 square foot apartment, we really learned to deal with very little living space, storage and personal items. We barely had a kitchen; we had tiny closets and we had to contend with very open spaces."
They were originally interested in a one-bedroom apartment, but chose a two-bedroom because of amenities like two sinks in the bathroom and plenty of closet space. And while the larger space is a luxury, "we still wanted to approach our new home with the same type of minimal rigor. We only purchased what we really needed, and items needed to 'earn' their place on a counter or in a cupboard."
This is also the first time Jeffrey and Mark have built a home together, and while all of their furniture was purchased online, they've added a lot of personal touches. Like the items collected from their travels (books, art, sculptures) that "helped give our place history." And the bedroom wallpaper, made by a friend's wallpaper company. They even had oversized photography made from photos taken while traveling together.
"We wanted [our home] to reflect our joint style: joyful, quirky, and fun. If we loved something, we would make it work, and if we don't love it, it goes—even if it bucks convention."
Smart decisions—like skipping a dining table (they prefer throwing cocktail parties over dinner parties), and controlling the apartment's lighting, climate, and audio right from their smartphones—make the space work for them and how they want to use it.
Apartment Therapy Survey:
Our Style: Joyfully Minimal.
Inspiration: Mark: The main feature of the apartment is the view and the windows. The unit is on the 42nd floor (of 46)—the highest available floor before the penthouses. So rule number one was don't mess up the view.
Jeffrey: We didn't want a grey couch. That's kind of where it started, and when we found the couch in teal, we realized that we could play up those elements with some items we had (the Le Creuset, the art) and that it matched the glass and skyline. So a lot played on that.
Favorite Element: Jeffrey: The bedroom wallpaper. A friend owns a brilliant wallpaper company, and the bedroom wallpaper just made us smile—and we thought that was worthy of an investment, even if we don't own the place. Including install, it was actually very reasonable to do—much less than a piece of art and akin to painting the wall—and is one of our very favorite statements about our place.
Mark: Everything in the apartment is automated: Philips Hue Lighting, Nest and Sonos, plus Google Home, all controlled from our phone. This is all me. For example, the lights are automated to turn off half an hour after sunrise and the same before sunset
Biggest Challenge: When we moved to Chicago, we did so with only two carry-on bags. We furnished the entire apartment in three months—from scratch—while we were both working full time and adjusting to a new city.
What Friends Say: For those without vertigo, people are always taken aback by the view—just like we are every single day. I think when people hang out for a while they appreciate our place is functional without being cluttered, and cozy despite being modern. And everyone wants to try our Japanese washlet.
Biggest Embarrassment: Jeffrey broke the leg (paw?) of our fuzzy front entrance bench when trying to assemble it. It is still functional, but is a touch wonky and has way too much superglue on its underside.
Proudest DIY: Jeffrey: The "tall boy." I couldn't find a dresser for the closet that I liked, at a reasonable price. It was the last piece of furniture we needed. I wanted one that could live outside in the guest room, and that was specific to my favorite accessories (pocket squares, tie clips, lapel pins). I also was hoping for something that felt like it had some history, just to balance the "newness" and modernity. I found a local Chicago company that rescues vintage pieces and customizes them with fresh paint and hardware. I fell in love with this "lingerie dresser" but wanted to updated it to work for a boy. We had the outside painted white—still leaving some of the grain come through—and created a surprise pop of navy.
Mark: Oversized photography. We travel a lot and love photography. While we had some art being brought in from Toronto, we needed some pieces for the washrooms that had scale, but more importantly meaning. After searching, we realized that we had great photos from which to choose. We selected a photo of Miami from our very first trip together and blew it up behind heavy glass. It created the feeling of a window to paradise, which is important given that the master suite is fully enclosed. The photo in the guest bathroom is from a holiday we had in Cape Town.
Best Advice: Mark: Invest in the few things that matter. Live without the rest. Basically: less is more!
Thanks, Mark and Jeffrey!