A Modern Adobe Farmhouse Home in Marfa
We independently select these products—if you buy from one of our links, we may earn a commission. All prices were accurate at the time of publishing.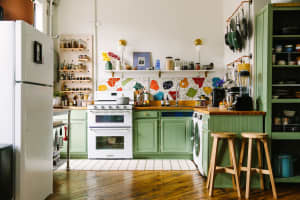 Can't-Miss House Tours Straight to Your Inbox
Keep up with our latest house tours each weekday with our House Tour of the Day newsletter
If you ask people what the town of Marfa, Texas is all about, you'll hear a variety of different narratives describing this small, rural cultural curiosity: It's an old place that is having new life breathed into it; It's a dying town that's being reborn as a cultural center. It's hip…it's dried up. But if you ask Ginger Griffice and Chick Rabourn what Marfa means to them, they'll tell you it means home. Like many of the "expats" that move to Marfa from elsewhere in the country, Ginger and Chick quickly found that it was a place where the pace was slower, where they had the space to create, and that they could not only pursue their own personal goals and dreams, but also integrate themselves into a thriving community of artists. Their adobe house, which is both firmly grounded in Texas' indigenous architectural history and in Marfa's modernity, is a perfect example of Marfa's many contradictions…and of its many charms.
It's been twelve years since Ginger and Chick joined the growing body of artists, entrepreneurs and seekers that have made Marfa home. Ever since Donald Judd moved here in the '70s and set up his art foundations, the town of 2,000 has attracted a wide demographic of individuals. If you're going to make it in this southwest Texas railroad water stop, you have to wear many hats, and that's exactly what the couple does: Ginger works in real estate, as a location scout for TV shows and movies, and as the owner of the town's local soap shop, Marfa Brands, while Chick focuses his time working with his architecture clients in the surrounding areas.
This adobe house is actually the second home for the couple, who also own a very modern, minimal house of concrete and wood down the street. A friend was living here, and when they moved away, Ginger couldn't pass up the opportunity to purchase and remodel it. Like most diamonds in the rough, Ginger and Chick saw something special: The adobe house was small, but they could envision a new addition that would expand its size. The grounds had not been landscaped, but that just meant they could put their own touch on it. And most interestingly, the two adjacent lots had what they call in Marfa "ruins:" old adobes that have fallen into disrepair but where the walls remain standing — in Marfa they are quite proud of them!
Once they had developed their vision of the home — but before they could begin — an interesting opportunity came their way. Ginger was scouting homes for a new Amazon series called I Love Dick (starring Kevin Bacon, Kathryn Hahn, Griffin Dunne and directed by Andrea Arnold), and it just happened that this home was perfect for what the characters needed…but it needed to look more dilapidated, more run down. So before the couple's transformation could occur, the house had to actually go back in time — she pulled everything cute out of there, brought in ugly furniture, beat-up doors, old water heaters, and before you knew it the cute little adobe house had its moment in the limelight.
Once the show wrapped up, the real renovation work began. The house was built in the traditional stucco manner of the desert South, with thick walls and a circular floor plan focused on central fireplaces. Ginger and Chick kept the overall layout intact, but modernized the smooth white walls with floor and ceiling wood planks, modern pastel colors, and a contemporary Southwest aesthetic.
The porch greets you with a welcoming hammock and two hot pink outdoor chairs before ushering you into the living rooms, where the great big fireplace is the first thing you see. A red woven rug frames the sofa bed; patterned pillows and throws add color pops and geometric patterns around the house; and there are photos and books about Texas, art and the creative life everywhere you look. Moving clockwise around the house, you first enter the guest bedroom, bright and spacious with windows facing south and west and its own small fireplace. The master bedroom next door has a light blue ceiling and an incredible master bath with a concrete wash basin and walk-in tiled shower. The kitchen is green and open, and leads you around to one of the most amazing rooms: the dining/library. The floor here is made of brick, the custom bookcase is pine, and the sloped wood ceiling is beautiful and dynamic.
Ginger and Chick admit that there is still much work to do on the house. They want to landscape the backyard and put an addition onto the back of the house that would include another bedroom and bathroom. So the work continues little by little, brick by brick. And yet for all the changes that have — and will be — made to the home, it still retains a strong sense of its original character. "Don't try to make a place something that it is not. It always falls flat," advises Ginger. It's a lot like the town of Marfa in that way: ever evolving, ever changing.
Apartment Therapy Survey:
Our Style: We let the house speak to us. Our personal style is more modern, but this house has such personality that we kind of let it be. It's more adobe farmhouse than anything modern, and we just gave it touches of a more modern Marfa look. We've lived in Marfa for 12 years, and our other house is eclectic in a different way – concrete floors and wood walls and minimal. This one lent itself to much more of a rustic aesthetic.
Inspiration: The best of the Round Top antique show.
Favorite Element: The library with the brick floor and pine bookshelves.
Biggest Challenge: An addition! There are no closets, so we are trying to create an addition with another bathroom and guest bedroom suite, along with a dressing room and storage.
What Friends Say: It's so comfortable and relaxed.
Biggest Embarrassment: Landscaping! We need to spend more time with the yard and fence and plans for future trees.
Proudest DIY: Replastering the front two rooms.
Biggest Indulgence: Rusty, the goat.
Best Advice: Don't try to make a place something that it is not. It always falls flat. Don't' worry about the imperfections.
Dream Sources: Garza Furniture. Oaxaca. And India.
LIVING ROOM
Daybed — Chick Rabourn
Pillows — Turkish textile find at Round Top
Leather butterfly chair — Circa 50
Artwork — Cody Barber (Marfa)
Hand stool — San Miguel de Allende find
Crystals — Moonlight Gemstones (Marfa)
KITCHEN
El Cosmico poster
Indian wedding table — Round Top find
MASTER BEDROOM
Belgian linen duvet — Etsy
Pendleton blanket
Geneva sound system
Thanks, Ginger and Chick!