A Graphic, Geometric 500 Square Foot London Rental Flat
Name: Rhonda Drakeford
Location: Hackney, East London
Size: 500 square feet
Years lived in: Rented for 1 year
Living in a rental flat can be very limiting. You usually have to live with pretty bland walls and remodeling isn't really an option...unless you want to spend a lot of money upgrading someone else's house. So what can you actually do to a rental to make it a bit more Pinterest-worthy? Come and take a look at this one-bedroom flat in Hackney, East London.
When Rhonda moved into this apartment a year ago, it wasn't great looking. "It was pretty disgusting when I took it on and I wanted to cheaply transform it into a space I could relax and enjoy," she says. Rhonda, the co-founder and creative director of the design shop Darkroom, has worked her magic to transform this place. She painted the walls in graphic blocks of color using discounted, pre-mixed paints. She ripped up the laminate flooring and painted the original wooden floorboards underneath in black. She even tore out the (almost fallen apart) upper kitchen cabinets and replaced them with recycled scaffolding boards as shelves, showcasing her vast collection of beautiful ceramics and crockery.
This flat used to be a shop front, which is why it has massive floor-to-ceiling windows. Although they do let in a lot of natural light, it also means people can just look into the flat whenever they walk past. Rhonda's solution was to build a plant window using recycled scaffolding boards. "It serves two purposes, one providing a natural screen from the street-level window, so affording a level of privacy, and secondly the abundance of foliage really helps soften what is a very urban location." Rhonda planted all of this greenery when they were just sprouts, and they grew over the years and moved from flat to flat with her. "They actually feel more like family now," she tells me.
Decorating a rental is indeed an exercise in creativity, and Rhonda's managed to do this at very little cost and with great style, filling her home with all the things she loves — graphic patterns, geometric shapes, African textiles, Spanish pottery and of course, her very own Darkroom-designed products. Who says living in a rental needs to be boring?
Apartment Therapy Survey:
Our Style: I usually favour black walls and monochromatic modernism, but this flat is long and narrow with windows at each end, and there isn't a great deal of natural light. My possessions really dictate my style — all the objects I've been collecting for years — my décor is always about the best way to display them, and there is a LOT of them, so that I can see them and enjoy all the memories they evoke.
Inspiration: I'm hugely inspired by the Spanish architect and design Cesar Manriqué — he lived and worked in Lanzarote from the '60s to the '90s and created mind-blowing domestic and commercial spaces in black lava bubbles and craters. He introduced me to the idea of black in interiors, and also how foliage offsets what can otherwise be quite brutal.
As a designer, I'm also inspired by so much that comes from Africa, the textiles, the patterns, the materials, the beadwork…I love the bravery found in patterns and colour palettes, pure joy. Particular areas of interest are the paintings of the Ndebele women and Tiebele and also wax print and kente cloth from Ghana and Nigeria.
Favorite Element: I created the plant window from scaffolding planks painted white [strong enough to hold a lot of weight]. It serves two purposes, one providing a natural screen from the street-level window, so affording a level of privacy, and secondly the abundance of foliage really helps soften what is a very urban location. I've mixed in some sculptural pieces on the shelves such as the plaster pyramids by Bridie Hall and also some of my own ceramics work, and I think these hard-edged geometric shapes really complement the organic shapes of the leaves.
Biggest Challenge: This is a rental property and isn't going to be long term. It was pretty disgusting when I took it on and I wanted to cheaply transform it into a space I could relax and enjoy. I tore up the old cracked laminate flooring and painted the perfect floorboards underneath in black to anchor the space. I also tore out the top half of the kitchen cabinets [which were practically hanging off the walls] and replaced with more painted scaffolding plank shelves. I like having the ceramics and crockery that I collect visible and easy to access.
I've customized the standard rental white walls with graphic blocks of colour, all sourced from the bargain bin of pre-mixed paints at my local DIY shop for next to nothing.
What Friends Say: 'Wow, you have so much stuff!'
Biggest Embarrassment: The bathroom is pretty ugly. The tiles had all fallen off from above the bath and all the sanitary ware is the cheapest common denominator crap. I've made a feature of the tile "hole" by painting it with epoxy floor paint so it now frames the bath and feels a lot less "squat."
Proudest DIY: The plant window has the biggest impact and the colour blocks really help it feel less rented. They can all easily be painted back when I move out eventually, so a quick, cheap and effective fix.
Biggest Indulgence: My sofa is by B&B Italia. It's HUGE and has travelled with me to all sorts of properties for about 10 years now. Strangely and surprisingly, its monochrome weave fabric has always looked fresh and modern. My taste in cushions has evolved over the years, but most things look good with it. It's like a very comfortable old friend.
Best Advice: Don't be too caught up in trends. Work out your own style and just add to it and it will evolve naturally over the years. I've also found that moving home quite often has helped me keep things fresh — working your stuff into a new space means you have to display and group things differently, which means you see and appreciate a wider range of your treasure.
Dream Sources: Darkroom — So much of my possessions have come from exhibitions and designers we have showcased at Darkroom.
Spitalfeilds Market on a Thursday morning — the best curators of vintage treasure, and not crazily expensive.
---
Explore This Style: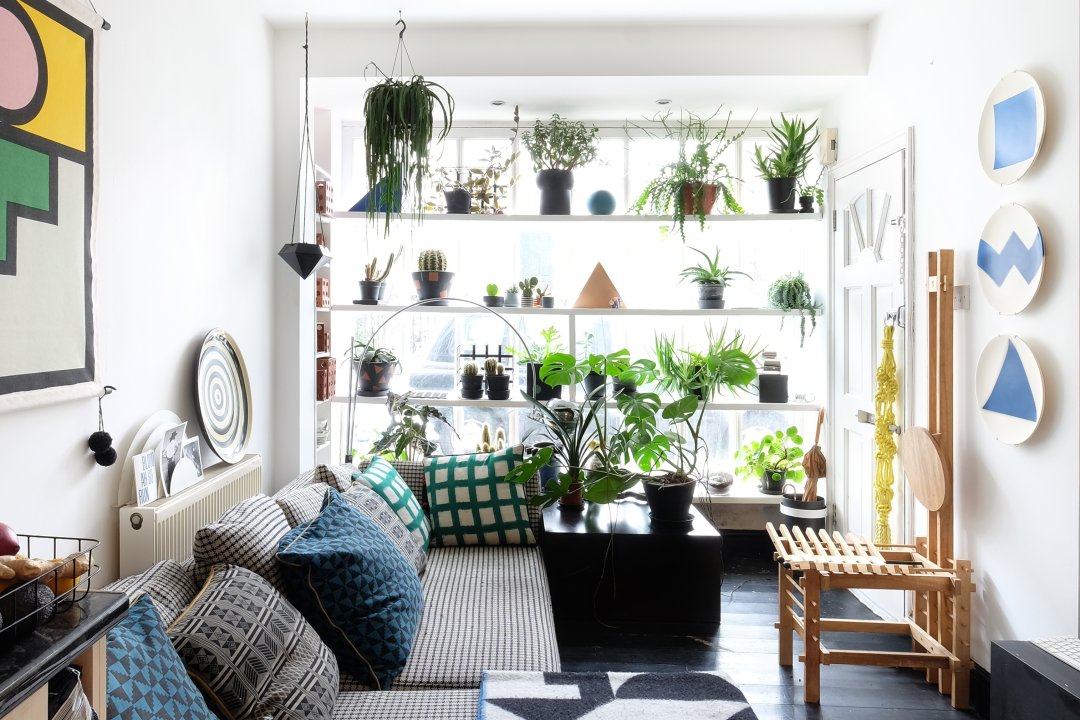 ---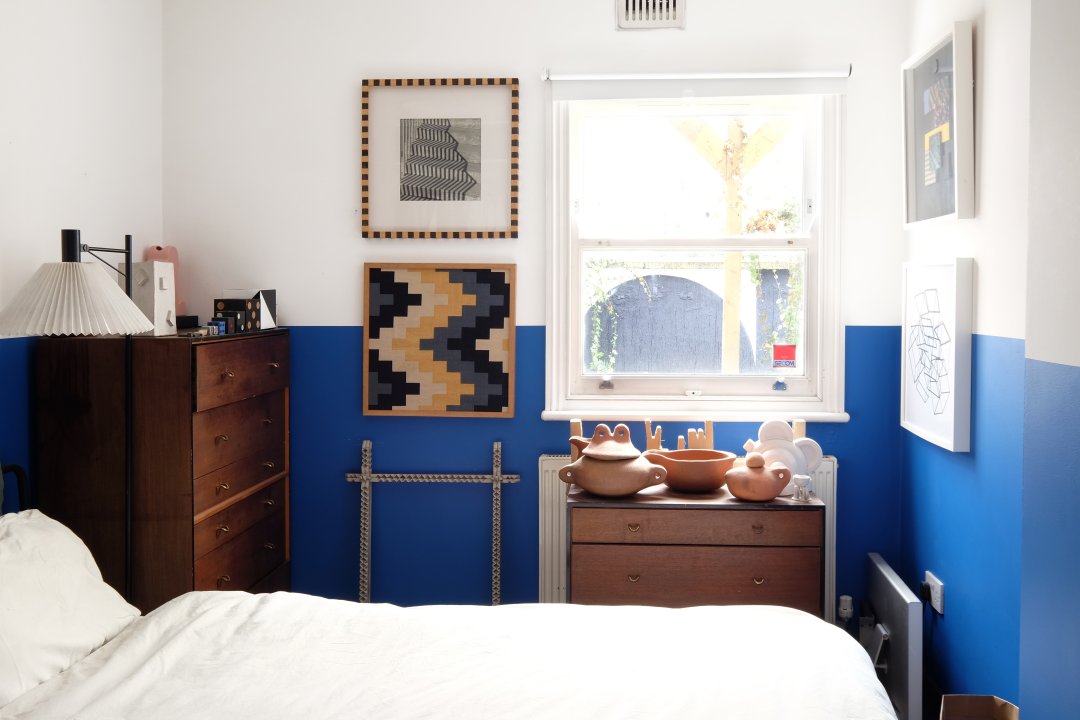 ---
More Resources:
LIVING ROOM
Sofa — Anthony Cittero, B&B Italia
Kente Cushions — Darkroom
Plants — Conservatory Archives
Dice Planter — Darkroom
Plates — Darkroom
Lily artwork — Lizzie Finn, Scott Lyon and Barnaby Roper-Caldbeck
Wall Hanging — Darkroom

DINING ROOM
Vintage Thonet dining chairs — found in Turin and shipped back
Scarecrow print — Colin Garrett
Table — Ikea

KITCHEN
Tea towel — Darkroom

BEDROOM
Bed — Habitat
Linen sheets etc — Ligne Particulier
Teracotta pots — Lanzarotte artesans
Good/Fast/Cheap Triangle print — Ben Branagan
Black circles print — Hampus Gunnarson

BATHROOM
Candles — Darkroom
Storage jars — Established & Sons



Thanks, Rhonda!
---