The Everygirl Co-Founder's Modern Chicago Home
Name: Danielle Moss
Location: Lakeview — Chicago, Illinois
Size: 1400 square feet
Years lived in: 1 year, rental
After a lot of moves, you can't blame Danielle for creating a soft, soothing space in this Lakeview apartment, her fifth apartment in five years. Always a fan of neutrals, she was able to use a lot of white to enhance the home's architectural features — like exposed brick and vaulted ceilings — while mixing in plenty of new and old items. While this apartment offered her a dedicated home office (which she really loved), this house tour is a send-off to this space. Danielle recently moved into her sixth home (in six years) in Chicago's Gold Coast Historic District.
Danielle first started her graphic design business in 2007, but you might know her as the co-founder of theeverygirl.com, which launched in 2012. She also blogs on her own website, danielle-moss.com.
Apartment Therapy Survey:
My Style: I've always leaned toward neutrals. My homes feel feminine without feeling too feminine, with clean lines that still feel warm and inviting.
Inspiration: The Scandinavian vibe on the second floor inspired me to stick with a more minimalist look than I'd normally go for. I've always loved neutrals but took it to a whole other level up there and loved it. Some people need color in their home but even with the lack of color, this place always felt warm and inviting to me.
Favorite Element: While I love the vaulted ceilings and exposed brick, I have to go with the entire upstairs. The white painted floors and brick walls are straight out of Pinterest. Every morning felt like waking up in a European Airbnb. I also really loved having an office! I started my graphic design business back in 2007 and then launched theeverygirl.com in 2012 and have always had a desk in my living room, so having a dedicated office felt pretty wonderful. I'm actually back to not having a home office but we now have an office space in the West Loop and I'm back to working in the kitchen on my work-from-home days.
Biggest Challenge: There's lots of space but the closets are tiny, so staying organized by paring it down to the essentials was key with this space.
What Friends Say: People always ask how I keep my and home so clean. I went from having tons of "stuff" to really paring things down, getting rid of excess things I don't need. So aside from any decor you might see, I eliminated the clutter, do dishes as I use them, and put things away when I'm done. Keeping things tidy helps me stay focused on the days I work from home.
Biggest Embarrassment: I wouldn't call it "embarrassing" but showering in that clawfoot tub felt what I'd imagine showering inside a plastic bag would feel like. I love the aesthetic but that thing was a pain. Actually, the towel rod I put up myself that was falling off was sort of embarrassing. Happened three apartments ago with a toilet paper holder, too, so I'm going to go ahead and say my inability to properly screw things into walls is probably the biggest embarrassment.
Proudest DIY: I know this isn't technically "DIY" but I put my entire staircase gallery wall up by eyeballing it and love how it turned out.
Biggest Indulgence: Installing lighting and window treatments! This was my 5th home in 5 years and I've never installed my own lighting in a rental and second installing curtains. It cost $40 to hire someone (I used Taskrabbit) since I wasn't up for getting electrocuted, plus the cost of the fixture which I planned on taking with me when I moved out. It was so worth it and made the rental feel like my home. And those sheer linen curtains really warmed the place up!
Best Advice: I have a few pieces of advice when it comes to making a rental feel like home. If you're allowed to paint, go for it. It's such an easy way to brighten and update your space. Install curtains — I have sheer linen panels that I got on sale at Pottery Barn — and install your own lighting. And finally, go through your closets and sell or donate anything you don't need! Owning less can be quite liberating. Okay, one more. Try to find at least one great vintage piece for each room–something that feels like you and that can't be found at those big box stores. I love my CB2 media console but nothing beats that vintage marble coffee table.
---
Explore this style: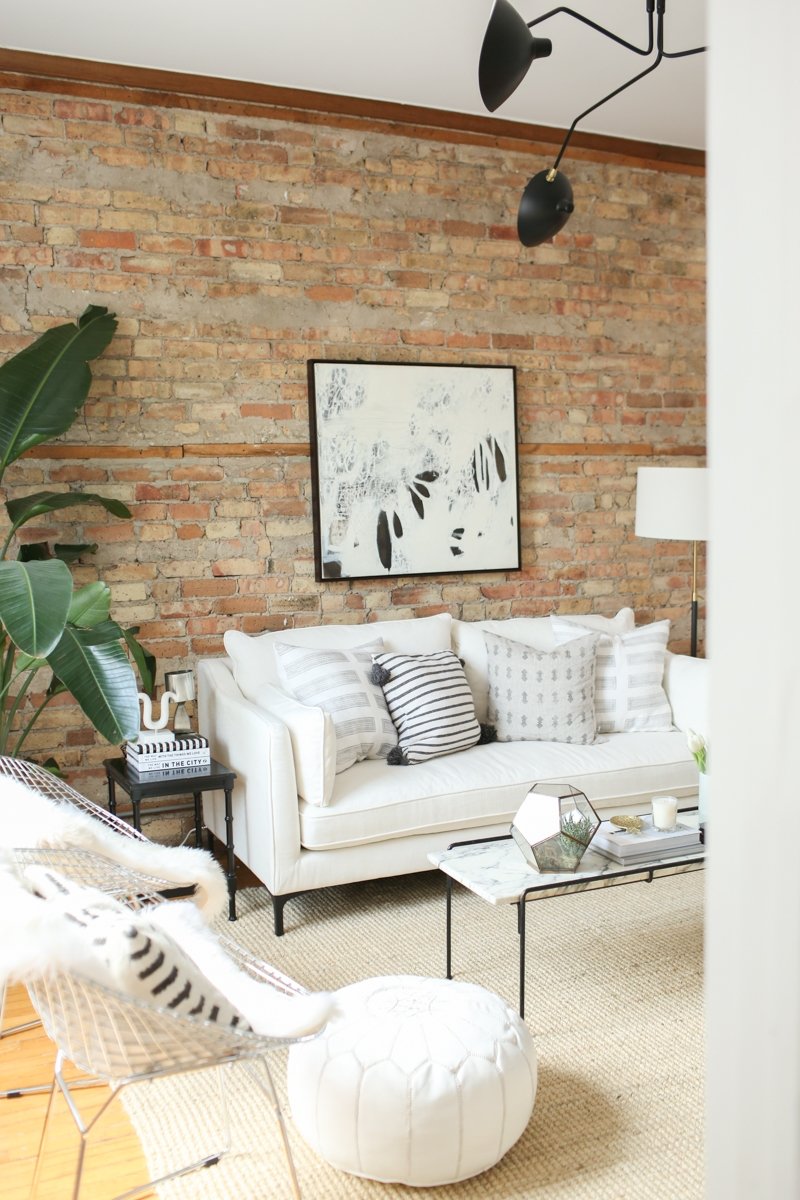 ---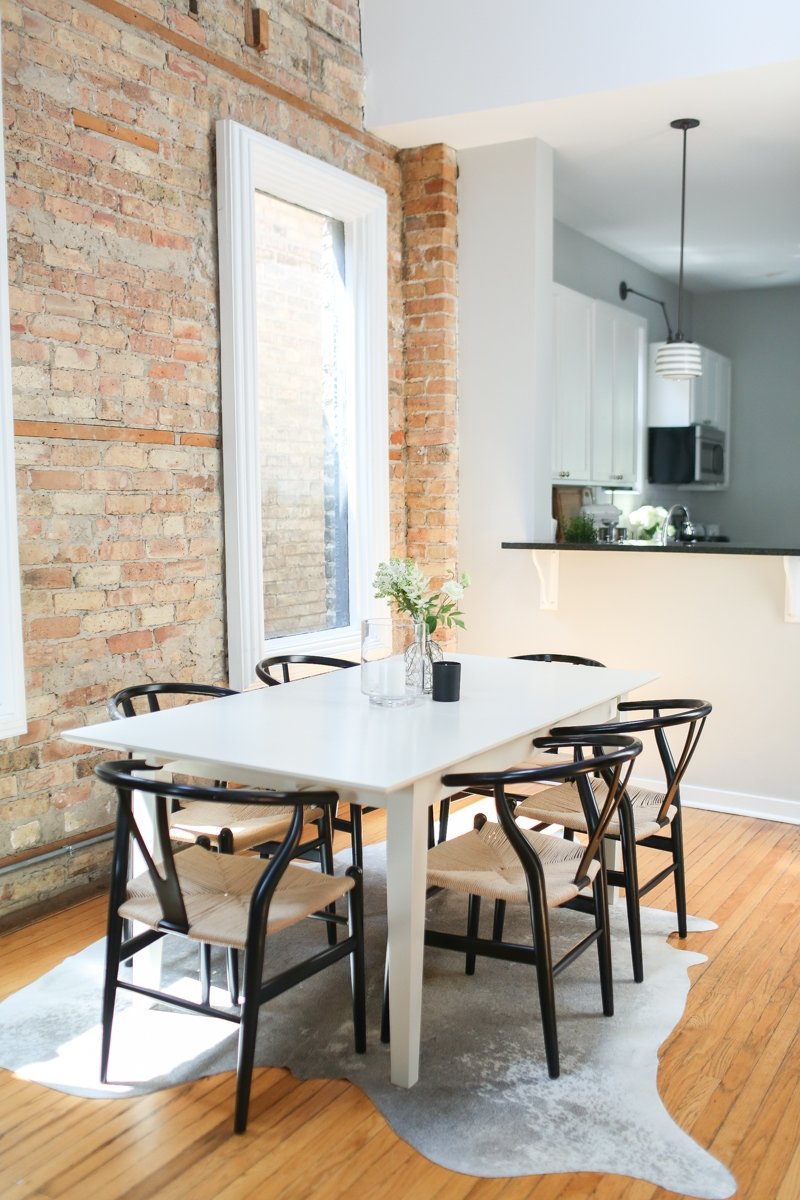 ---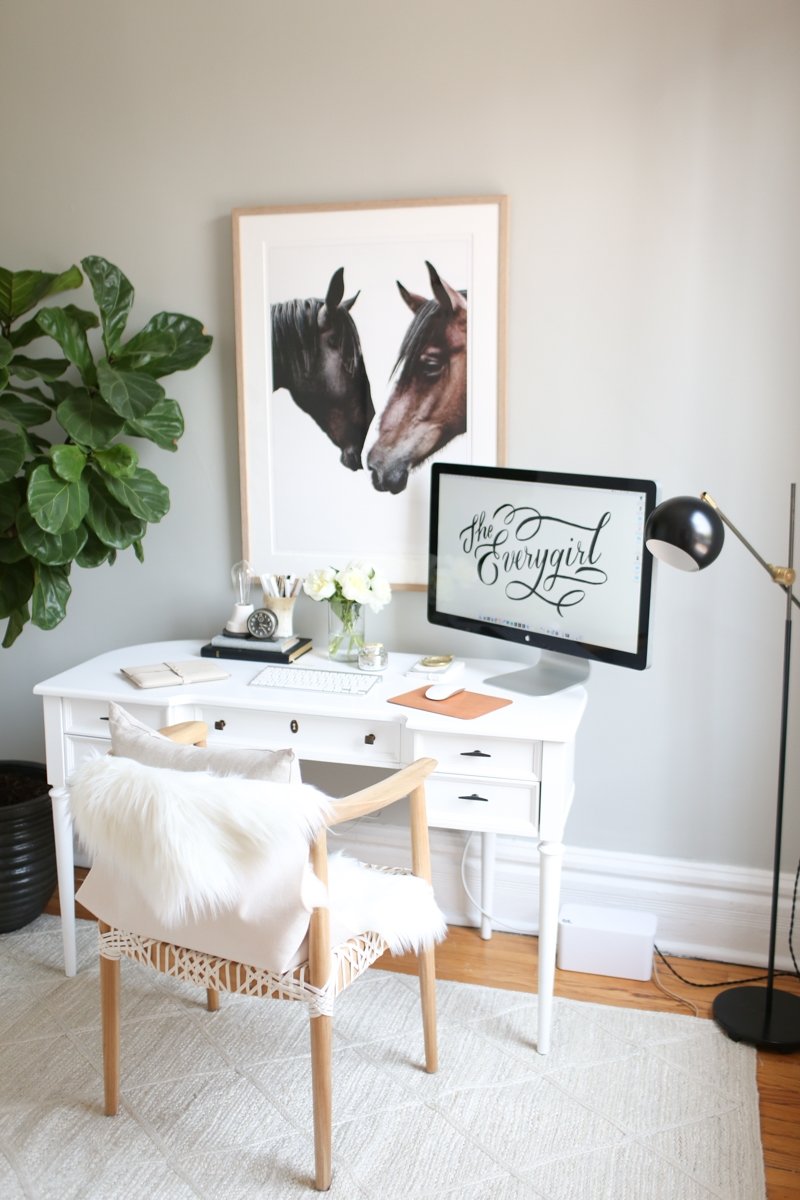 ---
Further resources:
LIVING ROOM
The Everygirl Rose Chair — Interior Define
Splatter Art by Elaina Sullivan — Artfully Walls
The Bridge Art by Nell Waters Bernegger — Artfully Walls
Media Console — CB2
Record Player — Uturn Audio
Linen Curtains — Pottery Barn
DINING ROOM
Marble Pot — Jayson Home
Diptyque Mimosa Candle — Nordstrom
Copper Wine Opener — Williams-Sonoma
KITCHEN
Rug — West Elm
Marble Board — Williams-Sonoma
Cutting Board —Willims-Sonoma
Dish Towels — Williams-Sonoma
Marble Utensil Holder —Williams-Sonoma
KitchenAid Mixer — Amazon
Peek Print by Emine Ortega — Minted
BATHROOM
Towels — Serena & Lily
Rug — CB2
Marble Container — CB2
Rubber Coated Container — CB2
Makeup Holder — Target
STAIRCASE/HALLWAY
Console — CB2
Owl Print — Artfully Walls
Vase — Lulu & Georgia
Forest Floor Print — Silke Bonde
Sable Song Abstract Print — Minted
Indigo Blot Test Print — Artfully Walls
Strokes from Renaissance Art — Minted
BEDROOM
Belgian Linen Bedding — West Elm
Nightstands — Urban Outfitters
Lamp — West Elm
Horse Photograph — Minted
Mirror — Kathy Kuo Home
Mongolian Fur Pillow — West Elm
Antlers — Moineau on Etsy
Clothing Rack — IKEA
Hangers — Amazon
Bench — Kathy Kuo Home
Clock —West Elm
Tray — Lulu & Georgia
GUEST ROOM/STUDIO
Daybed — West Elm
Belgian Flax Bedding — West Elm
Campaign Dresser — Land of Nod
Princeton Task Lamp — Schoolhouse Electric
DECK
Patio Stripe Rug — Williams-Sonoma
Striped Pillow — Williams-Sonoma
Border Pillow — Williams-Sonoma
Shroom Side Table — CB2
Dining Table — Hayneedle
Disc Hurricanes — Williams-Sonoma
Thanks, Danielle!
---
Apartment Therapy supports our readers with carefully chosen product recommendations to improve life at home. You support us through our independently chosen links, many of which earn us a commission.