A Textile Lover's Print & Pattern Paradise
We independently select these products—if you buy from one of our links, we may earn a commission. All prices were accurate at the time of publishing.
About this tour
Location
Raleigh, North Carolina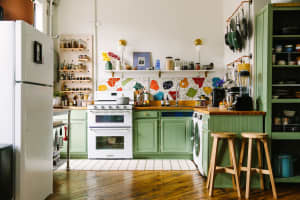 Can't-Miss House Tours Straight to Your Inbox
Keep up with our latest house tours each weekday with our House Tour of the Day newsletter
Name: Kate Sykes
Location: Raleigh, North Carolina
Size: 840 square feet
Years lived in: Rented 2.5 months
To find her new apartment, Kate bypassed typical rental search engines and opted to drive around her ideal neighborhood in Raleigh, scouting beautiful facades and "For Rent" signs. That's how she landed this home just three months ago. How she managed to pull it together so quickly and skillfully speaks to her background in design. As the daughter of a men's retail-store owner, Kate grew up around textiles. In her own words, she is "a total nut for prints, color, and fabrics in general."
Now Kate owns her own design and marketing consulting business, focusing on fashion and home decor brands. This one-woman show services five large core clients on a daily basis, and a handful of additional clients seasonally. She is often "behind the curtain," creating designs for big names like Tommy Hilfiger and Jonathan Adler for mass-market retailers.
But she approaches the design of her home in a more personal way. The only new piece of furniture she owns is a functional desk from Ikea. Everything else has been collected from antique or consignment stores throughout the region, much of it repurposed with love and a keen eye for print and pattern.
Apartment Therapy Survey:
My Style: Master of mix, print paradise, power of pattern. Eclectic and colorful mix.
Inspiration: Dorothy Draper's "Decorating is Fun!"…Veranda, Elle Decor, Lonny, and Apartment Therapy.
Favorite Element: The kitchen!! I love having a pantry, the alcove for the fridge, and the large cabinets plus the skylight. I also love the alcove in the living room (where I've put the China hutch), and the master closet is a great use of the space.
Biggest Challenge: I just moved out of a larger space… About 900 square feet. Not a drastic change, but I lost space in some rooms and gained it in others. Since I'm renting, I go back and forth about putting up curtains. There are days where the white walls and amount of doors drive me nuts, and days when it doesn't bother me at all.
What Friends Say: That the layering and mixing of color and pattern is fun and unexpected…Or that my closet looks like something from a movie.
Biggest Embarrassment: The old-as-sin Berber rug in the living room. I'm holiday shopping for a new one, but it came from my mother's screened-in porch and has a large bad spot from a potted plant (currently hiding under the club chair).
Proudest DIY: This is so tough! I have painted most of my furniture myself, gold leafed some of my frames, made throw pillows…But it would probably have to be the red china hutch paint and stain combo to make it look super antiqued, like hundreds of years of aged goodness has collected in the bamboo. It was a true labor of love, the whole process took a week. I've applied the same process to my dining chairs, and will do the table and the bar cart the same way in time.
Biggest Indulgence: Getting my club chairs reupholstered. They came from Andy Griffith's beach house on the North Coast coast, and were covered in drab '70s fabric. I've had them for over six years, and just got them upholstered when I moved to Raleigh — adding the contrast piping, trim, and the skirts to the bottom.
Best Advice: If it sings to you, buy it! Always go with your gut, your style should be about you. I have moved around a bunch, and versatility has saved me — think if you can use the piece in more than one room when purchasing. Pick a few colors that you love, and carry them from room to room. Also, antiques don't always travel well in a suitcase, but art does! That is my favorite thing to purchase when I travel.
Dream Sources: Kelly Wearstler, Mary McDonald, ABC Carpet & Home, Highland House, Henredon, and Acquisitions Ltd here in Raleigh
LIVING ROOM
Sofa — The Red Collection (Greensboro, NC)
Club chairs — thrifted & recovered (once belonged to Andy Griffith)
Labarge Swan head Coffee table — FINDS Collected (Raleigh, NC)
End table — South End Exchange (Charlotte, NC)
Zebra lamp — Pompous Peasant (CLOSED Charlotte, NC)
Lucite lamp — FINDS Collected (Raleigh, NC)
White garden stool — HomeGoods
Pillows — The Red Collection (Greensboro, NC) & custom
Bar cart — thrifted; lacquered @ Bull City FINDS (Durham, NC) // Benjamin Moore's Neon Red
Botanical prints — Chartreuse (High Point, NC)
Dufy print — Allposters.com, DIY gold leaf frame
China hutch — FINDS Collected (Raleigh, NC) // painted Rustoleum Regal Red
Decanters — The Depot @ Gibson Mill (Concord, NC)
Marble & Gold chain link Tray — Homegoods
Vintage floral Ice bucket by Sigma — Union Camp Collective (Raleigh, NC) similar here
Tiger Planter & Jaguar Trinket Dish — FINDS Collected (Raleigh, NC)
Blue & White Monkey — The Sleepy Poet Antique Mall (Charlotte, NC)
Foo dogs — The Sleepy Poet Antique Mall (Charlotte, NC)
Blue & white dishes — FINDS Collected (Raleigh, NC)
Champagne flutes — thrifted
High ball glasses — Design Archives (Greensboro, NC)
KITCHEN
Stanley Table and Chairs — thrifted; painted & recovered // painted Rustoleum Regal Red fabric for cushions from Front Door Fabrics (Charlotte, NC)
Art wall & frames — thrifted, collected, and originals
"Your life is an occasion" art print available here
Dressform Screenprint over sink — The Red Collection (Greensboro, NC)
Pour over coffee — World Market
Vogue cookbook — thrifted
Green leaf tray — The Red Collection (Greensboro, NC)
BEDROOM
Dixie Greek Key Headboard — Stuff Vintage (CLOSED – Greensboro, NC) // painted Rustoleum Dark Hunter Green
Stanley Mirrors — FINDS Collected (Raleigh, NC)
Lucite Lamps — TJ Maxx; Painted lamp shades – Anthropologie
Dixie Campaigners – one thrifted, the other from The Sleepy Poet (Charlotte, NC) — have since been painted white
Pillows – Red Collection (Greensboro, NC); West Elm; custom-made
Bench — Chartreuse (High Point, NC), striped fabric from Calico Corners – similar here // painted Rustoleum Dark Hunter Green
Love seat — estate sale in Charlotte, NC
End table — South End Exchange (Charlotte, NC)
Chest of drawers — South End Exchange (Charlotte, NC)
Gold bamboo mirror — thrifted
Dufy print — The Red Collection (Greensboro, NC)
Prada Schiaparelli 'Head Concepts' Print — Metropolitan Museum of Art – entire set available here
Palm Springs Tramway Gas Station Metallic-printed Photo — gift
HALLWAY
White cabinet — The Shoppes on Patterson (Greensboro, NC)
Small lamp — Antique Marketplace (Greensboro, NC)
Green vase — TJ Maxx
Japanese figurine — thrifted
Pinch-Pottery bowl — The Shoppes on Patterson (Greensboro, NC)
Coral — The Sleepy Poet (Charlotte, NC)
Boat pastel & frame — thrifted
Framed Scarf — a gift
Cannes print & frame – thrifted
French riv. Prints — purchased abroad; frame set purchase on Amazon.com (discontinued)
JLP print — allposters.com ; frame from Ikea
Cannes canvas painting — purchased abroad @ Cannes market
Oriental Rug – FINDS Collected (Raleigh, NC)