A Textile Designer's Contemporary Cape Town Home
We independently select these products—if you buy from one of our links, we may earn a commission. All prices were accurate at the time of publishing.
About this tour
Location
Newlands, Cape Town, South Africa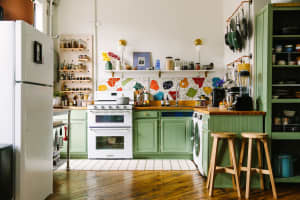 Can't-Miss House Tours Straight to Your Inbox
Keep up with our latest house tours each weekday with our House Tour of the Day newsletter
Name: Megan and Wayne Smith, sons Luca and Sebastian
Location: Newlands — Cape Town, South Africa
Size: 440 square meters
Years lived in: Owned, 10 years
Megan and Wayne purchased this house 10 years ago because of its location and good bones — but it was horribly outdated (the bathroom, for example, originally had a floor-to-ceiling porcelain tiled jungle mural complete with colorful parrots). They had to tackle a few decor disasters right away. After these initial changes, (which also included replacing the white tiles and carpets with concrete flooring and eco-friendly bamboo wooden flooring), they took their time and gradually renovated the rest of the house over the years.
Megan originally trained as a textile designer and returned to her roots last year to start her own textile and homeware line, Cloth and Print. Megan screen prints all the fabrics herself in her small studio in their home, which is quite a feat. "I've explored my love of the monochromatic with a black, white and natural palette, and introduced gold to give a sense of luxe." Naturally her designs work beautifully with her and Wayne's personal decor style and so you'll spot plenty of her pieces throughout their home, adding a unique element.
Their love of art and mid-century furniture is apparent and together they've created a home that has a Scandi sensibility and a subtle warmth.
Get the look! → Elegant & Contemporary with a Neutral Palette
Apartment Therapy Survey:
Our Style:
Megan: I prefer an eclectic combination of old and new. I love the minimalism of the mid-century era and enjoy bringing modern contemporary pieces into the mix. It lends the space a layered sense of style.
Wayne: I like clean, modern lines and uncluttered space.
Inspiration: Our home is predominantly open plan and this invites all the spaces to work harmoniously together, flowing from one area to the next. I prefer a natural monochromatic palette as it allows the main areas to breathe with an uncomplicated calmness. I add to this with colors from our indigenous South African fynbos, finding inspiration from the powdery blue-greens of succulents and the muted corals of proteas. Textiles play an important role in our home. The hand-printed fabric from my textile collection Cloth and Print is bold and graphic inspiration on a daily basis.
Wayne: I find Swedish design very pleasing to the eye. They have an inherent ability to keep things simple, functional and comfortable.
Favorite Element:
Megan: Our furniture has been carefully selected over many years and I'm quite partial to all our pieces. But I would probably say my favorite element is our Mid-Century sideboard in the dining area. It's both practical for dinner parties and its Scandinavian simplicity is easy on the eye!
Wayne: Our kitchen has a sense of balance. The crisp white upper cabinets work well with the walnut wood cabinets and natural stone surfaces. I also enjoy the sense of space that the double volume entrance and marble stairs create.
Biggest Challenge:
Megan: When we bought our house 10 years ago, it had good bones but horrific outdated features. The challenge was to take our time and create a stylish family home that reflected personality and thought, rather than redo everything in one shot. We lived with a horrible '80s kitchen for quite some time before we could afford the kitchen we loved…and still love. But living in a space before renovating can be beneficial because it allows your decor decisions to be levelheaded and deliberate.
Wayne: Our existing pantry in the kitchen was originally a safe room with a colossal solid steel door. This first needed to be removed before we could renovate the kitchen. We had to hire a crane to get it out of the property!
What Friends Say: Our friends enjoy our family home and often comment that it expresses our different personalities and styles. It reflects the layering process that only time and energy can create.
Biggest Embarrassment: Living alongside the mountain, we get some earth movement. The decision to screed the lower level with sealed concrete flooring was aesthetically pleasing but the resulting cracks after years of mountain movement is a little unsightly!
Proudest DIY:
Megan: My studio space. I sourced an L-shaped Mid-Century desk, refurbished it and made an adjoining modern desk area to create a full wall-to-wall work space. I made the printing table in my studio from scratch and so far so good…
Wayne: I defer to my handy wife in all matters relating to DIY, preferring to hire help than risk breaking it myself!
Biggest Indulgence:
Megan: The American style shutters on the top level were pricey but an absolute treat. Functional and stylishly simple.
Wayne: We acquired a slightly offbeat William Kentridge lithograph, which welcomes you as you enter our home. It's bold and interesting.
Best Advice:
Megan: Don't attempt to renovate everything at once if it can be helped. Time in a space gives you perspective and allows you to get to know your home and requirements better. How the light changes during the seasons and the quirks of the building become apparent as you live in a space. This eliminates the risk of making rash and often expensive renovation choices.
Wayne: Find pieces on your travels for the home that remind you of the experiences and memories of different places. They add layers to your home.
Wayne: Using local talented craftsmen to make or restore pieces is a satisfactory experience when decorating your home. I also enjoy having the hand printed textiles from my wife's studio, Cloth and Print, in our home.
Get the look! → Elegant & Contemporary with a Neutral Palette