A Downtown Toronto Condo with a Dual Personality
We
independently
select these products—if you buy from one of our links, we may earn a commission. All prices were accurate at the time of publishing.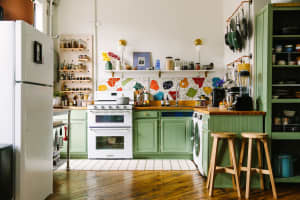 Can't-Miss House Tours Straight to Your Inbox
Keep up with our latest house tours each weekday with our House Tour of the Day newsletter
Name: Joseph Luk
Location: Downtown, Toronto
Size: 550 square feet
Years lived in: 2 years; owned
Have you ever felt that your home has a dual personality depending on the time of day? The season? Joseph does. During the day, the space is bright, airy and open. Floor-to-ceiling windows overlook the city, giving the illusion that you're in the clouds. Transitioning into the evening, the lighting is dim and moody — perfect for having a mellow night in.
For better or worse, Toronto is undergoing rapid urban development, especially within the residential sector. Working in the city's planning department, Joseph is constantly thinking about how Toronto can evolve as a modern urban center and take its place among the great global cities of our time. For him, it's not so much about any single building as it is about how all developments can come together to create a livelier, richer city.
To balance out this large-scale, city-wide focus, Joseph started his own private design studio and boutique, Various Objects. The projecte allows him to curate his personal style and share it with clients ranging from retail to residential. It also gives Joseph the chance to emphasize the importance of subtle, minute detail — the opposite end of the scale from city-wide planning.
Apartment Therapy Survey:
My Style: My style has been evolving for years. I remember my first apartment being a study in minimalism with studio-white walls, hidden light sources, and super sleek stainless steel panels on the floor as my coffee table. But then as I went on to study architecture, saw more and traveled more, I began to appreciate all sorts of styles. I feel that my style these days is still rooted in some form of minimalism, but I want everything in my surroundings to have a dialogue together, instead of being too stark and clinical. I like interesting objects — they don't have to be a particular style, but they just need to have an interesting point of view.
Inspiration: I find inspirations from antique markets; stores that are filled to the brim with objects from around the world.
Favorite Element: The thin shelving for books beside the fridge was born when I made a mistake with the measurements for the cabinetry. My mistake ended up being my favorite thing in this place.
Biggest Challenge: When I first bought the condo, the kitchen was the biggest problem. I have never liked kitchens that look like kitchens. I just want them to fade into the background, especially when it is part of your living space. So my plan was to replace all the cabinets with minimal white cabinets with push-closures at the top and edge pulls for the base. I also replaced all the full-sized appliances with integrated and built-in units to reduce the visual clutter.
What Friends Say: It's a great bachelor pad! It is really sexy at night especially with the dim lighting, dark walls, and the views over the twinkling lights of the city. Candles and bottles of wine help, too.
Biggest Embarrassment: I have a projector which I use to watch movies. One time I projected the movie on my large window blinds not really concerned about people seeing it from across the street. I was watching 12 Years a Slave and there were some pretty graphic scenes…I'll just say I've never done it again.
Proudest DIY: I didn't do a lot of DIY in this place. Only some white-washed birch veneer cabinet top for the wall-mounted units.
Biggest Indulgence: The full-mount super-white granite counter and backsplash. I lucked out because the supplier just happened to have a portion of a slab leftover from a larger job. It was still expensive, but it is my favorite thing.
Best Advice: Certain things you really have to spend the money to get what you love, like my counter and backsplash. Other things you can shop around for and they don't have to be expensive. A lot of times it all comes down to how you curate your objects within your space. Even the most ordinary objects can sing in the right space. I have a sanding block I put on a display shelf and friends always mistake it for a piece of art.
Dream Sources: I've come across a few dream sources always when I'm not looking for them. They are small shops in unassuming streets where you just happen upon, usually during travels. My partner and I were in Kyoto and we actually got lost in a very quiet, unassuming neighbourhood. But there was this one store selling the best Japanese pottery we've seen! These small places are my dream sources. Hopefully I'll come across a lot more.
DINING ROOM
Dining Chairs – Structube
Vintage Iron Dining Table – Hideaway
FLOS Fucsia Suspension Lamp – Ylighting
KITCHEN
Kitchen Cabinets – Ikea
Kitchen Renovation + Custom Pieces – Native Suns Construction, Toronto
Counter + Backsplash – City Home Granite Depot, Toronto
Appliances – Midnorthern Appliance, Toronto
Moon Tea Towel – Hereware
Custom Cheese Board – B.Finlay Millwork
BEDROOM
Bed – Malm Oak, Ikea
Closet Hardware – Anthropologie
Wall Sconce – Ikea
Small Desk – Ikea