"Luxe Bohemian Fairy Tale Discotheque" Style In Oakland
We independently select these products—if you buy from one of our links, we may earn a commission. All prices were accurate at the time of publishing.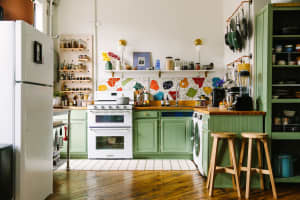 Can't-Miss House Tours Straight to Your Inbox
Keep up with our latest house tours each weekday with our House Tour of the Day newsletter
Name: Bridget Schwartz
Location: Adams Point — Oakland, California
Size: 800 square feet
Years lived in: Rented 7 years
Bridget describes her apartment as "luxe bohemian, fairytale discotheque, and hippie princess"—all labels that are hard to define. But after touring Bridget's bright and eccentric Oakland apartment, the descriptions start to make sense. Her apartment has so many distinct styles, and she is perfectly fine with that.
Bridget (who is also a stand-up comic) has always loved spending time in India, and her apartment reflects that—the beautiful vintage-style dresses she designs are made from fabrics she finds there, and the antique Indian cabinet in the dining room is the "cornerstone of her style."
What is most charming about Bridget's home is that every piece—from the large furniture pieces in the living room to small art prints on the wall—has a story. She can tell you about the time she was hanging out with her sister and found a small print at a San Francisco flea market, and she can tell you about the technique that went into making a vibrant piece of fabric.
"If you're broke, blow your budget on one really great thing," Bridget says. "Get a fantastic painting or lamp or rug. You will end up decorating around this one great thing and it will make everything around it look more expensive."
Apartment Therapy Survey:
My Style: Luxe bohemian, Fairy Tale Discotheque, Hippie Princess
Inspiration: My grandmother's house, travels to Italy and India, the Conran house books, the 1970s in general—there wasn't such an insistence on defining style. You could mix Victorian, space age, folk art—anything really—to great effect. I would hope that my home is a reflection of the best parts of me: exuberant, elegant and slightly eccentric. I love vibrant color, inviting furniture and some whimsy thrown in.
Favorite Element: I love everything about this place: the light, the view, the layout, the location, the key hole arch in the kitchen and the deco tiles in the bathroom. Every detail is preserved, and I even have a dishwasher!
Biggest Challenge: Not over-stuffing the space. I'm a shopper and collector. But I don't want to be a hoarder. Okay, I really want to be a hoarder, but I can't get motivated to be good at it.
What Friends Say: "Wow." I take that to mean good, but it is pretty much what everyone says. Then they notice the view, size and details. At every party I throw, someone ends up taking a nap in my bed. My bed is like a giant cloud that hugs you.
Biggest Embarrassment: The Hundertwasser print in the hall has a gold penis in it. I don't really mind the penis, just that its so small. If you're going to paint a gold wiener, don't be a wimp. Sometimes, I cover it with painter's tape when elders or children come over. Also, most of my furniture is pretty beat up, but I have cats and lots of parties, so I'd rather everyone enjoy themselves without worrying about spilling or using coasters.
Proudest DIY: I made most of the yarn wall hangings. My mother hates them and thinks they are hideous, so feel free to criticize. Some people love them, some hate them. In general, I don't do anything myself. I'm lazy and incompetent. I'd rather pay someone to do a good job. Truth be told, if I could, I'd pay someone to hand feed me and dress me and push me around.
Biggest Indulgence: I suggest flowers in every room, all the time, and a good mattress. A chronically lazy person needs a good bed. I even got one of those long claws people use to get cans off the top shelf so I can pick things up without getting out of bed.
Best Advice: Don't take yourself too seriously. Don't be afraid of bad taste. An element of trashiness or gaudiness is often charming. If you love it, do it. Buy vintage, that way you have something unique. Also, don't be afraid to spend money. If you're broke, blow your budget on one really great thing. Get a fantastic painting, lamp or rug. You will end up decorating around this one great thing and it will make everything around it look more expensive. My first windfall, I bought a Japanese print that I still love. Then, I bought a fantastic antique Indian cabinet that is the cornerstone of my style. I will always have it, and I was broke when I found it.
Dream Sources: My grandmother Mimi's house, Paris Flea Market, Manufactera in Munich, ABC Carpet and Home, Clar's auction house.