House Tour: Rebecca and Roger's Relaxed Wabi-Sabi Modern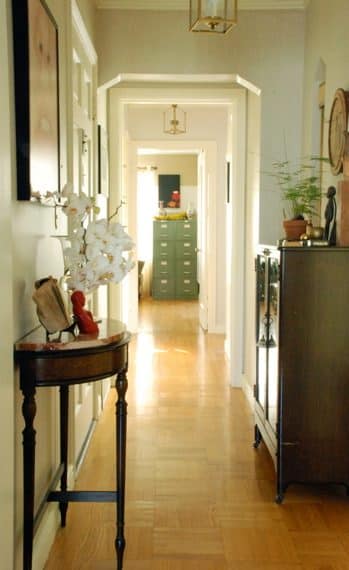 Name: Rebecca and Roger
Location: San Francisco
Size: 1,000 sq. ft.
Years Lived in: 1.5 years (combined households: 3 months)
Remember Rebecca's Flamboyant French Poodle Flea Market Apartment in last year's Fall Colors Contest? We tried to contact Rebecca right away for a House Tour, but emails bounced, time passed, and Rebecca moved.
However, luckily for us, Rebecca (who does interior design consulting and who's "actively working on a career in fine arts") and Roger (who's "a graphics software engineering guy" at a start-up) now share a great art-, book-, and vignette-filled apartment. Take a look!
Do you have an idea for a house tour? Let us know! tips (at) sf (dot) apartmenttherapy (dot) com
Our style: his: streamlined techno, functional "obtainium" (aka, free stuff off the street) hers: french poodle flea market/asian drag queen maxilmalism. ours: relaxed wabi-sabi modern with a touch of flamboyance. (Roger gives me a wide creative berth, but it's definitely been a real "taming of the shrew," you could say.)
The inspiration for our home: History, nature, industry (mass production), fables (Borges), the architectural elements in the house.
Favorite element: Whimsy.
Biggest challenge in designing our home: Patience: Letting things evolve over time.
What friends say about our home: Our guests are often inspired by the color/texture combinations, our resourceful reuse, and the quirky "hi-lo" objects: an italian couch next to a mattress frame found in the trash (a housewarming gift from our new 'hood), a sea urchin next to a rubberband ball, a small Hokusai print with a lotus pod, an ornate 1880's red newspaper stand from a bygone Oakland Chinatown coupled with a like-colored child's school chair from an army surplus store in Amarillo, Texas. Nosey-types love that no matter how many times they come over they still find new and undiscovered treasures (and the stories behind them) placed throughout the house. Lots of conversation starters, especially for our friends' shy kids and the curious.
Biggest embarrassment in our home: My "chair orphanage", an inadvertent collection of lonely chairs (qty 25, they're camera shy) both found and bought that currently free-range around the house purposefully or idly for lack of better accommodations and purging techniques. Otherwise, it's the inelegant hodge-podgey kitchen we inherited from an ancestral string of owners: ugly '40+'80s tile, '50s stove, '60s cabinetry, '70s crackle-glass door, '80s broken fridge, '90s DIY cockeyed plumbing + Ikea bits. For the time being, I chose to give the cabinets a coat of appliance-matching white and the walls a wild "unifying" color to distract the eye from all the jutting angles and styles while we whip up a full-blown remodel.
Proudest DIY: Hand-sanding and painting all the walls (lint/paint boogers from bad paint jobs drive me crazy. Too many years as a faux finisher in a past life, I think). Also, repairing (to smooth-flat, undetectable perfection!) the dozens of 6-8" wide holes the electrician left behind when hooking up new lighting. (We're industrious, but admittedly not very handy. However, I do have one mean dialing finger with a little black book of resources and people. HA.)

Biggest indulgence with respect to our home: Architecturally: Installing low-voltage recessed perimeter lighting for artwork and atmosphere. (great lighting makes everything look good). Domestically: a narrow senufo bed to keep the little washing stool I brought back from S. Africa company.
Best advice given or received: It's all about experimenting with visual texture. Wall color pattern, whether subtle or bold, is the easiest way to set an instant mood in a room. Don't be afraid to pair up different design styles - All of one kind can look stiff and impersonal. Flux and Rotation! Try changing out or rearranging the art, accessories, and furniture from time to time. It's always visually and energetically cathartic and it doesn't cost a thing.
Dream source for stuff: inside director Jean-Pierre Jeunet's head; raiding the sets from A Clockwork Orange and Peter Greenaway's Prospero's Books; field trips with the buyers for ABC Carpet & Home, nearly anything designed by the well-humored Ingo Maurer; a SieMatic kitchen; Poliform floor-to-ceiling closet panels with hidden hardware as part of a fantasy Murphy(bed)Lifestyle of ample speakeasy storage.
Resources:
Rebecca says, The list is really a few of my fave "attainable" measures with a sparing sprinkling of the somewhat financially caustic. But would be happy to share other things if needed/wanted. It's always been my mantra (adapted from my view on clothing) that Fashion is trend, but Style endures. It may or may not cost much, but it is about good editing
Appliances:
• Bob's Supply (kitchen) (contact: Chris Arroyo)
• Ohmega Salvage
• Make nice with contractors that do high(er) end remodeling (sometimes really nice things get tossed)
Hardware:
• Hundley Hardware
• Bath & Beyond (not bed bath & beyond)
• Hafele (brand)
• myknobs.com
• knobsandthings.com
• homeannex.com
Furniture:
• Arkitektura ($$$)
• Jack's Antiques, Berkeley ($$-$$$)
• West Elm on sale (a little $$$ for the quality)
• Alameda Flea Market ($-$$)
• Petaluma Flea Market (less $-$$)
• San Pablo Avenue random shops, Berkeley ($-$$)
• Estate/ garage sales in Berkeley hills or older families in SF noe valley/richmond ($)
• Salvation Army, 1170 Mission, Daly City ($)
• Salvation Army on Polk, SF ($)
• The Streets and an empty car trunk
• Kane County flea market (St. Charles, IL)
• Antique Shops and markets (the Catskills, NY)
• Amatuli Fine Arts - Mark Valentine (wholesaler with an amazing eye)(Jo'burg, SA)
• Chris Whitney Object Assembly 415.822.8565 (Custom metalworks, furniture, architectural elements, gates, stands. You dream and draw it, he and Tommy Hicks will make it)
Accessories:
• Salvation Army - the neon quality corner @ 26th/Valencia ($)
• Salvation Armies in Knoxville, TN (less than $)
• Goodwills in South Metro Chicago, IL ($)
• Weekends San Telmo antiques market (Argentina)
• Weekends Spitalfield's market (London)
• Daily Cape Town city center flea market (South Africa)
• Monthly Antiques Market (outside of Chianti, Italy)
• eBay seller Bill6961 (Thomas Paul, limited time only)
• gnr8
• In back of old barns
• The beach
• Friends with great taste and a hankering for a purge
Lighting:
• City Lights
• Tazi Moroccan
• Hivemodern.com
• Rejuvenation
• eBay seller echicboutique
• Kevin Main (electrician) kevin@klmutilities.com
Paint:
(the 3 best in the City, in my opinion)
• Creative Paints: Ben Moore, Schreuder (and Martha Stewart), McClosky's, Modern Masters
• G&R: C2, Ben Moore, Modern Masters, Pratt&Lambert, Cabot
House of Color: Ben Moore, Pratt&Lambert, Martin Senour, Modern Masters, Ralph Lauren
Flooring:
• Ann Sacks (contact: Nancy Wolfe or Jeff (the manager))
• Floorcraft (contact: Alfonso)
Caldwell Building Salvage
• The Rebuilding Center (Portland)
• Lumber Liquidators
Rugs and Carpets:
• California Carpet (contact: Diana)
• Craigslist
• Persian rugs, lower haight (find him on craiglist occasionally) Jonathon 415.255.1858
• eBay seller ecgcanada
• Overstock.com (very hit or miss)
Tiles and Stone:
• Ann Sacks (best buy around with little lead time: bliss collection)
• Walker Zanger
Window Treatments:
• Discount Fabrics $
• Shears & Window ($$-$$$$ fabric)
• Blue Sage (contact: Andrew Rust (custom sewing))
• SmithandNoble.com (semi-custom pret-a-porter)
• Target (woven/bamboo shades)
Beds:
• McRoskey Mattress Company
• 1-800-mattress
• The Company Store
• eBay seller luxuryworldoflinens (for simple Frette basics)
• eBay seller Velocity (clearance for Velocity Art & Design in Seattle)
Artwork:
• The streets (found objects)
• Dumpsters (found objects)
• Buying directly from artists (gets you cheaper prices than thru galleries)
• Rebecca Szeto (SF)
• Bret Hansen (SF)
• Marcia Teusink (SF)
• Sarah Smith (SF)
• Alison Renshaw (San Diego)
• Jacinda Russell (Portland)
• Paul O'Valle (NY)
• Kerry Shaw (Toronto)
Other:
• Rakks shelving systems
• efaucets.com (kitchen/bath fixtures)
Generally, in-kind trades of service with skilled peoples can be great, as long as communication is clear about expectations from each party (I've gotten things like custom-made drapes for wardrobe styling. grantwriting for house painting, photography services for artwork)
Thanks, Rebecca and Roger!
(Editor's reminder: When leaving comments, play nice or you'll be asked to leave the sandbox.)
(Edited from a post originally published 04.25.07)
• Be sure to see Rebecca and Roger's updated House Tour: Rebecca and Roger's Flux-Redux
Apartment Therapy supports our readers with carefully chosen product recommendations to improve life at home. You support us through our independently chosen links, many of which earn us a commission.