House Tour: Holly's Sense of Simplicity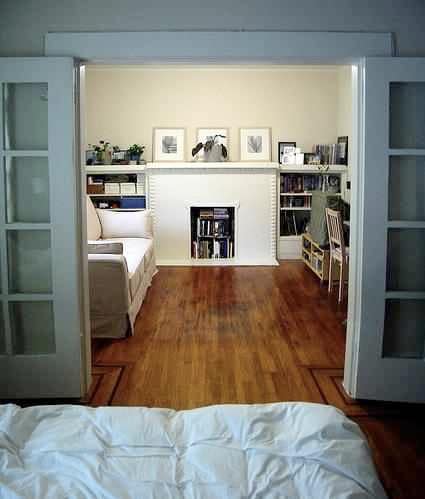 Name: Holly
Location: The Mission, San Francisco
Apartment Size: 600 sq. ft.
Years Lived In: 1
Holly's House Tour seems like a very good way to start off the new year. It's a reminder that simplicity is an option, that we don't have to be surrounded by clutter and stuff. While simplicity/simple living is not everyone's cup of tea, it is Holly's -- and it is ours. And during more than one discussion (see here and here), we've seen that it does appeal to quite a few ATers.
Do you have an idea for a house tour? Let us know! tips@sf.apartmenttherapy.com
Inspiration: Simplicity. I am trying to let the apartment's existing interesting and quirky elements stand out by not filling the space. As a side benefit, this makes the space feel larger and makes my life simpler.
My style: Warm Modern is what I'm shooting for, but it's slow going. A lot of my furniture was purchased before I chose a style.
Favorite room: The living room. It keeps changing and evolving. But really, the apartment feels like one large room because of all the doorways.
Most talked about element: The "dining hall"; my hallway is so wide that it does double duty as my dining room.
Most embarrassing element: The couch. Everyone asks if it's Ikea (it's not), and it doesn't match the style I'm going for at all.
Proudest DIY: Getting around the restriction in my lease against hanging curtain rods by using small nails tacked into the top of the window molding and clips to hang the curtain panels. Cheap and easy, with a nice clean look.
Dream source: DWR.
Reality source: Ikea and West Elm.
Best advice: Be patient and flexible. If I had decorated in one fell swoop, buying all my furniture at once, I'd be stuck now with pieces I hated. It's been a real pleasure to let the apartment evolve over time. Oh, and I've made a lot of progress by getting rid of things and rethinking the use of the things I have instead of buying a lot of new items.
Found treasure: The small glass milk bottles that I put cut flowers in.
Had forever: The small blue bookcase.
Just got: The bed is only a year old. It's the strongest push towards warm modern that I've made, besides getting rid of half of my possessions.
Thanks, Holly!
(Editor's reminder: When leaving comments, play nice or you'll be asked to leave the sandbox.)
Apartment Therapy supports our readers with carefully chosen product recommendations to improve life at home. You support us through our independently chosen links, many of which earn us a commission.