A Couple With "Time and Enthusiasm" Completely Transformed This Cozy Catskills Cabin
We independently select these products—if you buy from one of our links, we may earn a commission. All prices were accurate at the time of publishing.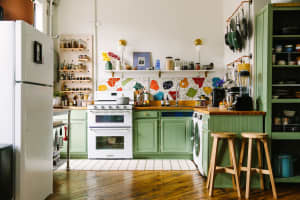 Can't-Miss House Tours Straight to Your Inbox
Keep up with our latest house tours each weekday with our House Tour of the Day newsletter
Name: Danielle and Ely Franko
Location: Tannersville, New York
Size: 1,529 square feet
Years Lived In: Every weekend for the past two years, owned
"We purchased our home two years ago, somewhat on a whim," begins Ely Franko. He and his wife Danielle love living and working in New York City, but after five years of a hectic urban life, they had started to yearn for "greener pastures." The couple weren't very familar with Tannersville, or the Hunter Mountain area. "In fact, when we purchased our home we didn't even know we were on a street that ends at North-South Lake, one of the biggest hiking destinations in the Catskills, or Kaaterskill Falls, the biggest hiking attraction in the Catskills."
The house when they purchased it just wasn't in the best state. But as Ely writes, "…we had nothing but time and enthusiasm and if you have those two things you can really do anything. And we did." They pulled up the old vinyl flooring and were delighted to find untouched hardwood flooring. They painted, tiled, grouted and even sanded the wooden beams. The roof needed fixing, and they did that, too. "We drove the two hours north from Manhattan every single weekend and did nothing but work. And make mistakes. And learn. And try to fix our mistakes. And then realize that homes can't and won't and shouldn't ever be perfect. Or, they're all perfect in their own way."
"What do we love about our home? That it's ours. And that we poured our hearts – and sweat and a few tears and a lot of frustration, but always love – into it."
Apartment Therapy Survey:
Our Style: Wishfully minimalist but hopelessly maximalist with a touch of whimsy
Inspiration: You know that feeling during summer when it's 8pm and the sun is still shining so bright and warm and you have an ice cold Campari and soda in your hand and the record player is spinning something nostalgic and intermittently you just close your eyes and take long, deep breaths and wish the moment would never end? That's our inspiration. To create a space that facilitates that kind of life.
Favorite Element: The windows! The house is not very large but with those windows and that light you don't need one inch more.
Biggest Challenge: Cleaning those windows! Also, the walls had some significant water damage and it took five coats of paint to cover them up. 16-foot ceilings. It was not fun.
More existentially, our biggest challenge was figuring out how to rein in every idea that was in our heads.
Proudest DIY: Danielle – My proudest DIY was getting those kitchen cabinets level. We thought we had them perfect but the counter-installer came out and said there was too much variation and the stone could crack. There's a pretty significant slope in the floors and we spent hours trying to get them perfect. So that was deflating. We took everything apart and tried again. And they were still off. It took three separate attempts to get them right.
Ely – I really love the dining table we built. We really wanted that reclaimed wood look but it turns out that reclaimed wood is very expensive. So we went to the lumber yard and looked through every board of run-of-the-mill Douglas-fir to find ones that had cracks or holes or knots. Some glue and a few pocket holes later, I think we succeeded
Biggest Indulgence: We really tried not to go crazy because it's indulgent enough to furnish an entire house to begin with. The couch was more than we wanted to spend but it makes for a good anchor piece in the living room. I think we also spent more on plants and planters than we ever would have imagined.
Best Advice: Take your time. It's trite, but it's true. Time gives you perspective. It teaches you. We are not the same people that started this renovation two years ago.
PAINT & COLORS
White walls in every room – Benjamin Moore
White Dove in Aura
Kitchen Cabinets – Benjamin Moore Louisburg Green in Aura
Downstairs bath – Behr Marquee Midnight Blue
Exterior – Behr Marquee Windgate Hill
LIVING ROOM
Modern Chesterfield Sofa — West Elm
Mid-Century Show Wood Chair — West Elm Roar + Rabbit
Patchwork Coffee Table— West Elm
Swingasan Hanging Chair — Pier 1
Planters — Mostly West Elm and CB2
Tufted Ayla Throw — Anthropologie
Pillows — CB2
Side tables — Vintage
Record Player — U-Turn
Macrame – Urban Outfitters
DINING ROOM
Table — DIY
Bench – DIY
Chairs – Wayfair
Pillows – H&M and Ikea
Mezze Diamond Woven Rug – Urban Outfitters
Planter – West Elm
KITCHEN
Cabinets — Ikea
Cabinet Doors – Semi-handmade + DIY spray painted
Hanging planter – Urban Outfitters
Yellow Dutch Oven – Staub
BEDROOM (Master)
Kopardal bed frame – Ikea spray painted matte black
Curved Terrace Nightstand – West Elm
Duvet – Zara
Throws – West Elm
Dresser – Craigslist
Live edge bench – Urban Outfitters
Floor mirror – West Elm
Rugs – Rugs USA
Fringed Macramé Hammock – Anthropologie
Gold planter – CB2
Case Study Planters – Room & Board
BEDROOM (Guest 1)
Kopardal bed frame – Ikea spray painted matte black Cast Tripod Side
Table – West Elm
Duvet – H&M
Lighting – CB2
Mirror – Urban Outfitters
Macrame – Urban Outfitters
Chair – Housing Works (thrift)
BEDROOM (Guest 2)
Nestuun bed frame – Ikea
Pelle sconce long gooseneck light – West Elm
Faux fur throw – West Elm
Rug – Rugs USA
Nightstand – Urban Outfitters
Wall hanging – Urban Outfitters
Chair – CB2
Wire basket – H&M
LOFT
Daybed – Urban Outfitters
Wall hanging – Urban Outfitters
Planters – West Elm, CB2, Ikea
Two wood boards on the wall – We had somewhat of a DIY wedding and those boards were placed down the center of the tables as runners (there's a longer story as to where the boards came from but I'll spare you for now). Any time you can incorporate something so personal into your home it makes the space that much more special.
BATHROOM (Upstairs)
Finishes – Kohler
Toilet – Kohler
Vanity – DIY
BATHROOM (Downstairs)
Painting – Thrift find (we've affectionately named her Lana)
Thanks, Danielle and Ely!