House Tour: Rose's Self-Sufficient Solar Home and Garden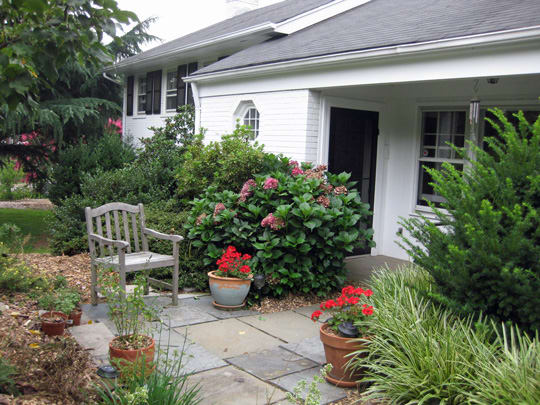 Name: Rose
Occupation: attorney
Location: McLean, VA
Size: 1700 sq ft house
Years lived in: 12 years, owned
A proud hippie, Rose is truly committed to a green lifestyle. Her home is completely energy self-sufficient and is on the DC tour of Solar Homes. Rose's house is incredibly quiet because she has no internal combustion and is surrounded by her lush garden. She grows her own fruits, vegetables and herbs, and cooks from scratch. We've long admired Rose's patient, caring nature and wonderfully warm personality, which we believe is reflected in her green home...
posted originally from: AT:New York
Rose says that it's been wonderful to see the impact that her green decisions have had on her neighborhood. Neighborhood kids play on the tree swings on my lawn and boast to visiting friends how Rose makes her own electricity and grows her own vegetables. With her children and grandchildren living elsewhere, Rose's green lifestyle has surprisingly been a way for her to related to the next generation.
People compare her smaller, green home to the huge, recently-expanded house next door with its seven bathrooms and hundreds of lights. Rose had no idea how her much green lifestyle would impact her neighborhood and community. People constantly call her for renovation advice and environmentally-sensitive home ideas, which she is happy to give. Rose believes that if you take care of your house, it will take of you and provide comfort and stability.
You can visit Rose's house during the DC tour of Solar Homes this October 4th and 5th. Last October, about 200 people came through Rose's house!
AT Survey
Style: Shaker simple
Inspiration: I came of age in the late 60s/early 70s in Berkeley, CA. My generation always thought we would change the world for the better in many ways, for example with Earth Day. I always thought of myself as an Earth Mother. I've always gardened organically and long attended the Solar Decathlon on the Mall (when college students compete for energy-efficient design). About 5 years ago, I spoke with a Professor at the Solar Decathlon on the National Mall who encouraged me to be a leader in supporting solar technology.
Favorite Element: the garden and the light in the house. The light gives the house an airy, open and good feeling.
What do friends say about your home? I'm inspiring my neighbors and turning them into hippies! My children say that visiting my house is like coming to Amish country. They feel that my house is primitive because I have no flat-screen TV (just an old TV for watching family videos), no cellphone, no clothes dryer (everyone must hang their clothes out to dry on the backyard clothesline). I ask guests to take short showers. I cook everything from scratch and don't heat anything in plastic. I waited to make all the green changes until my kids had all left home because kids can be sensitive about being different. Once in a while my kids will say, "Mom, you were right" about my green changes. Lately, I've detected a grudging admiration for and pride in my lifestyle, especially when the article came out in the McLean Connection that featured me.
Biggest Embarrassment: the woodchip mountain that was in the driveway
Most Proud DIY Project: the garden and my many years of working red clay into the soil. Virginia soil is very compact but through the years I've added hundreds of neighbors' leaves and grass clippings. I also bring home Starbucks coffee grounds everyday (in a rolling suitcase brought to and from work). Now the soil is really, really good. I love to lomi-lomi soil (in Hawaii lomi means massage).
Biggest Challenge: Dealing with the installation issues, for example, deciding whether to reroof before installing the solar panels.
Biggest Indulgence: All the solar technology. It cost a lot at the time I installed it and it will be many years before I see a return on the investment, even with today's higher energy costs. But I believe in the green way of life and wanted to support the solar technology and industry and inspire others to do the same. The insulation has paid for itself.
Best Advice: What the Professor at the Solar Decathlon told me: commit to the solar technology now.
Dream Source: I fantasize about building a sunroom on the backside of the house out of rammed-earth bricks made from beautiful Virginia clay. The bricks would be about 18-inches thick and I'd plaster the inside with earth plaster. I would have a solar-heated indoor lap-pool and grow banana trees, lemon trees and orchids in the winter. I would enjoy the fragrance of lemon trees and orchids and hear butterflies flying in the garden while swimming.
Resources

Systems and Appliances:
- Solar Star Solar-powered attic fan ($415); Solatube skylight--10" ($475), 14" ($625) from Brighter Innovation, phone (703) 367-0527;
- Solarsheat 1500G Pak Solar Air Heater ($2730.04 plus shipping and installation) from Alternative Energy Store, phone 877-878-4060;
- Ductless Mini-Split Air Conditioner, Sanyo 9,000 BTU 16 SEER 410A Air Conditioner ($1243 plus shipping and installation), eligible for federal tax credit;
- Cellulose blown-in insulation in attic 8 1/4 inch R-30 ($573); 2" foil-faced fiberglass insulation for ducts in crawl space ($564) from Discount Energy Services, phone (703) 550-0035;
- Utility-interconnected (grid-tied) PV system, 8 Sharp 200-watt modules, Xantrex GT 3.0 Inverter ($15,882), eligible for $2,000 federal tax credit from Energy Federation; Chesapeake Wind and Solar, phone (443) 733-1221;
- Vent-a-Hood Range Hood ($499), Fisher & Paykel 17.3 cu.ft. refrigerator ($1099) and dish drawer dishwasher ($1149) from
Discount Appliance Distributors, phone (301) 937-0222;
- Peerless Premier 30" Pro Series Gas Stove (no glow bar) ($769.00) from B.A. Coe, phone (301) 210-4704
Lighting: Compact fluorescent light fixtures and bulbs, including dimming and candelabra from Energy Federation. A friend made my lamps.
Furniture: Sofas were made in Hawaii out of Koa wood. Other items come from yard sales, thrift stores, second-hard sources like The Unique Bazaar
Accessories: I made the cushions from natural latex foam and organic cotton batting from Near Sea Naturals. I was a quilter in my former life and made all the quilts. The quilt hanging in the living room was the first one I made and it's based on an old American pattern I found in a book.
Window Treatments: I made the out of organic cotton and wool bought from Near Sea Naturuals.
Artwork: Made by my children and friends.
More Energy-Efficient Resources: car rental from Zipcar;
Miles Automotive Group for all-electric low-speed vehicles; Bug E Electric scooter from Harvey Coachworks, phone (877) 749-0730;
Landscaping: plants bought from Edible Landscaping, fruit, vegetable, herb plants chosen for disease resistance. The garden includes a pumpkin patch, elderberries, tomatoes, cucumbers, paw-paw trees, blackberries, plum blossoms, oregano, zucchini, filbert, peach trees, Asian pear trees, basil, fig trees, kiwis, blueberries, grape vines, calendula, black eyed peas, asparagus, pansies, day lilies, Jacob's cattle beans, beets, persimmon trees and speckled pear trees.